Last Update: June 2, 2023
Teenagers are crazy about online content. Whether it's TikTok videos, Instagram photos, or live streaming on YouTube, they can't seem to get enough. But they're not just consumers of content. They're content creators too. And to create the best content, you need the best cameras for teens.
Our list of the best cameras for teens will help you find exactly what you need. We have digital cameras for photos and cameras for videos. And we have action cameras too. There's also a section on cameras for teens who just want to have fun.
What is the Best Camera for Teens?
There are some excellent cameras for teens on the market. But to find the best camera for teens, you need to think about what they want to create. Do they enjoy taking photos? Perhaps they prefer video content and live streaming. Or do they want something to have fun with their friends?
If you want the best digital camera for photos, there are a few things you need to consider. What kind of photography is the camera for? Is this camera the start of a keen interest in photography? Or do you need a camera for social media and selfies?
Image resolution is one of the main specs to look for with cameras for photos. The resolution plays a vital role in the image quality the camera produces. It also influences video quality.
The video quality will have a separate specification. It's something to look for if you want a camera for recording video. HD video recording is something to look out for.
Resolution is important for quality. But you need to think about the type of videos you want to create. Are you recording other people for movies or sports videos? Or are you recording yourself?
A vari-angle screen and electronic viewfinder are excellent additional features for teenage video makers. They make it easy to shoot from tricky angles or film yourself. Wi-Fi and Bluetooth connectivity are also brilliant for sharing photos and videos quickly and easily.
The price is something to keep in mind. Teens are quick to change their minds. And you don't want to spend thousands on a camera for them to get bored of it two weeks later. Consider their level of enthusiasm. We've also kept the average price lower on this list.
Before we delve into each of the cameras in detail, here's an overview of our 10 favorites.
21 Best Cameras for Teens in 2023
Our list of the best cameras for teens in 2022 has something for everyone. And we've broken it down into categories so you can find the best digital camera for you.
The first section looks at the best digital cameras for shooting photos. The second looks at cameras for video. Our third segment looks at the best action cameras. And the final part has cameras for having fun—they're some alternative picks offering something a bit different.
Best Teens Cameras for Photos
Best Camera for Teens Overall

Best Compact Camera for Teens
Best Beginner Camera for Teens
Best Bridge Camera for Teens

Best APS-C Mirrorless Camera for Teens

Best Affordable Canon Camera for Teens

Best Teen Cameras for Video
Best Camera for Teen Vloggers

Best Affordable Mirrorless Camera for Teens

Best Entry-Level Video Camera for Teens

Best Mirrorless Video Camera for Teens

Best DSLR for Video

Best Action Cameras for Teens
Best GoPro for Teens

Your teenage years are about getting out there, exploring the world, and trying new things. And you'll want a camera to document these new adventures. But only the best digital cameras can cope with that kind of excitement.
A GoPro is the best digital camera for an adventurous teen. GoPros are the market leaders when it comes to action cameras. And the GoPro Hero 10 is the perfect example of why.
It uses a small image sensor. But it gives you a surprising 23 MP resolution for amazing photo quality. And the video quality is even more impressive, recording 5.3K footage at 60 fps. That's exceptional quality for such a small camera.
The slow-mo is another excellent video feature, recording 8x slower with 2.7K quality. And you can pull frames from the footage to be used as stills. They have a lower resolution of 15.8 MP. But it means you can get the exact shot you want.
The GoPro Hero 10 is small but rugged. It's waterproof down to 33 feet. And you can attach it to helmets or handlebars for incredible action videos. Any adventurous teen will love a GoPro Hero 10.
Best Teen Camera for Action Shots

Best 360 Camera for Teens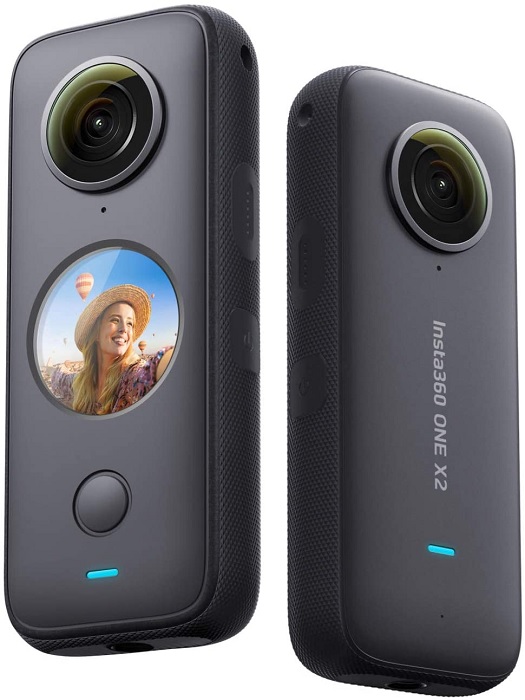 A 360 camera gives you images and videos that display 360 degrees of a scene. It uses two ultra-wide-angle lenses back-to-back to give you extreme fisheye vision. They're great fun, and you'll create some unique content for social media.
The Insta360 One X2 is the best 360 camera on the market. It's slim enough to put in your shirt pocket. But the results are excellent. The video resolution is 5.7K, which is super-smooth. And you get stunning colors and details.
The camera has a "flow-state" image stabilization system, working on a 6-axis basis. It reduces camera shake significantly. And it allows you to shoot 360 footage when riding a bike, skateboard, or surfboard. And don't worry, it's waterproof too.
You charge it with a USB. You'll get about 80 minutes of HD video recording when fully charged. And the selfie stick mode is another one of its fun features, removing the stick from the footage automatically.
Best Travel Camera for Teens

Best Drone Camera for Teens

Drone cameras are great fun. And they can produce some amazing aerial photos and videos. They also make excellent cameras for teenagers if they love gadgets and gizmos.
The DJI Mini SE is ultra-lightweight, weighing little more than a modern smartphone. But it can reach a maximum height of 4,000 meters.
The camera has a 12 MP sensor. And it shoots 4K quality video footage at 30 fps. Or you can change to full HD video at 60 fps. The quality isn't as sharp, but you can run it in slow-motion.
The battery life isn't great. If you're lucky, you'll get about 30 minutes of flying time. But it's a great camera if you want to try something different.
Best Teen Cameras for Having Fun
Best Instant Camera for Teens

Instant cameras are a whole load of fun. And they're perfect cameras for teenagers that want to have fun with their friends. The Fujifilm Instax Mini 11 is the best on the market. And it's a great way for teens to capture moments and create memories.
Instax Minis are compact cameras. They're easy to use and small enough for younger teens. The exposure settings are all automatic. It's a simple case of pointing the camera and snapping the shot. And there's a selfie mode for instant self-portraits.
The camera isn't very expensive. But the additional costs do add up over time. You'll need 2 AA batteries. And then there's the film. The Fujifilm Instax Mini 11 is an excellent instant camera for teens of any age. But use them sparingly to save on film.
Best Film Camera for Teens

Film photography is cool again. And the Ilford Sprite 35-II is an excellent option if you're looking for your first film camera. Disposable units make excellent cameras for teens. But there's a lot of waste involved. The Ilford Sprite is just as easy to use, but you can reload it.
The camera controls are simple. You point and click, and all the exposure settings are taken care of. You have a built-in flash when shooting at night, which is perfect for parties.
The camera is cheap. But you will have to buy film and develop it. Those costs can add up. But the Ilford Sprite 35-II is the perfect gateway into a world of film photography.
Best Point and Shoot Camera for Teens

You might want something more serious if you're really getting into film photography. There are some great 35mm point-and-shoot cameras out there. But the Olympus Stylus is the best camera for teens.
The Olympus Stylus takes any roll of 35mm film—color or black and white. And loading and unloading are easy, with automatic wind and rewind. All the fiddly stuff is taken care of.
You have a built-in flash for shooting in the dark. And the fixed lens has 2x optical zoom for extra magnification. There are modes for portraits, groups, and landscapes.
Best Polaroid Camera for Teens

Polaroid is synonymous with instant cameras. They are the original. And they're still going strong today. The Polaroid Go is the best option for teenagers of all ages. It's small and easy to use, which is great for youngsters. But Polaroid has the street-cred for older teens.
The Polaroid Go is their smallest instant camera. And it really is tiny. You can put it in the side pouch of your bag or coat pocket.
Taking pictures is super easy. You feed the film and press the shutter. And you'll have your printed photo in just a few seconds. You also have a self-timer and a selfie mirror to help with your instant self-portraits.
The downside is the same will all instant cameras. You need to keep buying the film. Taking instant pictures is a lot of fun. But it can get expensive.
Best Budget Camera for Teens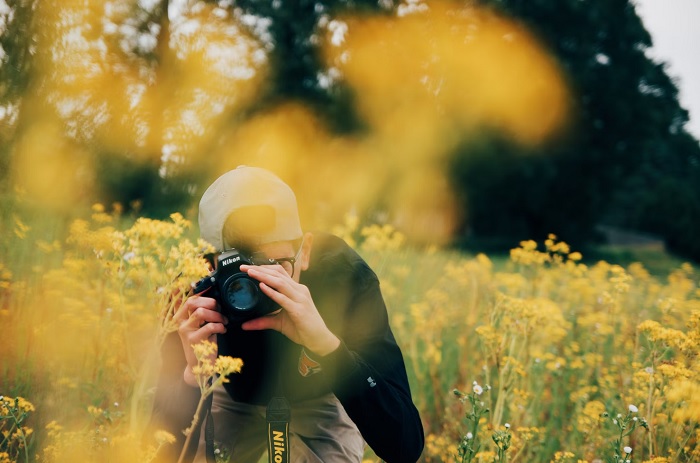 Our Verdict
Finding the best camera for teens isn't easy. Different teenagers want different things from their cameras. Some are budding photographers wanting to take stunning photos. Others want to be movie makers or streamers. You also have your adventure addicts. And some teens just want to have fun.
The Canon EOS Rebel T8i is our top pick for teen photographers. You can check out our full Canon T8i vs T7i comparison if you want to geek out on specs! Young streamers should try the Sony ZV-1. The GoPro Hero 10 is perfect for teens wanting an adrenaline rush. And the Fujifilm Instax Mini is something fun for the weekends. These are the top picks in each category. But we've added variety in cost and functionality with our other options.
These are our top picks for the best cameras for teens in 2023. And there's something for everyone.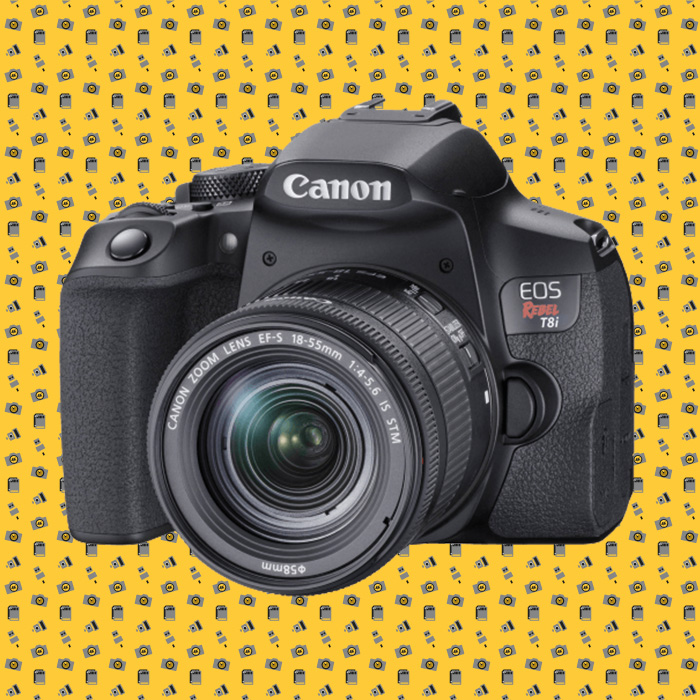 We recommend you check out our best cameras for sports moms or try our camera comparison tool next!