Last Update: June 2, 2023
Canon is one of the biggest names in photography. They've been making fantastic cameras for generations. And now they're pleasing a whole new generation of media creators with their top-of-the-range vlogging cameras.
We've compiled a list of the best Canon cameras for vlogging. Each camera has been carefully picked to give you the best vlogging results.
There's a wide range of Canon cameras on the list, so you'll find the perfect camera for you.
What is the Best Camera for Vlogging (or Blogging)?
No two vloggers are the same. And different video content creators have different requirements. Some will be looking for a portable camera for travel vlogs. Others will need the best video quality they can find. And you always have a variety of budget levels.
We've covered all the bases with Canon cameras to meet the needs of any vlogger or videographer.
Our top pick is the Canon EOS M50 II. But we have ten other Canon cameras for vlogging so that everyone will be satisfied.
Canon EOS M50 Mark II

4K and Full HD Video
External Mic Port
Webcam Functionality

Canon EOS 90D

32.5 MP APS-C Sensor
4K Ultra-HD Video
Excellent Battery Life

Canon PowerShot G7 X Mark III

Compact Body Size
Live Streaming Capabilities
4K at 30 fps and HD at 120 fps

Best Full Frame Mirrorless

Canon EOS R5

8K Video
45 MP Image Resolution
Excellent AF System with Tracking

Canon EOS M6 Mark II

32.5 MP APS-C Sensor
Uncropped 4K Video
30 fps Burst Mode

Canon EOS Rebel T8i / 850D

4K and Full HD Video
Excellent ISO Range
Webcam Capabilities

Most Affordable Mirrorless

Canon EOS RP

Affordable Full-Frame Mirrorless
Fast and Accurate AF
Excellent Dynamic Range

Canon EOS Rebel SL3 / 250D

Excellent 4K Video
A Compact and Lightweight DSLR
Incredible Battery Life

Canon EOS M200

Compact and Lightweight
Vertical Video Mode
Fully Articulating Touchscreen

Canon EOS R6

4K at 60 fps
Excellent ISO Range
Full AF Support for Video

Canon PowerShot G7 X Mark II

4.2x Zoom Lens
Optical Image Stabilization
Compact and Lightweight
11 Best Canon Cameras for Vlogging in Detail
Now we'll look at all our top picks in detail.
We've checked the specs, so you can rest assured we've found the best Canon cameras for vlogging in 2022. You can find the best vlogging camera no matter your needs or budget.

Our Verdict
Canon has some of the best vlogging cameras you can find. They take their video capabilities just as seriously as the photography specs. And vloggers and bloggers can rely on the quality and standards of Canon cameras.
They have a vlogging camera for everyone. The Canon EOS M50 Mark II stands out as the best vlogging camera. It'll please professional YouTubers and beginners starting their first blog. The EOS 90D is an all-rounder for multimedia creators. And the Canon EOS R5 is a video solution for professionals.
Keep your budget in mind when looking for vlogging cameras. This list of the best Canon cameras for vlogging has cameras in every price category. And we've included something for everyone on our list. But a Canon camera will take your vlogging to the next level no matter what your budget.
What to Look For in a Vlogging Camera
Video Quality
Vlogging is a video medium, so you want the best video quality you can get. Most modern cameras now have video features as standard. And that includes DSLRs, compact, and mirrorless cameras.
But if you're serious about vlogging, you shouldn't accept anything less than 4K video quality. 4K gives you professional footage that'll look fantastic on YouTube, Instagram, or TikTok.
Full HD (1080p) is still acceptable for social media videos. All the Canon cameras on our list will give you better video quality than a smartphone. But you should be aiming for 4K if you're serious about your vlog. You'll fall behind the competition without it.
Frame Rate
You also want to look at the frame rate of the video recording. The faster the frame rate, the smoother your video footage will be. A smooth frame rate prevents jerks and lagging in your vlogs.
4K video is often shot at 30 fps, which is perfectly acceptable. Some cameras might have 4K at 25 fps. While this isn't ideal, it is still acceptable with 4K quality. Anything faster than 30 fps is a bonus.
A camera with a variety of frame rates is also something to look out for. Some have options for shooting at 120 fps. You'll have to accept a reduction in quality to Full HD for this speed. But it means you can shoot extra smooth video you can also use for slow motion.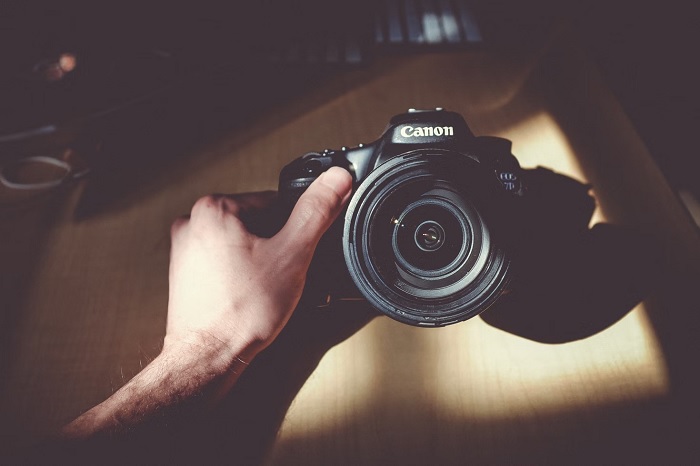 Multimedia Features
You should also look for cameras that have the features to support multimedia content creation. Image quality and resolution are vital if you want to take photos as well as videos. A fast burst is handy too.
An articulating screen is vital for filming vlogs because it allows you to see yourself while you record. And you need to look for audio recording capabilities, whether internal or external.
All digital cameras have autofocus these days. But you need to know that the AF system in your camera is up to the task of creating vlogs. Look for cameras that have eye detection AF. And face and eye tracking are important if there's movement in your videos.
The ISO range gives you an indication of how well the camera performs in low-light conditions. It's an important marker if you want to shoot at night.
Image stabilization is another excellent feature to look out for. It helps keep videos and stills sharp by reducing camera shake and motion blur. It's usually a feature in cameras at the professional end of the spectrum, but it's worth looking out for.
How Much Should You Spend on a Vlogging Camera?
Your budget for a new vlogging camera will be linked to the level of your vlog or blog. If you're starting out as a vlogger, you can stick to the more budget-friendly cameras. They'll give you the extra quality to stand out against other amateurs.
The enthusiast cameras sit in the middle of the price range. And you'll need to stretch your budget for one of these cameras if you're taking your vlog to the next step. Perhaps your YouTube channel is getting more subscribers, and you need to continue that momentum.
Professional-grade vlogging cameras are expensive. You shouldn't be thinking about one of these Canon cameras unless your blog already provides you with a steady income. If you have the budget, you can make the jump to cinema-standard videos. You won't regret it from a vlogging point of view.
Still undecided? Try compare camera specs of different brands and models for inspiration. You can check out our Canon R3 vs R5, Canon R3 vs Sony Z9, or Canon R7 vs R10 side-by-side comparisons to start! Or, check out our guide on the best Canon RF lenses to buy or best cameras for teens and tweens article!