Last Update: June 19, 2023
Every thrill-seeker needs an action camera. But we understand thrill-seekers don't always have cash to throw around. That's why we've compiled a list of the best budget action cameras. This list of action camera reviews will help you capture the action without breaking the bank.
Forget GoPros and their elite price tags. You can find a cheap action camera alternative to record your extreme adventures. They are perfect for when the adrenaline is flowing, but the cash isn't. The best budget action camera gives you high-octane fun at a low price.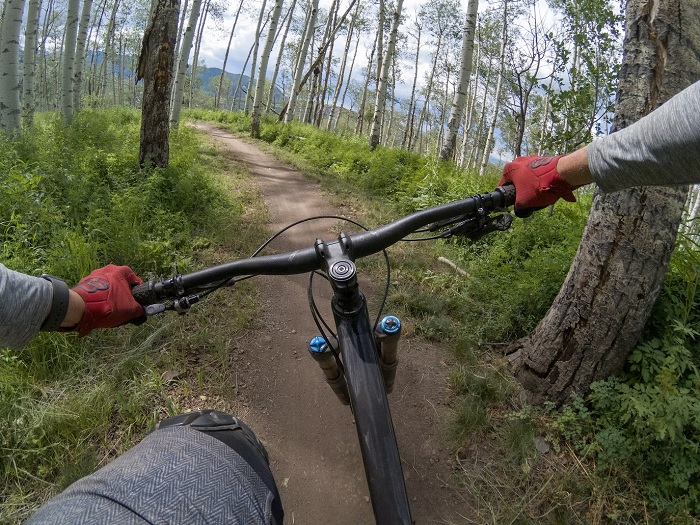 Before we delve into each sport camera in detail, here's an overview of the top 10 best inexpensive action camera options:
Akaso Brave 4

Stunning 20 MP photo resolution
Adjustable viewing angle between 70 and 170 degrees
Built-in smart gyroscope for excellent image stabilization
Easily share media with the Wi-Fi connectivity and mobile app
2K and 4K video recorded at 30 fps with a 60 fps option in Full HD

Akaso Brave 7 LE

Stunning still-image resolution
Electronic image stabilization ensures smooth and sharp footage
Has weatherproof housing
Convenient dual-screen display and voice control activation
Fantastic 2.7K and 4K shot at 30 fps

Dragon Touch 4K Action

Sharp 4K footage at 30 fps
60 fps frame rate option with Full HD
4x digital zoom to get up close
Excellent range of shooting modes from loop recording to time-lapse
More control with wrist remote when fixed to a helmet or equipment

Kaiser Baas X450

Built-in Gyro-stabilization for sharper footage and photos
Wide-angle f/2.8 lens with 160-degree field of view works well in low light
Time-lapse and burst modes offer extra creative options
Lovely 4K video quality with a smooth 30 fps frame rate

Akaso EK7000

30 fps burst for full-resolution photos
Loop recording, burst, and time-lapse video modes all built-in
Easy-control wrist remote when attached to helmet or handlebars
Smooth and clear 30 fps 4K footage

Exprotrek 4K

20 MP sensor for fantastic still photos
Rapid 30 fps burst for action shots
Wireless wrist remote control for added usability
Wi-Fi for quick and easy file sharing
Smooth, clear 4K with 60 fps option

Akaso V50 Elite

Viewing angle can be adjusted for a variety of compositions
Electronic image stabilization gives smooth footage for any activity
Hands-free voice control commands
Incredible video with 4K at 60 fps
Slow-motion with Full HD video

GoPro Hero7 Black

Akaso Brave 8

48 MP for stunning image quality
Waterproof and durable body
Image stabilization for slick video
4K video at 60 fps
12 Best Budget Action Cameras in Detail
Finding the best budget action cameras is about striking a balance. You need to balance a low price with good performance. Too far one way, and you'll have a cheap action camera that doesn't work. And too far the other way and you'll have a camera that's more expensive than you need.
Of course, action cameras on the cheaper side might lack some features of the more expensive options. We've found some cheap action cameras with excellent video quality and features. You need to manage your expectations. But we've found some genuine bargains.
If you need more advice about finding a budget action camera, skip to the Buyer's Guide and FAQ section at the end. We've got all the information you need to find the best budget action camera.

The Dragon Touch Vision 3 Pro is a fantastic action camera. It gives you incredible results for photos and videos. And the media is so good the price is slightly unbelievable. As one of the best action camera under $100, it's excellent value and is one of the biggest bargains on a list of bargains.
You can record extreme sports and adventures with beautiful 4K video. It records with a 30 fps frame rate. And you can increase that to 60 fps in Full HD. You also have an option for slow-motion video recording.
The 20 MP sensor gives you lovely still photos. And the wide-angle lens has various viewing angles to choose from. You have options between 70 and 170 degrees. The 4x zoom also helps you get the perfect shot. You get different shooting modes, including burst, loop recording, and time-lapse video.
The Dragon Touch Vision has a special diving mode for underwater videos. And it can shoot at depths of 100 ft (30 m) when using the waterproof housing. That's ideal for surfing and snorkeling.
It comes with a wireless remote control. And you can connect the camera to your smartphone with the Dragon Touch app. That makes sharing media super easy. When you combine features, price, and performance, the Dragon Touch Vision 3 Pro is a brilliant budget action cam.
The Kaiser Baas X600 is a step up from the X450. It's a newer model with updated specs and features. And that means the price is higher. It isn't the absolute bargain of the X450. But you're still getting a good deal.
You can record 4K videos at 30 fps. And you get slow-motion modes to play with. There's a burst mode for action photography. And you also have a time-lapse video creator built in. The photo resolution is a healthy 14 MP. You'll have fantastic content for social media.
It has excellent gyro image stabilization. And it's waterproof down to 40 ft (12 m) without the underwater housing. It's Wi-Fi connected and there's a Kaiser Baas smartphone app to link devices. It isn't the most affordable on the list. But it's still an excellent cheap action camera.
COOAU might not be a brand you're familiar with. But their outdoor sports camera is definitely worth considering if you're looking for a bargain. It offers great value for money. And it outperforms other cheap cameras for action.
We're pleased to see 4K video at 30 fps. And you have more creative control with Full HD at 60 fps and HD at 120 fps. The high-speed frame rate gives you smooth slow-motion footage.
There's a 20 MP sensor for vivid still photos. And the anti-shake system keeps photos and videos sharp when the action gets rough and rowdy. It also has internal microphones for sound recording. But it also has a jack for an external mic.
The waterproof case allows you to shoot 130 ft (40 m) beneath the waves. And you can sync the camera to your smartphone using the camera's Wi-Fi connection. A wireless remote control is also included with the digital camera.
The COOAU outdoor camera has fantastic shooting modes. They include burst, time-lapse, and loop recording. You might not know the COOAU brand yet. But their outdoor cam competes with other cameras in the division. It's worth considering if you want a cheap action camera.
The VTech Kidizoom is an excellent action camera if you have adventurous kids. It's made for children, so it's super simple to use. It doesn't quite have the specs of adult action cams. But your kids will have tons of fun with it.
The camera uses a small sensor with a 1 MP resolution. That isn't much compared to other action cameras. But your kids will be impressed. And they'll also love the High Definition video recording. There is some internal memory. But you need a micro SD card for the highest video quality.
The KidiZoom action cam has a nice wide-angle lens. And the camera has built-in shooting modes for creative action photography. There's a self-timer and time-lapse feature. And you can add frames and filters in-camera. You can also connect the camera to your laptop with a USB. This gives you even more photo editing options.
The KidiZoom camera comes as part of a bundle. You get a waterproof case for underwater photography. And there are two camera mounts and an adjustable handle. The battery life is also very good for a small camera.
It doesn't have the performance of the Akaso cameras. But it's the best beginner action camera for kids. Children as young as four can create fantastic action media. And it's a good choice for parents on a strict budget.
Our Verdict
You don't need a bank-busting budget to buy a good action camera. There are some excellent budget action cameras out there. And thankfully for you, we've compiled a list of the best action cameras for beginners or pros, so your search stops here.
The Akaso Brave 4 tops our list of best budget action cameras. It gives you stunning action photos and videos. And its low price makes it an absolute steal. Any of the Akaso options are excellent action cameras. But you can also try the Kaiser Baas X450 or Dragon Touch Vision 3 Pro. Neither will disappoint you for the price.
The GoPro Hero 7 Silver is your best bet if you need a budget GoPro. But the Akaso Brave 8 and Kaiser Baas X600 offer advanced features at a discount. A budget action camera allows you the same thrills and spills as a GoPro. But you can save a few coins too.
Buyer's Guide for Budget Action Cameras
A genuine bargain combines good value and good performance. But finding the perfect blend in an action camera isn't easy. This section will give you the technical information you need to find the best budget action camera.
Sensor Resolution and Image Quality
Action cameras are compact units. That means there isn't much space for chunky hardware like a big sensor. But you might be surprised at the resolution the small sensors can achieve.
The sensor's resolution is measured in megapixels (MP). The higher the MP, the better the image quality. The MP count will vary between cameras. But the iPhone 14 has a 12 MP sensor. You know you'll have excellent images if you see anything above that.
Video Quality and Frame Rates
Video quality is the most important feature of an action camera. And you can get excellent video quality from cheap action cameras. 4K video quality is what you should be looking for. Full HD (1080p) still looks great on social media. But 4K blows the competition out of the water.
Frame rate also plays a role in video quality. It's measured in frames per second (fps). And the faster the frame rate, the smoother the footage. 30 fps in 4K is ideal. And 60 fps is even better. You might find budget cams with slower frame rates. But 24 or 25 fps will still give you lovely videos.
Image Stabilization
Action cameras are used for extreme sports. And extreme sports rarely give you a smooth ride. Built-in image stabilization reduces camera shake, helping to keep your videos smooth. Action videos can be unwatchable without camera stabilization. It's definitely a feature to look out for in a budget action cam.
Waterproofing and Durability
Think about the activities you want to record with your action camera. If you're surfing or kayaking, you'll need a waterproof camera. Or if the camera isn't waterproof, make sure you buy the correct waterproof housing.
You should also check if it's dustproof. Mountain biking and rock climbing involve a lot of dust. And you'll want a freezeproof camera for skiing or ice climbing. You need to know the camera is up to the job.
FAQs on the Best Budget Action Cameras
We receive a lot of questions about action cameras. Here are some of the top questions with our CameraReviews answers!
Is an Action Camera a GoPro?
A GoPro is an action camera. But not all action cameras are GoPros. GoPro is a brand of action camera. In fact, they're the biggest brand in action cameras. They were the first and they still set the standard. The problem is that GoPro cameras aren't cheap. But thankfully, there are cheaper action cameras available.
Is There a Better Camera Than the GoPro?
GoPros are hard to beat. The GoPro Hero 10 has set another new standard for action cameras. The performance is incredible for still images and 4K video. But it isn't cheap. The Hero 10 is the best action camera on the market. But buying the best isn't cheap. That's why we've shown you the best cheap action cameras here.
Is the Sony Action Camera Better Than the GoPro?
The GoPro Hero 10 beats the Sony AS30V in every department. The Sony option isn't a bad camera. But the GoPro is streets ahead on all specs. The Sony AS30V is the cheaper camera. But Akaso have cheaper cameras with better specs. That's why the Sony AS30V hasn't made our list.
Which is the Easiest Action Camera to Use?
All the Akaso action cameras are easy to use. But the Akaso Brave 4 could be the easiest. Later models have more features, which means more buttons and menus. The Akaso Brave 4 still performs well. And it's more stripped-back than the Akaso Brave 7 LE or Brave 8. The VTechKidizoom action cam is also easy to use. But it is a camera for children.
Which is the Best Budget Action Camera?
The Akaso Brave 4 tops our list. It's simple and straightforward. And it delivers stunning photos and videos. Other Akaso models are great too. But the price of the Brave 4 makes it an absolute bargain.
The Brave 7 LE and Brave 8 are fantastic action cameras. But you have to pay a bit more for them. The Kaiser Baas X450 is another steal. It works well and has an appealing price tag.
Is the Akaso EK7000 a Good Action Camera?
The short answer is yes. It gives you everything an action cam should. And you can buy one for a reasonable price. It isn't the best cheap action camera. But it's a good option for any thrill-seeker.
Still not sure which action camera is right for you? Try out articles on the best camera for skateboarding or skiing cameras next! We have great recent articles on the best camera for nature photography or jewellery photography too.