Last Update: June 2, 2023
Vintage-looking digital cameras are all the rage right now. They combine the cool retro style of film cameras with the features and convenience of modern digital cameras. They give you the best of both worlds. You get the look and the performance.
We've compiled a list of the best retro-style cameras so you can have the vintage look and take fantastic digital photos.
Every item on the list is a top-quality digital camera. But they all have the style and look of a classic film camera. Whether you're a beginner or want something more advanced, our retro-style digital cameras will meet all your needs.
What is the Best Vintage-Looking Camera?
Film photography is back in fashion. Young photographers today love using retro cameras and shooting 35mm film. But while film cameras are at the height of cool, they don't have the conveniences of modern digital camera types. Film is expensive and difficult to buy. And you have to get the rolls developed. It all takes time and the costs add up.
A vintage digital camera gives you the best of both worlds. You have the ease and convenience of digital cameras that look like film. But you're not limited to 36 images and you have all the modern features. And you can share the photos online within minutes. But your street cred remains undamaged.
And it's not just the camera bodies that give you the vintage feel. Many retro-looking cameras on this list have built-in features and filters that give your photos a film photography look. And you can also use programs like Luminar Neo to add retro film camera filters to your digital images.
Fujifilm X-T30 II

Powerful APS-C sensor with 26 MP
Fast burst rate
Stylish retro camera body
Built-in film simulation modes

Olympus OM-D E-M10 Mark IV

Compact, lightweight, and vintage body
5-axis image stabilization
Fantastic autofocus system for tracking subjects

Olympus Pen E-PL10

Built-in image stabilization system
Brilliant video mode
Solid low-light performance with wide ISO range

Fujifilm X-T4

Powerful APS-C sensor with 26 MP resolution
Excellent built-in image stabilization system
15 fps burst speed
12 film simulation modes

Leica M10

Excellent image quality
Retro rangefinder body design
Wide ISO range for low light

Olympus OM-D E-M5 Mark III

50 MP High-Res Shot mode
30 fps burst speed
Built-in image stabilization
Weather sealed for outdoor shooting

Nikon Z fc

Sleek and Stylish body design
Excellent AF with face and eye detection
Fantastic video features

Fujifilm X100F

Accurate phase detection AF system
Retro rangefinder body design
Outstanding image quality
Built-in film simulation modes

Panasonic Lumix DC-GX9

Dual system for image stabilization
Lumix 4K Photo mode for 30 fps burst speed
Includes film simulation modes

Fujifilm X-Pro3

Classic rangefinder design
Excellent 4K video mode
Outstanding image quality from the APS-C sensor

Best Full Frame Mirrorless

Sony a7C

Outstanding AF system
Wide ISO range and excellent low-light performance
Built-in image stabilization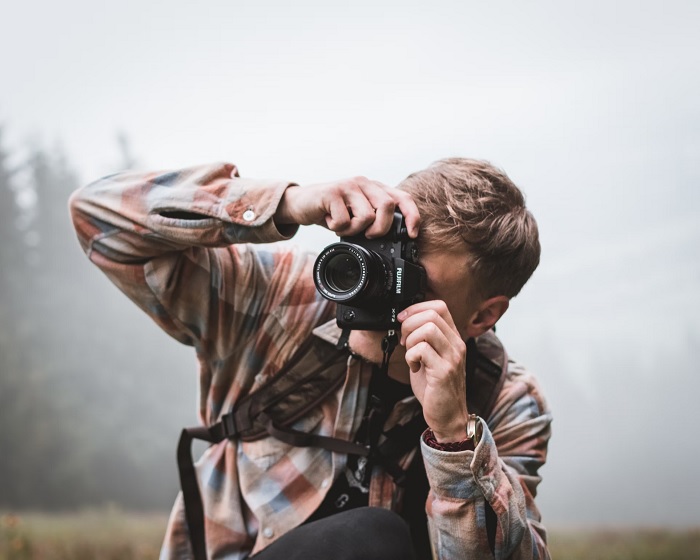 11 Best Vintage-Looking Cameras in Detail
Let's find you a modern camera with the vintage look you want. Our list contains retro-style cameras with the best digital camera features under the hood. We have cameras of different types, including mirrorless and compact cameras. And there are digital cameras that look like film for all skill levels and budgets.

Our Verdict
The Fujifilm X-T30 II tops our list of the best vintage-looking digital cameras. It's a brilliant mirrorless digital camera. It has a powerful sensor and exciting features for photos and videos. And it has a retro aesthetic that appeals to classic camera lovers.
There are some trendy vintage-looking cameras on the market. They are all digital cameras with fantastic digital features. But these retro-style cameras have the vintage appeal of classic film cameras. With their incredible performance and their old-fashioned good looks, they give you the best of both worlds.
Still not sure which camera to go for? Try our articles on the best camera for family photography or artist cameras next! Or, compare any two cameras in our database to see how their specs and scores match up. You can start by seeing how some of our top vintage-looking digital competitors compare to other top models: