Last Update: June 2, 2023
Vintage-looking digital cameras are all the rage right now. They combine the cool retro style of film cameras with the features and convenience of modern digital cameras. They give you the best of both worlds. You get the look and the performance.
We've compiled a list of the best retro-style cameras so you can have the vintage look and take fantastic digital photos.
Every item on the list is a top-quality digital camera. But they all have the style and look of a classic film camera. Whether you're a beginner or want something more advanced, our retro-style digital cameras will meet all your needs.
What is the Best Vintage-Looking Camera?
Film photography is back in fashion. Young photographers today love using retro cameras and shooting 35mm film. But while film cameras are at the height of cool, they don't have the conveniences of modern digital camera types. Film is expensive and difficult to buy. And you have to get the rolls developed. It all takes time and the costs add up.
A vintage digital camera gives you the best of both worlds. You have the ease and convenience of digital cameras that look like film. But you're not limited to 36 images and you have all the modern features. And you can share the photos online within minutes. But your street cred remains undamaged.
And it's not just the camera bodies that give you the vintage feel. Many retro-looking cameras on this list have built-in features and filters that give your photos a film photography look. And you can also use programs like Luminar Neo to add retro film camera filters to your digital images.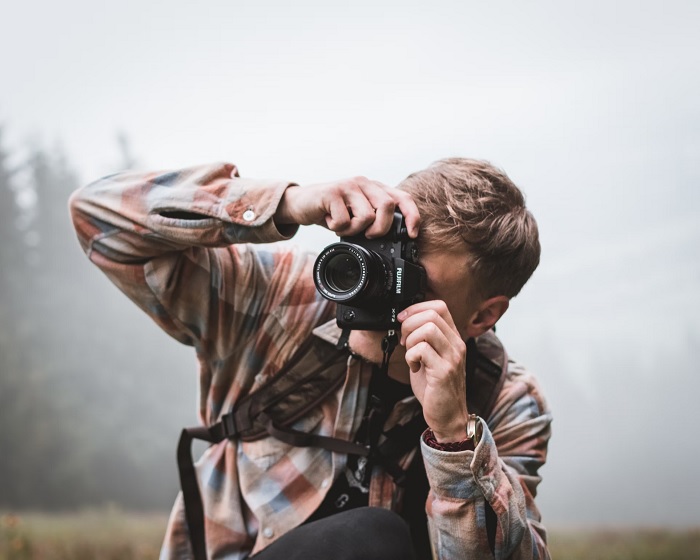 11 Best Vintage-Looking Cameras in Detail
Let's find you a modern camera with the vintage look you want. Our list contains retro-style cameras with the best digital camera features under the hood. We have cameras of different types, including mirrorless and compact cameras. And there are digital cameras that look like film for all skill levels and budgets.

Our Verdict
The Fujifilm X-T30 II tops our list of the best vintage-looking digital cameras. It's a brilliant mirrorless digital camera. It has a powerful sensor and exciting features for photos and videos. And it has a retro aesthetic that appeals to classic camera lovers.
There are some trendy vintage-looking cameras on the market. They are all digital cameras with fantastic digital features. But these retro-style cameras have the vintage appeal of classic film cameras. With their incredible performance and their old-fashioned good looks, they give you the best of both worlds.
Still not sure which camera to go for? Try our articles on the best camera for family photography or artist cameras next! Or, compare any two cameras in our database to see how their specs and scores match up. You can start by seeing how some of our top vintage-looking digital competitors compare to other top models: