Canon EOS 5D Mark IV vs EOS 6D Mark II Comparison
Optics
Video
Features
Storage & Battery
Canon EOS 5D Mark IV
Winner!
Canon EOS 6D Mark II
Price

Brand

Canon

Canon

Model

EOS 5D Mark IV

EOS 6D Mark II

Released

Refers to the year this camera was officially made available for sale.

2016

2017

Announcement Date

Refers to the date the manufacturer publicly announced the upcoming release and general specs of this camera.

August 25, 2016

June 29, 2017

Camera Type

DSLR

DSLR

Camera Size

Camera Weight
Canon 6D Mark II vs 5D Mark IV Overview
In a battle between the Canon EOS 5D Mark IV vs Canon EOS 6D Mark II, who wins?
If you're wondering what is the difference between the Canon EOS 5D Mark IV and the Canon EOS 6D Mark II, then you're not alone. In some ways, this pair of upgrades from the world's biggest DSLR manufacturer poses a difficult choice.
Canon EOS 5D Mark IV
A powerhouse DSLR boasting a whopping 30.4 megapixels, a high ISO range, and an accurate autofocus system
!
Overall, we've chosen the Canon EOS 5D Mark IV as the winner in this head-to-head. But it wasn't a one-sided romp home. Read on to find out what tipped the scales.
Body and Handling
If you've never used a full frame DSLR before, then this is going to be an experience. Both the Canon EOS 6D Mark II and the EOS 5D Mark IV are substantial, solid bits of kit. The EOS 5D Mark IV is slightly bigger and heavier, but both impress with their full frame solidity.
The extra size is partly governed by the chunkier grip on the 5D. And the grip will be something that is down to personal preference. With a heavy camera, I like a chunky grip. Although, I also use the Peak Design Handstrap, especially with the battery grip. If you have smaller hands than me (mine aren't huge), then the Canon EOS 6D Mark II might suit you better.
It's fair to say that with both these cameras, you won't be slipping them in your pocket for a casual day of sightseeing.
What do you get with both cameras? A solid, rugged construction. The Canon EOS 6D Mark II chassis is made from aluminum alloy with some polycarbonate elements. This is partly what accounts for its lighter weight. The EOS 5D Mark IV chassis is made from a manganese alloy for extra strength.
Both have some measure of environmental sealing, but the Canon EOS 5D Mark IV has a higher level of protection. This makes sense, as it is aimed more unashamedly at the professional camera market. In that world, you need a good level of protection. Of course, neither is waterproof in the way that an action camera is.
Controls
There are many similarities between the Canon EOS 6D Mark II and the EOS 5D Mark IV controls. The top of the bodies look very similar, with an LCD information screen. This gives you all the basic data you need quickly—exposure settings, focus mode, Wi-Fi status, and drive mode.
One main difference is that the 5D has four buttons, three of which are dual-function. The 6D Mark II has five, but all are single-function. This leaves white balance and flash exposure compensation missing from this rapid reach.
Both have easy right-thumb access for AF on, exposure lock, and AF point selection. They also share the two control-wheel setup. One sits behind the shutter button, and the other is on the rear panel.
This rear panel has more significant differences. The articulating screen on the Canon EOS 6D Mark II means there aren't buttons to the left of the main screen. (Because that's where the hinge is.) With the EOS 5D Mark IV, all the playback buttons are there, along with the delete, magnify, and rate buttons.
The Canon EOS 5D Mark IV has a larger screen with better resolution. Both screens are touch-sensitive. A big advantage of the 5D is the joystick controller that sits perfectly under the right thumb. It is well-named, as it is a joy to use. Canon's newest EOS cameras have improved on it with buttons you swipe. But between these two cameras, this is a win for the EOS 5D Mark IV.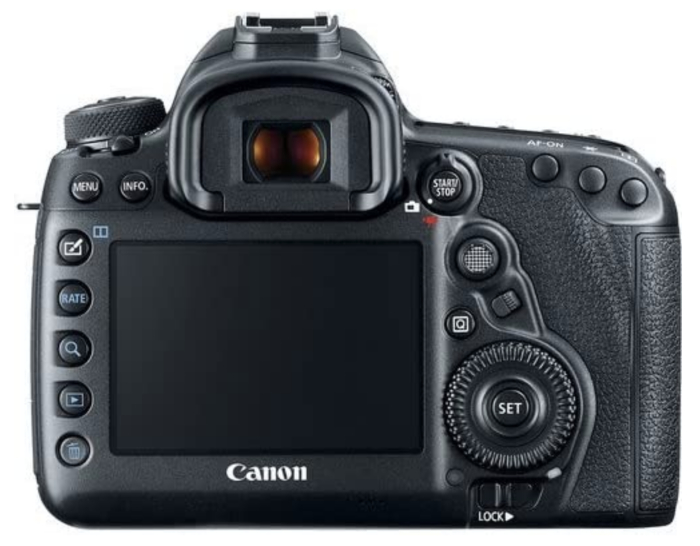 Time for the Canon EOS 6D Mark II to win. The articulating LCD screen is a bonus. There is a sniffiness about articulating screens on "serious" DSLRs. But I think it's misplaced. They are an absolute boon for landscape photography and for many video needs. If you work in either of these fields, then the 6D Mark II wins on this count.
When using the optical viewfinder, both cameras benefit from clear, bright optics. They have diopter adjustments for spectacle wearers. The EOS 5D Mark IV has full 100% image coverage, which is better than the EOS 6D Mark II's 98%.
Overall, though, the Canon EOS 5D Mark IV is the winner in this category. The additional controls make it an easier camera to use.
Canon EOS 5D Mark IV vs Canon EOS 6D Mark II Optics
Sensor and AF
As you'd expect from a Canon EOS DSLR with a full frame sensor, you will get excellent image quality from either of these Canon EOS cameras.
There are some differences. The EOS 5D Mark IV has 4 MP more than the EOS 6D Mark II. This isn't a huge gulf, but it is 15% more pixels. In everyday use, there won't be many times that this is critical. But at large magnifications, there will be times when you notice the difference in image quality.
The Canon EOS 5D Mark IV has 61 AF focus points, compared with the EOS 6D Mark II's 45. All of the 6D Mark II's focus points are cross-type. The 5D has 41 cross-type AF points. Both cameras use a Dual Pixel CMOS AF sensor, and both have contrast and phase detection. In both cases, the same two-system AF is also available in Live View.
ISO & Dynamic Range
Both cameras have a standard and expanded ISO range, and they both start at 100 and 50 respectively. The top of the expanded range is the same at 102,400. But the EOS 6D Mark II pips its stablemate with a 40,000 top ISO (compared with 32,000).
This is only 1/3 of a stop, so it's not a deal-breaking difference, I would suggest. And at the expanded 102,400 ISO, both perform exceptionally well.
The Canon EOS 5D Mark IV has a dynamic range of 13.6 EV, which will serve you well in most circumstances. The EOS 6D Mark II, however, has a little bit of an Achilles' heel here. At less than 10, its dynamic range is disappointing. This could be a deciding factor for your camera choice.
Optics

Megapixels

The higher the number of megapixels, the more detail the cameras sensor can capture.

Image Resolution

Image resolution is measured in pixels and megapixels, width by height. The higher the number, the higher its resolution.

6720 x 4480 px

6240 x 4160 px

Sensor Type

The camera sensor captures light and records the image. Sensors vary in physical size, the number of pixels, and quality.

CMOS

CMOS

Sensor Size

The sensor size contributes to the overall quality as well as the dynamic and tonal range a camera can capture. As a rule of thumb, the more surface there is to read the light, the more information it will capture.

24 x 36 mm

24 x 35.9 mm

Sensor Format

Refers to the most commonly used sensor sizes.

Full Frame

Full Frame

Frame Rate

The number of sequential frames per second the camera can write to the memory card when shooting in burst or continuous mode.

Lens Mount

The lens mount will tell you what type of lens range you can fit onto the camera body. Often the same camera company will have different lens ranges for different cameras.

Canon EF

Canon EF

Image Processor

The image processor in the camera converts the information collected on the sensor for digital storage on the memory card.

Digic 6+

Digic 7

Aspect Ratio

The aspect ratio refers to the proportional difference between width and height. The most popular aspect ratios are 3:2 and 4:3.

3:2

3:2

Minimum ISO (Native)

Refers to the lowest native (or 'base') ISO setting. Lower ISO are less sensitive to light but make a cleaner image.

Maximum ISO (Native)

Refers to the highest native (or 'base') ISO setting. Higher ISO is necessary for low-light situations or night photography, but higher ISOs often introduce grain or noise.

Minimum ISO (Expanded)

Expanded (or extended) ISO is a digitally enhanced feature available on some cameras. It allows you to push beyond the native ISO range if necessary.

Maximum ISO (Expanded)

Expanded (or extended) ISO is a digitally enhanced feature available on some cameras. It allows you to push beyond the native ISO range if necessary.

Minimum Shutter Speed

The minimum shutter speed will tell you the longest exposure your camera can take without using an external accessory.

Maximum Shutter Speed

The maximum shutter speed tells you the length inside 1 second the camera will capture. These can sometimes be extended with accessories such as extra external batteries.

Autofocus Points

Autofocus points show where the camera is focusing graphically as squares or brackets in Live View or on an electronic viewfinder. These points are also used for light meter readings.

In-body Stabilization

In-body Stabilization means the camera has a certain technology embedded that counteracts camera shake.

Viewfinder Type

The viewfinder type is either electronic or optical. Electronic viewfinders will have a small screen in the viewfinder. Optical viewfinders will use prisms and mirrors to look through the lens.

Optical (pentaprism)

Optical (pentaprism)
Canon EOS 5D Mark IV vs EOS 6D Mark II Video Performance
There are some clear difference between these two contenders when it comes to video. The EOS 6D Mark II has no 4K video and records only to MP4 file formats. Its 1080p video can be shot at 30 fps.
On the other hand, the Canon EOS 5D Mark IV offers 4K MOV video at 30 fps. It also has 1080p at 60 fps, or even 780p at 120 fps. The 1080p/60 fps combination is also available for MP4 files, if that's what you need. So there is some scope here for slow-motion videos, even if not at full 4K.
There's one caveat. The EOS 5D Mark IV uses a crop factor of 1.74 with its 4K video, making wide-angle shooting more of a challenge. On top of that, it is in video work that the lack of an articulating screen is most keenly felt.
In the 5D's favor is the provision of a microphone and headphone socket. The 6D Mark II has only the microphone input. While this is by far more important for video work, the headphone socket is a great benefit in the field.
Video

Video

Indicates if this camera is capable of recording video.

Max Video Resolution

The best resolution this camera can capture video in. Modern cameras can capture up to 8K video.

4K

Full HD

Max Video Dimensions

Video resolution measured by the greatest number of pixels possible in each frame, width by height. A higher resolution means more detail or clarity in your video.

4096 x 2160 px

1920 x 1080 px

Max Video Frame Rate

How many frames per second your video will capture. Most cameras have options for multiple frame rates, depending on the resolution you shoot in. For a general video, 24p or 30p is the standard, but more serious filmmakers may need a higher frame rate for creative effect.

120 p

60 p

Time-Lapse Built In

A built in time-lapse mode will allow continuous shooting throughout a prolonged period of time to be compressed into a sped up video.

Video File Format

Different cameras can record in various video file formats. The File format you record in can impact how you edit and use the files.

MOV, MP4

MP4, MOV
Canon EOS 5D Mark IV vs EOS 6D Mark II Features and Benefits
Both these cameras are revisions of a previous offering. With the Canon EOS 6D Mark II, there is only the original 6D to compare with. This was an important camera for Canon, bringing a full frame sensor to a lighter-weight DSLR. It wasn't pitched at the professional or more-money-than-sense enthusiast. It was at a price point that could appeal to the more fiscally conservative amateur.
The Canon EOS 5D Mark IV has the weight of legacy on its shoulders. The Mark III was immensely popular, and the workhorse of many professionals.
Both models succeeded in proving worthy successors. There is a substantial price gap between them. So the burning question is whether the EOS 5D Mark IV is worth the substantial extra money. The reasons it might be are:
Bigger sensor
More AF points
Bigger, clearer screen
4K video
USB 3.0
Headphone socket
Dual card slots (SD & CF)
Conversely, the Canon EOS 6D Mark II has these features which are possibly more attractive:
Lighter
Articulating screen
Bluetooth
Both of them have NFC and Wi-Fi for easy file transfer and remote control via Canon's app.
Features

Built-in Flash

A built-in flash will often be positioned right above the lens. This will automatically pop up when you activate it.

External Flash

External flashes are often connected through a hot shoe at the top of a camera, or a cable at the side of the camera.

GPS

GPS features in a camera will include location metadata to each of your photographs.

Weather Sealing

Weather sealing capabilities will give you more confidence when shooting in unfavourable conditions.

Screen Type

TFT LCD

LCD

Touch Screen

Touchscreen allows you to change camera settings and access menus with a swipe of your finger, instead of using buttons.

Screen Size

3.2"

3"

Screen Resolution

Screen dots indicate the resolution of the LCD screen by including each sub pixel.

Flip Screen

A flip screen (or articulating screen) is a second screen which can flip out from the side or top of the camera. This rotating screen allows you more freedom to take photos at different angles.

Live View

Live View feature allows you to see a continuous live video of what is being seen through your lens.

Wi-Fi

Bluetooth

Bluetooth capabilities allow you wireless control of your camera with other external devices.
Canon EOS 5D Mark IV vs EOS 6D Mark II Storage and Battery
One of the big differences between these two cameras is under the little flap on the side. In the case of the EOS 6D Mark II, it is a very little flap. That's because the EOS 6D Mark II only takes one memory card.
Professional photographers like having two memory card slots. It's rare, but memory cards do go bad. And you almost never find out until it's too late.
With two cards, you can increase capacity by recording to one then the other. Or you can record separately (RAW to one, JPEG to the other). Most usefully, though, you can record the same to both. That way, if one fails, you have a backup.
So it's a big plus for the EOS 5D Mark IV that it has dual card slots. It shows its age in not having a CFexpress slot, though.
The same battery fits both cameras, but the EOS 6D Mark II has a longer battery life. It squeezes 30% more shots from it.  This seems a dramatic difference, but in practice, it probably makes no difference for a professional. They would never consider having only one battery. And two batteries in either of these cameras will last longer than you can take photos for.
Storage and Battery

Memory Card

SD / SDHC / SDXC (UHS-I compatible), Compact Flash

SD / SDHC / SDXC (UHS-I compatible)

Dual Memory Card Slots

Battery Type

LP-E6N

LP-E6N

Battery Life

Approximately how long this cameras battery will last measured by how many photographs you will be able to take.

USB Charging
Overall Score

DXOMARK overall sensor score.

Portrait (Color Depth)

As described by

DXOMARK

'The Portrait score in our camera sensor reviews defines color depth performance and its unit is a number of bits. A color depth of 22 bits is excellent; differences below 1 bit are barely noticeable.'

Landscape (Dynamic Range)

As described by

DXOMARK

'The Landscape score in our camera sensor tests defines the maximum dynamic range of the camera sensor and its unit is an exposure value (EV). A value of 12 EV is excellent with differences below 0.5 EV usually not noticeable.'

Sports (Low-Light ISO)

Described by

DXOMARK

as 'The maximal value of ISO sensitivity needed to reach a given value of Signal-to-Noise Ratio (SNR). The greater the value, the better'
Canon EOS 5D Mark IV vs EOS 6D Mark II – Our Verdict
My camera-savvy school colleagues looked at me suspiciously when I bought the EOS 5D Mark IV's predecessor. They didn't know of my plan to "turn pro." For an enthusiast, the price difference between the EOS 5D Mark IV and EOS 6D Mark II is huge. It allows you to buy a quality L Series lens.
Canon EOS 5D Mark IV
A powerhouse DSLR boasting a whopping 30.4 megapixels, a high ISO range, and an accurate autofocus system
!
So, in a comparison like this, you have to decide if the advantages of the EOS 5D Mark IV are worth it to you. It beats the EOS 6D Mark II in most areas. But both cameras will reliably give you years of great service and fabulous image quality.
What Camera is Better Than the Canon EOS 5D Mark IV?
Do you fancy staying full frame, but moving to mirrorless? The Canon EOS R6 is a fantastic camera and sits nicely between these two DSLRs pricewise.
If you want to check out some more comparisons for inspiration, why not start with these:
B&H photo video

N/A
Spotted a mistake with these camera specs? Please let us know so we can update it!