Canon EOS 5D Mark IV vs EOS R6 Comparison
Optics
Video
Features
Storage & Battery
Canon EOS 5D Mark IV
Canon EOS R6
Winner!
Price

Brand

Canon

Canon

Model

EOS 5D Mark IV

EOS R6

Released

Refers to the year this camera was officially made available for sale.

2016

2020

Announcement Date

Refers to the date the manufacturer publicly announced the upcoming release and general specs of this camera.

August 25, 2016

August 27, 2020

Camera Type

DSLR

Mirrorless

Camera Size

Camera Weight
Canon R6 vs 5D Mark IV Overview
Has time finally been called on the DSLR? With this review of the mighty Canon EOS 5D Mark IV and the Canon EOS R6, will we see that the mirrorless upstart has supplanted the old timer? In short, the answer is a qualified "yes."
The Canon EOS 5D Mark IV has one of the finest pedigrees for an interchangeable lens camera. The Mark III was loved by serious amateurs and professionals alike. The Mark IV fixed some of that camera's shortcomings and brought the model up-to-date for the most part.
When Canon released the 5D Mark IV, it was still unlikely that full-time professional photographers would consider mirrorless cameras as their digital camera workhorse. In 2022, it seems fair to suggest that even Canon recognizes that the tide is running away from DSLRs and toward mirrorless. It even appears that the famed EF-mount will not see much in the way of new lenses.
Of course, none of this means that the DSLR is a spent force. There will be some photographers for whom the 5D Mark IV will be what they need. There will be some for whom the R6 falls short. But, it seems that for many of you looking at buying or upgrading, the Canon EOS R6 will be the best choice.
Body and Handling
Both the Canon EOS 5D Mark IV and the EOS R6 look like serious bits of kit. The mirrorless R6 is roughly ½ inch (1.2 cm) smaller in all directions. That reduced size is reflected in the weight. The EOS R6 is nearly ½ lb (210 g) lighter.
From the front, they both have a chunky, comfortable hand grip (the R6's is slightly bigger) with an integrated shutter button. The top view is noticeably different. Both have the shutter button, scroll wheel, and multi-function (M-Fn) button in similar positions. But there is no LCD screen on the R6.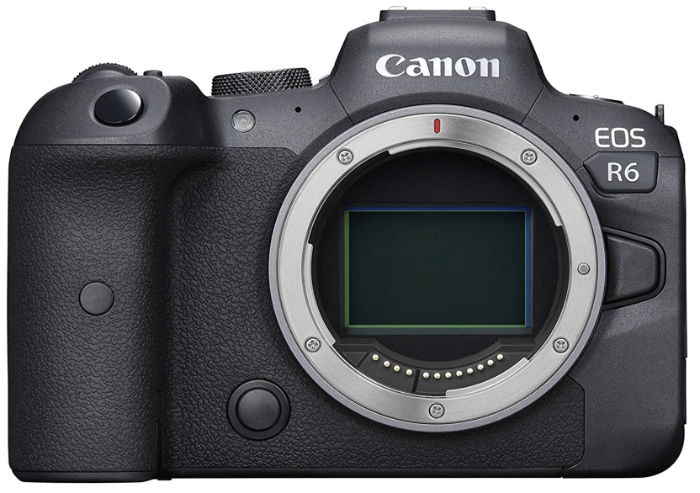 Where the LCD screen sits on the 5D, the R6 has a Mode Control dial and an additional Quick Control dial. This means you have two quick control dials and the joystick within reach of your thumb. Finally, the video start/stop button falls under the right index finger rather than the thumb on the 5D.
The rear of the cameras is very similar. The biggest difference is the articulating screen on the R6. This means that, for instance, the play, delete, and magnifying buttons do not sit along the left side of the screen. Canon has long resisted articulating screens on their pro-level cameras. But for shooting video, and often action photography, they can be a real game-changer.
As well as the articulating screen, of course, the biggest difference is with the viewfinder. The EOS 5D Mark IV uses an optical viewfinder. The R6 has an electronic one. The 120 fps refresh rate of the R6 viewfinder will at least come close to the experience of an optical viewfinder. This should help users coming from a DSLR. It also brings the added convenience of additional overlays and viewing capabilities. By default, in a nod to DSLR users, the main screen shows the last photo taken when you remove your eye from the viewfinder eyepiece.
Optics
Three data points appear to put the Canon EOS R6 ahead in this field—frame rate, maximum ISO, and AF points. And there is one where the Canon EOS 5D Mark IV seems to be the clear winner—megapixels. Dynamic range is broadly similar for both cameras and in line with what you expect from advanced digital cameras.
The Canon EOS R6's electronic shutter can shoot at 20 fps, nearly three times as fast as the Canon EOS 5D Mark IV's 7 fps. Even the mechanical shutter boasts 12 fps. The boosted ISO of 204,800 is a whole stop more on the R6 than the 102,400 of the 5D Mark IV.
More significant are the AF points. With the DSLR you get 61. My first EOS camera was pretty fancy with three. But 61 seems like a rather feeble effort compared with 1,053 on the R6. And even more so when you realize that those AF points cover the entire sensor area.
But the optics story doesn't end there. The R6 uses the Digic X processor introduced in the Canon EOS 1DX Mark III. It doesn't come much more of a flagship than that. But the Digic X is one of the reasons the R6 can process images and 4K in the way it does.
Another score for the R6 is the image stabilization. While the 5D Mark IV relies on the IS built into the lens, the R6 has in-camera 5-axis stabilization. Plus, when used with a Canon RF mount lens, the two IS systems work together, bringing a total of 8 stops IS.
Let's say, with a 200 mm lens, you would normally want a 1/250 shutter speed to guard against camera shake. A top-quality Canon lens would give you 3.5 stops of IS. So you could go down to roughly 1/30. The R6 can theoretically go down to a one-second exposure. That's extremely impressive.
Now, that 30.4 MP vs 20.1 MP sensor size definitely stacks up in the EOS 5D Mark IV's favor. Realistically, though, even professional photographers are rarely going to need those extra megapixels. Day-to-day image quality isn't really affected. And part of the reason the R6 can process pictures so quickly is the combination of 20.1 MP and the Digic X processor.
A final factor in the R6 column is that the RF-mount user has access to all the native mounts, plus the whole EF range. But the same is not true vice versa. On balance, the optics argument goes to the Canon EOS R6.
Optics

Megapixels

The higher the number of megapixels, the more detail the cameras sensor can capture.

Image Resolution

Image resolution is measured in pixels and megapixels, width by height. The higher the number, the higher its resolution.

6720 x 4480 px

5472 x 3648 px

Sensor Type

The camera sensor captures light and records the image. Sensors vary in physical size, the number of pixels, and quality.

CMOS

CMOS

Sensor Size

The sensor size contributes to the overall quality as well as the dynamic and tonal range a camera can capture. As a rule of thumb, the more surface there is to read the light, the more information it will capture.

24 x 36 mm

23.9 x 35.9 mm

Sensor Format

Refers to the most commonly used sensor sizes.

Full Frame

Full Frame

Frame Rate

The number of sequential frames per second the camera can write to the memory card when shooting in burst or continuous mode.

Lens Mount

The lens mount will tell you what type of lens range you can fit onto the camera body. Often the same camera company will have different lens ranges for different cameras.

Canon EF

Canon RF

Image Processor

The image processor in the camera converts the information collected on the sensor for digital storage on the memory card.

Digic 6+

Digic X

Aspect Ratio

The aspect ratio refers to the proportional difference between width and height. The most popular aspect ratios are 3:2 and 4:3.

3:2

3:2

Minimum ISO (Native)

Refers to the lowest native (or 'base') ISO setting. Lower ISO are less sensitive to light but make a cleaner image.

Maximum ISO (Native)

Refers to the highest native (or 'base') ISO setting. Higher ISO is necessary for low-light situations or night photography, but higher ISOs often introduce grain or noise.

Minimum ISO (Expanded)

Expanded (or extended) ISO is a digitally enhanced feature available on some cameras. It allows you to push beyond the native ISO range if necessary.

Maximum ISO (Expanded)

Expanded (or extended) ISO is a digitally enhanced feature available on some cameras. It allows you to push beyond the native ISO range if necessary.

Minimum Shutter Speed

The minimum shutter speed will tell you the longest exposure your camera can take without using an external accessory.

Maximum Shutter Speed

The maximum shutter speed tells you the length inside 1 second the camera will capture. These can sometimes be extended with accessories such as extra external batteries.

Autofocus Points

Autofocus points show where the camera is focusing graphically as squares or brackets in Live View or on an electronic viewfinder. These points are also used for light meter readings.

In-body Stabilization

In-body Stabilization means the camera has a certain technology embedded that counteracts camera shake.

Viewfinder Type

The viewfinder type is either electronic or optical. Electronic viewfinders will have a small screen in the viewfinder. Optical viewfinders will use prisms and mirrors to look through the lens.

Optical (pentaprism)

Electronic

Viewfinder Resolution

N/A
Canon EOS 5D Mark IV vs EOS R6 Video Performance
A quick look at the basic video specs below could lead you to assume that the 5D Mark IV is the winner in this category. But you'd be wrong. Both shoot 4K, both can shoot at 120 fps, and the 5D has a bigger maximum video size. But the critical differences are in the detail.
Video in 4K on the 5D means cropping the area of the sensor used by 1.74 times. For context, this is smaller than Canon's APS-C camera sensors. So you're shooting on an APS-C-like sensor with your full frame sensor camera.
If you regularly need to grab high-quality stills from your video, then the Canon EOS 5D Mark IV's method of recording might be attractive. It uses a Motion JPEG codec. This means that it captures a succession of JPEG stills. This gives you, in effect, a camera shooting 8.8 MP photos at 30 frames per second. The disadvantage of this is that it is very memory-hungry and requires a fast memory card.
Both cameras have Canon's Dual Pixel autofocus. This provides excellent, responsive, and smooth focusing. With both, you can ask the camera to keep the focus on the subject's eyes, and they will respond. They both also benefit from touchscreen focus selection points
On the downside, both suffer quite badly from rolling shutter, which can be a problem in certain filming situations.
For video, the Canon EOS R6 is a clear winner. For all the above reasons and other more technical ones, it will give you a better video experience than its bigger, heavier sibling.
Video

Video

Indicates if this camera is capable of recording video.

Max Video Resolution

The best resolution this camera can capture video in. Modern cameras can capture up to 8K video.

4K

4K

Max Video Dimensions

Video resolution measured by the greatest number of pixels possible in each frame, width by height. A higher resolution means more detail or clarity in your video.

4096 x 2160 px

3840 x 2160 px

Max Video Frame Rate

How many frames per second your video will capture. Most cameras have options for multiple frame rates, depending on the resolution you shoot in. For a general video, 24p or 30p is the standard, but more serious filmmakers may need a higher frame rate for creative effect.

120 p

120 p

Time-Lapse Built In

A built in time-lapse mode will allow continuous shooting throughout a prolonged period of time to be compressed into a sped up video.

Video File Format

Different cameras can record in various video file formats. The File format you record in can impact how you edit and use the files.

MOV, MP4

MP4
Canon EOS 5D Mark IV vs EOS R6 Features and Benefits
If, like me, you are an EOS 5D Mark III user, the Mark IV would be a logical choice for an upgrade. When I use my daughter's, it all feels very familiar.
The EOS R6 would be more of a change, but there are enough similarities for me not to feel completely lost using it for the first time.
Both cameras offer an extensive range of features (as you'd expect at this price). There's no GPS with the R6. This is a bit of a surprise for a camera that both is and feels more modern than the 5D Mark IV. Conversely, there's no Bluetooth with the 5D.
These cameras score mostly even, although the articulating screen on the R6 is a significant advantage.
Features

Built-in Flash

A built-in flash will often be positioned right above the lens. This will automatically pop up when you activate it.

External Flash

External flashes are often connected through a hot shoe at the top of a camera, or a cable at the side of the camera.

GPS

GPS features in a camera will include location metadata to each of your photographs.

Weather Sealing

Weather sealing capabilities will give you more confidence when shooting in unfavourable conditions.

Screen Type

TFT LCD

LCD

Touch Screen

Touchscreen allows you to change camera settings and access menus with a swipe of your finger, instead of using buttons.

Screen Size

3.2"

3"

Screen Resolution

Screen dots indicate the resolution of the LCD screen by including each sub pixel.

Flip Screen

A flip screen (or articulating screen) is a second screen which can flip out from the side or top of the camera. This rotating screen allows you more freedom to take photos at different angles.

Live View

Live View feature allows you to see a continuous live video of what is being seen through your lens.

Wi-Fi

Bluetooth

Bluetooth capabilities allow you wireless control of your camera with other external devices.
Canon EOS 5D Mark IV vs EOS R6 Storage and Battery
Both cameras have dual memory card slots. Like its ancestors, the EOS 5D Mark IV uses both an SD and CF slot. The Motion JPEG video capture we talked about earlier has a bearing here. The SD (UHS-I) compatible cards it uses are not reliably fast enough to record to. This leaves you relying on one card. This makes professional photographers nervous.
The EOS R6, however, has two UHS-II compatible SD card slots. This makes things simpler and means both cards are available all the time.
The latest Canon LP-E6NH batteries will work in both cameras. The 5D is a clear winner in battery life, which is probably down to the electronic viewfinder. The R6 has the advantage of on-board charging via USB, but you definitely have to factor in the cost of an additional battery for the R6.
Storage and Battery

Memory Card

SD / SDHC / SDXC (UHS-I compatible), Compact Flash

SD / SDHC / SDXC (UHS-II compatible)

Dual Memory Card Slots

Battery Type

LP-E6N

LP-E6NH

Battery Life

Approximately how long this cameras battery will last measured by how many photographs you will be able to take.

USB Charging
Overall Score

DXOMARK overall sensor score.

Portrait (Color Depth)

As described by

DXOMARK

'The Portrait score in our camera sensor reviews defines color depth performance and its unit is a number of bits. A color depth of 22 bits is excellent; differences below 1 bit are barely noticeable.'

Landscape (Dynamic Range)

As described by

DXOMARK

'The Landscape score in our camera sensor tests defines the maximum dynamic range of the camera sensor and its unit is an exposure value (EV). A value of 12 EV is excellent with differences below 0.5 EV usually not noticeable.'

Sports (Low-Light ISO)

Described by

DXOMARK

as 'The maximal value of ISO sensitivity needed to reach a given value of Signal-to-Noise Ratio (SNR). The greater the value, the better'
Canon EOS 5D Mark IV vs EOS R6 – Our Verdict
Let's be clear, both these cameras are great pieces of kit. There's a reason the 5D series of cameras has a long list of adherents. It's a top-level, reliable, and serious camera. Does the EOS R6 have what it takes to topple the 5D Mark IV? It depends on your needs.
If I were looking to upgrade from my 5D Mark III, I'm pretty convinced it would be an R6 that takes my money. Superior video capability, more comprehensive AF coverage, an articulating screen, and a lighter body. These are the clinching arguments for me.
As with all things photographic, your needs will skew your judgment one way or another. But right now, if it were my choice, I'd spend my money on the Canon EOS R6.
B&H photo video

N/A
Spotted a mistake with these camera specs? Please let us know so we can update it!