Canon EOS R3 vs EOS R5 Comparison
Optics
Video
Features
Storage & Battery
Canon EOS R3
Canon EOS R5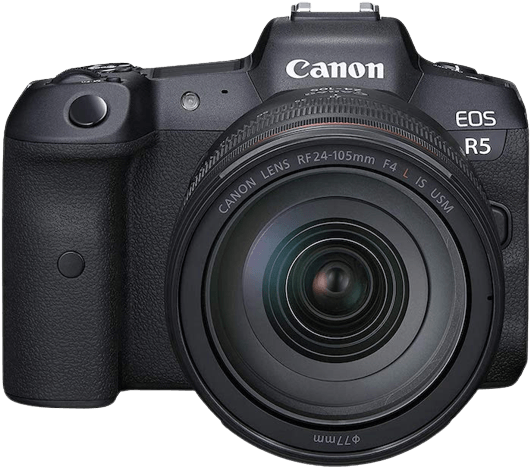 Winner!
Price

Brand

Canon

Canon

Model

EOS R3

EOS R5

Released

Refers to the year this camera was officially made available for sale.

2021

2020

Announcement Date

Refers to the date the manufacturer publicly announced the upcoming release and general specs of this camera.

September 14, 2021

July 30, 2020

Camera Type

Mirrorless

Mirrorless

Camera Size

Camera Weight
Canon R3 vs R5 Overview
Canon R3 vs R5 is a matchup between Canon's top full frame mirrorless cameras. Let's see which one is worth your money!
The Canon EOS R3 has been on the market since September 2021, released 14 months after the Canon EOS R5 in July 2020. This tells us there won't be too much between the two cameras. But both cameras are for different types of photographers.
Canon EOS R3
The Canon EOS R3 is a complete mirrorless camera with great dynamic range and low light performance!
At first glance, the Canon EOS R3 is more expensive but has more specialist features. The Canon EOS R5 has a higher resolution and better video capabilities. When looking at size and weight, there is quite a difference between the cameras. The Canon EOS R3 is bigger and heavier than the Canon EOS R5. You will have to carry an extra 300 grams with the R3.
The Canon EOS R3 is a camera for professional environments that require speed, such as sports and wildlife photography. The Canon EOS R5 gives you amazing image quality and the best video quality on the market in a mirrorless camera.
Now let's dive into the Canon R3 vs R5 specs in more depth. We will compare the different aspects of each camera to understand where each camera performs at its best. By the end of this review, you will understand which camera could work best for you!
Body and Handling
We have already established that the Canon EOS R3 is bigger and heavier than the Canon EOS R5. Both cameras use the same ergonomics that Canon has developed throughout their product development.
The main, obvious difference between the two Canons is the extended body the Canon EOS R3 has. The extended body is an integrated battery grip that houses extra batteries and a few extra buttons. The Canon EOS R5 would be of a similar size if you attached a vertical grip to the camera body.
As both cameras came out around the same time, you will find that their buttons and screens are almost the same size and exactly in the same place. One difference you will find is that the video recording button is near the shutter release on the Canon EOS R5. Both cameras also feature a 3.2″ tilt-able LCD screen. You will also notice that both EOS cameras feature a digital square screen on top. This seems to be the new trend for the top Canon cameras, so no surprise you will find it here.
Optics
Canon R3 vs R5 Sensor
Even though the Canon EOS R3 sensor doesn't give you as many megapixels, it is the new camera sensor type developed by Canon. The sensor is back-illuminated and stacked. This means two layers of the circuitry are "stacked" together. This sends the image to the processor quicker. Canon claims this allows 30 fps continuous shooting and allows the camera to check the focus 60 times every second!
The R3 sensor also features circuitry on its rear, allowing it to gather more light and reduce noise. Canon also claims the sensor has the perfect balance between key points—resolution, low-light performance, and transmittable file size. This would be perfect for news and sports photographers. They even have a feature titled Digital Lens Optimizer. This maximizes the definition you can get from both the camera sensor and the lens.
The Canon EOS R5 features an amazingly powerful CMOS sensor, giving you a maximum resolution of 45 megapixels. This is paired with a DIGIC X processor.
Frame Rates, Autofocus, and Shutter Speeds
As the Canon EOS R3 is built for speed, we expect to see a higher frame rate than the R5. A difference of 10 frames per second is considerable. But the 20 fps from the R5 will still allow you to capture fast-moving subjects.
The autofocus abilities look similar on the chart below. But the Canon EOS R3 is pushing autofocus technology into the future. The R3 welcomes autofocus that you control with your eye! The viewfinder tracks your eyes and allows you to choose your AF point by looking at your subject.
The eye control AF will follow the subject you choose with its next-generation subject tracking. This includes vehicles, animals, and more! The deep learning technology can even track people with a mask or helmet. This is perfect for motorsport photography.
The R5 also features parts of this amazing AF system. The deep learning AI can track vehicles, cats, dogs, and birds. You can even choose whether you focus on their bodies, faces, or eyes.
This is similar to the face and eye detection mode for people. The system recognizes faces, including partially covered faces. All these elements, added with the image quality of the R5, make for an incredibly sharp camera.
You will also notice that the shutter speeds and AF points are the same in both the EOS cameras. One difference is the maximum ISO. The Canon R3 can go to an ISO of 102,400 and extend up to 204,800. The back-illuminated sensor brings new levels of dynamic range and decreases digital noise. So if you're looking for the camera that performs best in low-light conditions, the R3 could be for you.
Optics

Megapixels

The higher the number of megapixels, the more detail the cameras sensor can capture.

Image Resolution

Image resolution is measured in pixels and megapixels, width by height. The higher the number, the higher its resolution.

6012 x 4016 px

8192 x 5464 px

Sensor Type

The camera sensor captures light and records the image. Sensors vary in physical size, the number of pixels, and quality.

CMOS

CMOS

Sensor Size

The sensor size contributes to the overall quality as well as the dynamic and tonal range a camera can capture. As a rule of thumb, the more surface there is to read the light, the more information it will capture.

24 x 36 mm

23.9 x 35.9 mm

Sensor Format

Refers to the most commonly used sensor sizes.

Full Frame

Full Frame

Frame Rate

The number of sequential frames per second the camera can write to the memory card when shooting in burst or continuous mode.

Lens Mount

The lens mount will tell you what type of lens range you can fit onto the camera body. Often the same camera company will have different lens ranges for different cameras.

Canon RF

Canon RF

Image Processor

The image processor in the camera converts the information collected on the sensor for digital storage on the memory card.

Digic X

Digic X

Aspect Ratio

The aspect ratio refers to the proportional difference between width and height. The most popular aspect ratios are 3:2 and 4:3.

3:2

3:2

Minimum ISO (Native)

Refers to the lowest native (or 'base') ISO setting. Lower ISO are less sensitive to light but make a cleaner image.

Maximum ISO (Native)

Refers to the highest native (or 'base') ISO setting. Higher ISO is necessary for low-light situations or night photography, but higher ISOs often introduce grain or noise.

Minimum ISO (Expanded)

Expanded (or extended) ISO is a digitally enhanced feature available on some cameras. It allows you to push beyond the native ISO range if necessary.

Maximum ISO (Expanded)

Expanded (or extended) ISO is a digitally enhanced feature available on some cameras. It allows you to push beyond the native ISO range if necessary.

Minimum Shutter Speed

The minimum shutter speed will tell you the longest exposure your camera can take without using an external accessory.

Maximum Shutter Speed

The maximum shutter speed tells you the length inside 1 second the camera will capture. These can sometimes be extended with accessories such as extra external batteries.

Autofocus Points

Autofocus points show where the camera is focusing graphically as squares or brackets in Live View or on an electronic viewfinder. These points are also used for light meter readings.

In-body Stabilization

In-body Stabilization means the camera has a certain technology embedded that counteracts camera shake.

Viewfinder Type

The viewfinder type is either electronic or optical. Electronic viewfinders will have a small screen in the viewfinder. Optical viewfinders will use prisms and mirrors to look through the lens.

Electronic

Electronic

Viewfinder Resolution
Canon EOS R3 vs EOS R5 Video Performance
Both the Canon EOS R3 and R5 have exceptional video abilities. But there is one clear winner in this department—the Canon EOS R5.
The R5 can shoot up to 8K at 30 frames per second. This is the best quality you can find in a digital camera. Along with this, you will find that the camera can deal with video files in multiple ways. The R5 gives you various options, formats, aspect ratios, and compression methods.
Regarding the R5's 4K capabilities, you're able to shoot full 4K at 120 frames per second. You also get the same results in 4K with the Canon EOS R3.
The Canon R3 can only shoot up to 6K, which is still amazing video quality for a modern mirrorless camera. At 6K, the camera can shoot 60 fps, enough to give you smooth video in almost any situation.
Both cameras also have Dual Pixel CMOS AF II, a system that provides smooth autofocusing when shooting video. You will also find they both have great image stabilization abilities with electronic Movie Digital IS. This can significantly affect handheld shooting. It even almost removes the need for a gimbal.
For the time-lapse lovers out there, both cameras have a professional time-lapse movie mode. The R3 lets you choose between shooting every 2 seconds to shooting every 100 hours! And all the images are combined at the end, so there is no need for extra software.
Video

Video

Indicates if this camera is capable of recording video.

Max Video Resolution

The best resolution this camera can capture video in. Modern cameras can capture up to 8K video.

6K

8K

Max Video Dimensions

Video resolution measured by the greatest number of pixels possible in each frame, width by height. A higher resolution means more detail or clarity in your video.

6000 x 3164 px

8192 x 4320 px

Max Video Frame Rate

How many frames per second your video will capture. Most cameras have options for multiple frame rates, depending on the resolution you shoot in. For a general video, 24p or 30p is the standard, but more serious filmmakers may need a higher frame rate for creative effect.

120 p

120 p

Time-Lapse Built In

A built in time-lapse mode will allow continuous shooting throughout a prolonged period of time to be compressed into a sped up video.

Video File Format

Different cameras can record in various video file formats. The File format you record in can impact how you edit and use the files.

MPEG-4

MP4
Canon EOS R3 vs EOS R5 Features and Benefits
Regarding extra features, The Canon EOS R3 comes out on top. It seems Canon has swapped a higher megapixel count for particular abilities. The most noticeable is the built-in vertical grip, which allows for longer battery life. The built-in grip also helps power some other features that require some extra battery power.
One example of a feature that needs an extra battery is the electronic shutter that operates at ridiculous speeds. The electronic shutter can shoot up to a whopping 1/64,000 a second in complete silence! A high-speed continuous burst shooting mode can also shoot 195 fps for 50 frames! These stats will be welcomed by photographers who shoot fast-paced subjects such as sports or bird photos.
Another huge focus for the Canon EOS R3 is its connectivity. The camera has multiple ways of making the photographer's life easier and quicker. You can connect to Wi-Fi or ethernet to transmit images in real time. You can connect your camera to an always-on Bluetooth Camera Connect App. This transfers images automatically to your phone. There is also a new multifunction accessory shoe that can accommodate new accessories.
The Canon EOS R5 also has this connectivity app, which allows you to control your camera remotely. Apart from this, most of its features come from movie capabilities or amazing image quality.
My favorite feature of these cameras is the eye control AF featured in the Canon EOS R3.
Features

Built-in Flash

A built-in flash will often be positioned right above the lens. This will automatically pop up when you activate it.

External Flash

External flashes are often connected through a hot shoe at the top of a camera, or a cable at the side of the camera.

GPS

GPS features in a camera will include location metadata to each of your photographs.

Weather Sealing

Weather sealing capabilities will give you more confidence when shooting in unfavourable conditions.

Screen Type

LCD

LCD

Touch Screen

Touchscreen allows you to change camera settings and access menus with a swipe of your finger, instead of using buttons.

Screen Size

3.2"

3.2"

Screen Resolution

Screen dots indicate the resolution of the LCD screen by including each sub pixel.

Flip Screen

A flip screen (or articulating screen) is a second screen which can flip out from the side or top of the camera. This rotating screen allows you more freedom to take photos at different angles.

Live View

Live View feature allows you to see a continuous live video of what is being seen through your lens.

Wi-Fi

Bluetooth

Bluetooth capabilities allow you wireless control of your camera with other external devices.
Canon EOS R3 vs EOS R5 Storage and Battery
It's obvious that the camera with the built-in battery grip leads when comparing the Canon camera's battery life. The table below shows that the Canon EOS R3 can shoot almost double the number of shots over the Canon EOS R5. Again, these statistics would change if you were to buy an added grip for the Canon EOS R5.
Both Canon mirrorless cameras also have the same dual card slots. One slot will take an SD card, and one will take a CFexpress card. This flexibility allows you to record on the most powerful memory cards. You can shoot different material on each or save the same material to each memory card for backup.
Storage and Battery

Memory Card

SD / SDHC / SDXC, CFexpress Type B (UHS-II compatible)

SD / SDHC / SDXC (UHS-II compatible), CFexpress

Dual Memory Card Slots

Battery Type

LP-E19

LP-E6NH

Battery Life

Approximately how long this cameras battery will last measured by how many photographs you will be able to take.

USB Charging
Overall Score

DXOMARK overall sensor score.

Portrait (Color Depth)

As described by

DXOMARK

'The Portrait score in our camera sensor reviews defines color depth performance and its unit is a number of bits. A color depth of 22 bits is excellent; differences below 1 bit are barely noticeable.'

Landscape (Dynamic Range)

As described by

DXOMARK

'The Landscape score in our camera sensor tests defines the maximum dynamic range of the camera sensor and its unit is an exposure value (EV). A value of 12 EV is excellent with differences below 0.5 EV usually not noticeable.'

Sports (Low-Light ISO)

Described by

DXOMARK

as 'The maximal value of ISO sensitivity needed to reach a given value of Signal-to-Noise Ratio (SNR). The greater the value, the better'
Main Features

N/A

Extra Features

N/A

Construction and Durability

N/A

Handling and Ergonomics

N/A

Value for Money

N/A

Total Score

N/A
Canon EOS R3 vs EOS R5 – Our Verdict
Both these cameras are complete powerhouses and are at the top of their game for full frame mirrorless technology. It is tough to say which camera is best as it will be completely down to your photography style.
If you are looking for the highest possible quality and amazing video abilities, the Canon EOS R5 will be for you. I recommend this camera to any photographer who wants to try out a range of genres. Because the camera is smaller and lighter, it's best for any genre of photograph that requires you to be active. The lower price also makes it a better option for those who want a top-of-the-range all-rounder camera.
The Canon EOS R3 is for photographers whose work would directly benefit from the camera's functions. These functions focus toward shooting subject matter that moves extremely fast. Sports, press, or action photographers will rejoice at this camera's abilities. Its new sensor that expands its dynamic range, eye control AF abilities, and mechanical shutter makes for a serious piece of kit.
I would suggest that the Canon EOS R5 is probably for the photographer reading this article. The serious photographers who need the Canon EOS R3 would know before looking into it further. Whichever direction you go into, they're both superb cameras!
Still not sure which camera is best for you? Check out some more popular camera comparisons for inspiration:
B&H photo video
Spotted a mistake with these camera specs? Please let us know so we can update it!