Canon EOS R5 vs Sony a7R IV Comparison
Optics
Video
Features
Storage & Battery
Canon EOS R5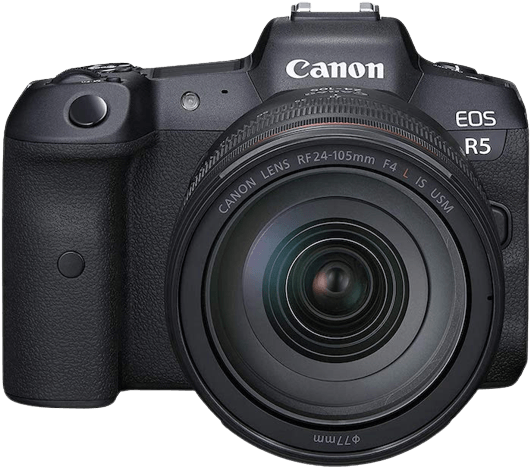 Winner!
Sony a7R IV
Price

Brand

Canon

Sony

Model

EOS R5

a7R IV

Released

Refers to the year this camera was officially made available for sale.

2020

2019

Announcement Date

Refers to the date the manufacturer publicly announced the upcoming release and general specs of this camera.

July 30, 2020

July 16, 2019

Camera Type

Mirrorless

Mirrorless

Camera Size

Camera Weight
Canon R5 vs Sony a7R IV Overview
Canon R5 vs. Sony a7RIV is a battle of the heavyweights as full frame mirrorless cameras.
The Canon EOS R5 is Canon's flagship mirrorless model. The Sony Alpha 7R IV is one of Sony's newer cameras. It's in Sony's A7 well-established and highly regarded mirrorless range.
Straight out the gate, you can see these two cameras both have amazing capabilities. But, you start to notice that each full frame camera has a particular niche it is geared toward. The Canon EOS R5 is unmatched in its video performance. And the Sony a7R IV is the world's first full-frame camera with an unbelievable 61 MP sensor. 
Have a quick look at the cameras' sizes and weights. We can see that there isn't too much between them. The Canon EOS R5 weighs 680 grams, with Sony's a7R IV only weighing 15 grams less than this. The similarity continues in size, where the R5 is only a centimeter bigger in its length.
Let's now dive into the specs of each camera in more depth. We will compare each inch of the Canon EOS R5 to the Sony a7R IV to make the most accurate comparison. By the end of this review, you will understand which camera will suit your shooting style better.
Body and Handling
In terms of design, the Canon EOS R5 has a sleek, liquid form. It's designed to fit in your hand, whichever way you hold it. This smooth, ergonomic exterior has continuously evolved throughout Canon's DSLR development.
Sony's a7R IV is almost the complete opposite. They have focused on ergonomics for the grip. But the rest of the body is boxy, like most Sony cameras. This isn't an issue as it still feels good to hold. Also, the boxy mold helps reduce the camera to its smallest possible size.
The position of the front control wheel is different on both cameras. Sony has placed theirs past the shutter release and Canon before. This is a matter of preference. It won't take long to adjust, even if it's a change from your normal setup.
Both rear monitors can lift out of the back and tilt at various angles. Also, both rear monitors are touchscreen. An articulating touchscreen can be helpful in several instances. It is useful for many things—from filming awkward angles to speeding up work methods.
Available Lenses
It is always handy to have an interchangeable-lens camera. This allows you to select the exact style you want from each photograph. Sony worked on its mirrorless camera technology long before the other big brands. This means Sony's mirrorless lens range is much more extensive than Canon's.
This is not to say that you will be restricted if you buy a Canon EOS R range camera. It may mean that there is no specialized lens for the particular niche you may photograph.
Always look at the lens list beforehand when buying any camera or changing camera ranges. This is particularly important for photographers who need specialist camera equipment.
Canon R5 vs Sony a7R IV Optics
The image quality in both these cameras is superb. There are some differences in their camera controls.
Sensors
The Canon EOS R5 features a 45 MP CMOS sensor. It keeps up with Canon's development of an excellent dynamic range. It also has a Digic X processor. So the camera is geared toward keeping noise to a minimum at any ISO number.
The Sony a7R IV does take the upper hand when looking at sensors. This 61.2MP CMOS Sony sensor is the highest image resolution in a full frame.
The sensor is also back-illuminated. This means the sensor can deal better with low-light situations. Or it does well when a glare hits the sensor through the lens. This massively improves the camera's dynamic range and produces excellent imagery.
Frame Rates, Autofocus, and Shutter Speeds
We did find a weakness in the Sony a7R IV sensor. And it comes from its frame rates. Ten frames per second (fps) is a below-average speed. But it is still fast enough to capture moving subjects if you're not using a long lens.
In contrast, Canons EOS R5 can shoot up to 20 fps. That's double what Sony's a7RIV has to offer. This increase in frame rate can make a huge difference. It helps in genres like sports or wildlife photography. Those ten frames a second can be the difference in getting the perfect shot.
Canon also takes the lead when it comes to autofocus abilities. Canon's EOS R5's autofocus (AF) system covers almost the full entirety of the sensor. They boast a large 5940-pixel AF area that can be used together, individually, or in zones. You can use the rear touchscreen to select autofocus points or the old scroll method with the dials.
Like most new cameras, the Canons R5 has artificial intelligence (AI) autofocus features. This allows you guaranteed sharpness on the subjects you select. The most common is facial recognition. You can find this in most smartphones nowadays.
Canons AI can detect and track animals such as cats, dogs, and birds. It can also detect and track vehicles. It even recognizes the difference between motorbikes and race cars! It even prioritizes pinpointing a driver's helmet! These can be huge game changers for people who work in wildlife or sports photography.
The Sony a7R IV isn't as advanced as the Canon's autofocus system. But it still performs well above most DSLR camera systems on the market. It has 567 detection points that cover 99.7% of the sensor's height and 74% of its width.
Regarding tracking, Sony has a new technology they call "4D Focus." 4D focus is an AI technology that considers the area and depth of the image. It predicts where your subject will move next to reduce the AF time.
Sony also has AI autofocus in its cameras. It comes with a great Real-time Eye AF. This refocuses between shots without any intervention. It's ideal for fashion shoots with a fast-moving model.
Their AI works on pets as well. It can even recognize the eyes of pets. This can be handy for taking the best portrait of your dog possible. Or it may be useful for wildlife photography, especially if you have a long lens.
Optics

Megapixels

The higher the number of megapixels, the more detail the cameras sensor can capture.

Image Resolution

Image resolution is measured in pixels and megapixels, width by height. The higher the number, the higher its resolution.

8192 x 5464 px

9504 x 6336 px

Sensor Type

The camera sensor captures light and records the image. Sensors vary in physical size, the number of pixels, and quality.

CMOS

CMOS

Sensor Size

The sensor size contributes to the overall quality as well as the dynamic and tonal range a camera can capture. As a rule of thumb, the more surface there is to read the light, the more information it will capture.

23.9 x 35.9 mm

23.8 x 35.7 mm

Sensor Format

Refers to the most commonly used sensor sizes.

Full Frame

Full Frame

Frame Rate

The number of sequential frames per second the camera can write to the memory card when shooting in burst or continuous mode.

Lens Mount

The lens mount will tell you what type of lens range you can fit onto the camera body. Often the same camera company will have different lens ranges for different cameras.

Canon RF

Sony FE

Image Processor

The image processor in the camera converts the information collected on the sensor for digital storage on the memory card.

Digic X

Bionz X

Aspect Ratio

The aspect ratio refers to the proportional difference between width and height. The most popular aspect ratios are 3:2 and 4:3.

3:2

3:2

Minimum ISO (Native)

Refers to the lowest native (or 'base') ISO setting. Lower ISO are less sensitive to light but make a cleaner image.

Maximum ISO (Native)

Refers to the highest native (or 'base') ISO setting. Higher ISO is necessary for low-light situations or night photography, but higher ISOs often introduce grain or noise.

Minimum ISO (Expanded)

Expanded (or extended) ISO is a digitally enhanced feature available on some cameras. It allows you to push beyond the native ISO range if necessary.

Maximum ISO (Expanded)

Expanded (or extended) ISO is a digitally enhanced feature available on some cameras. It allows you to push beyond the native ISO range if necessary.

Minimum Shutter Speed

The minimum shutter speed will tell you the longest exposure your camera can take without using an external accessory.

Maximum Shutter Speed

The maximum shutter speed tells you the length inside 1 second the camera will capture. These can sometimes be extended with accessories such as extra external batteries.

Autofocus Points

Autofocus points show where the camera is focusing graphically as squares or brackets in Live View or on an electronic viewfinder. These points are also used for light meter readings.

In-body Stabilization

In-body Stabilization means the camera has a certain technology embedded that counteracts camera shake.

Viewfinder Type

The viewfinder type is either electronic or optical. Electronic viewfinders will have a small screen in the viewfinder. Optical viewfinders will use prisms and mirrors to look through the lens.

Electronic

Electronic

Viewfinder Resolution
Canon EOS R5 vs Sony a7R IV Video Performance
When comparing these two cameras together for filming, there is no competiton. The Canon camera takes the lead by far. The Canon EOS R5 has the highest video resolution of all the mirrorless full frame cameras on the market.
The Canon R5 can record up to 8K! This is a higher resolution than most TVs can handle. When shooting in 8K, you can only get 30 fps. So it won't be the smoothest video, especially for fast-moving subjects.
This changes if you want to shoot at the high standard of 4K, where you get 120 fps. This is more than enough to make 4K slow-motion videos. Canon even has a special in-body image stabilization system called Movie Digital IS. This isn't available in 8K, but it makes a huge difference to your 4K videos. 
Sony's a7R IV has video capabilities. But this is not one of Sony's A7s that puts much of its focus into filming. It can film 4K movies at 30 fps and Full HD movies at 120 fps. This doesn't come close to Canon's specs with the R5. But, it is still good enough to provide high-quality video.
Sony's AI technology lets you continuously keep your subject's eyes focused while recording. You also can select your focus tracking using the touchscreen.
Overall, it's a clear win for Canon in the filming department. If you want better film capabilities from Sony, check out another of their A7 cameras, like the Sony A7 IV.
Video

Video

Indicates if this camera is capable of recording video.

Max Video Resolution

The best resolution this camera can capture video in. Modern cameras can capture up to 8K video.

8K

4K

Max Video Dimensions

Video resolution measured by the greatest number of pixels possible in each frame, width by height. A higher resolution means more detail or clarity in your video.

8192 x 4320 px

3840 x 2160 px

Max Video Frame Rate

How many frames per second your video will capture. Most cameras have options for multiple frame rates, depending on the resolution you shoot in. For a general video, 24p or 30p is the standard, but more serious filmmakers may need a higher frame rate for creative effect.

120 p

30 p

Time-Lapse Built In

A built in time-lapse mode will allow continuous shooting throughout a prolonged period of time to be compressed into a sped up video.

Video File Format

Different cameras can record in various video file formats. The File format you record in can impact how you edit and use the files.

MP4

XAVC S, AVCHD Ver. 2.0, MP4
Canon EOS R5 vs Sony a7R IV Features and Benefits
When it comes to extra features, both the Canon EOS R5 and Sony a7R IV are packed with unique and useful actions. Neither camera has a built-in flash. But both have a hot shoe for an external flash or other accessories.
You also find that both cameras provide apps (Canon Connect and Imaging Edge Mobile). They let you connect to and control your camera from your phone wirelessly. This is a feature that is becoming more popular across all camera companies. The remote apps allow photographs and video recording to be controlled off-camera.
If we look at the rear monitors for either camera, we can see that the Canon EOS R5 has the highest resolution. This is not just because it is an extra 0.2″ bigger than the Sony a7R IV. But the Canon R5 has a much higher pixel count.
Both of these screens do have touch screen capabilities, though. You will also notice that both cameras have an electrical optical viewfinder. This is handy as you can see the exposure while framing your photograph.
Both cameras are also fully weather-sealed. This is also a feature that you should find on most cameras. Weather sealing allows you to shoot in tough conditions. You don't have to worry about moisture or dust damaging your camera.
I am a fan of the top LCD screen on the Canon EOS R5. For me, this simplifies the shooting process. It helps in an environment that has constantly changing lighting conditions. This becomes increasingly important for time-conscious photographers like street or nature photographers.
We can put the question of who has the higher megapixel count to rest. The Sony a7R IV has a Pixel Shift setting that can increase the image quality up to 240 MP! This setting allows the camera to take a series of images you can later stitch together. Sony can achieve this ability from its high-resolution sensor.
Features

Built-in Flash

A built-in flash will often be positioned right above the lens. This will automatically pop up when you activate it.

External Flash

External flashes are often connected through a hot shoe at the top of a camera, or a cable at the side of the camera.

GPS

GPS features in a camera will include location metadata to each of your photographs.

Weather Sealing

Weather sealing capabilities will give you more confidence when shooting in unfavourable conditions.

Screen Type

LCD

LCD

Touch Screen

Touchscreen allows you to change camera settings and access menus with a swipe of your finger, instead of using buttons.

Screen Size

3.2"

3"

Screen Resolution

Screen dots indicate the resolution of the LCD screen by including each sub pixel.

Flip Screen

A flip screen (or articulating screen) is a second screen which can flip out from the side or top of the camera. This rotating screen allows you more freedom to take photos at different angles.

Live View

Live View feature allows you to see a continuous live video of what is being seen through your lens.

Wi-Fi

Bluetooth

Bluetooth capabilities allow you wireless control of your camera with other external devices.
Canon EOS R5 vs Sony a7R IV Storage and Battery
You see, the Sony a7R IV's battery can last almost double the number of shots as the Canon EOS R5. Both cameras come with the option to buy a battery grip:
These can extend the battery life by double. And it means less worry when you shoot out on location.
The battery grip for the Sony a7R IV also allows you to charge the camera while in use. This is extremely useful for those long studio shoots (filming music videos jumps to mind!) where long battery life is needed.
If we then turn our attention to storage, we see another significant difference. But this time, it's in favor of the Canon EOS R5. Both cameras have dual card slots, but the Canon EOS R5 can take CFexpress cards.
Of course, the storage size isn't an issue, as that depends on the type of memory card you buy. What does matter? The read and write speed. And these numbers will be much higher with a CFexpress card.
Storage and Battery

Memory Card

SD / SDHC / SDXC (UHS-II compatible), CFexpress

SD / SDHC / SDXC (UHS-II compatible)

Dual Memory Card Slots

Battery Type

LP-E6NH

NP-FZ100

Battery Life

Approximately how long this cameras battery will last measured by how many photographs you will be able to take.

USB Charging
Overall Score

DXOMARK overall sensor score.

Portrait (Color Depth)

As described by

DXOMARK

'The Portrait score in our camera sensor reviews defines color depth performance and its unit is a number of bits. A color depth of 22 bits is excellent; differences below 1 bit are barely noticeable.'

Landscape (Dynamic Range)

As described by

DXOMARK

'The Landscape score in our camera sensor tests defines the maximum dynamic range of the camera sensor and its unit is an exposure value (EV). A value of 12 EV is excellent with differences below 0.5 EV usually not noticeable.'

Sports (Low-Light ISO)

Described by

DXOMARK

as 'The maximal value of ISO sensitivity needed to reach a given value of Signal-to-Noise Ratio (SNR). The greater the value, the better'
Main Features

N/A

Extra Features

N/A

Construction and Durability

N/A

Handling and Ergonomics

N/A

Value for Money

N/A

Total Score

N/A
Canon EOS R5 vs Sony a7R IV – Our Verdict
After deconstructing both of these cameras, we learn a lot. When it comes to high-resolution image quality and battery life, the Sony a7R IV takes a clear lead. It also narrowly takes the lead when considering low-light photography, size, and weight.
The Sony a7R IV is well equipped for fashion photography. It also works for product photography, food photography, and other studio-based work.
This camera would also do well on location as it is light and durable. I would say it does all photographic procedures well. But if you want to use it for video work, you may want to find another camera system.
The Canon EOS R5 easily takes the gold medal regarding video performance. It is well above Sony when considering autofocus. And the R5 also captures a faster frame rate than the Sony a7R IV.
Its features tell me that the Canon EOS R5 would be a great camera if you heavily rely on your camera's autofocus. This would be particularly important for wildlife, sport, or action photography. These three genres would also benefit from the camera's great video abilities.
Overall, these cameras are pretty evenly split. Each camera performs to a high standard. You have to choose which functions will be the most important to your shooting style!
If you're still in need of inspiration, try these trending camera comparisons next:
Our detailed Sony a1, Nikon D850, or Sony a7R III review may also interest you!
B&H photo video
Spotted a mistake with these camera specs? Please let us know so we can update it!