Canon EOS R5 vs Sony a1 Comparison
Optics
Video
Features
Storage & Battery
Canon EOS R5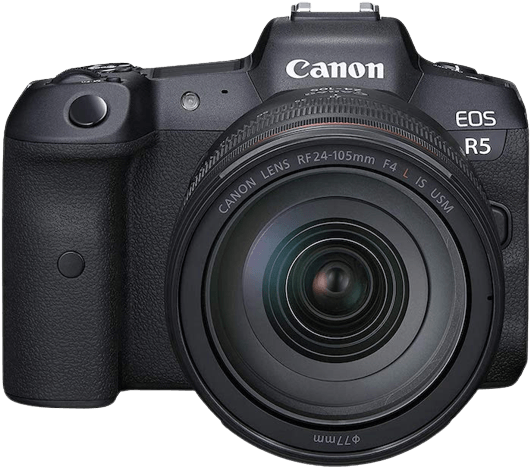 Sony a1
Price

Brand

Canon

Sony

Model

EOS R5

a1

Released

Refers to the year this camera was officially made available for sale.

2020

2021

Announcement Date

Refers to the date the manufacturer publicly announced the upcoming release and general specs of this camera.

July 30, 2020

January 26, 2021

Camera Type

Mirrorless

Mirrorless

Camera Size

Camera Weight
Sony a1 vs Canon R5 Overview
I'm a wildlife photographer. And in October 2021, I decided to replace my Nikon D810 and D850 DSLRs with a pair of mirrorless cameras.
All the major manufacturers now have a flagship mirrorless model. Sony has the a1, Canon has the EOS R5, and Nikon has the Z9. However, the Z9 wasn't available then, so it was Sony a1 vs Canon R5.
After reading dozens of reviews and watching a few YouTube videos comparing the autofocus systems, I decided to buy a pair of Sony a1s. I thought they were the best cameras for wildlife photography at the time. And I haven't changed my mind after using them extensively on shoots in Canada, Antarctica, Kenya, and Botswana.
Body and Handling
The Canon R5 is the Ferrari of cameras with its smooth curves and organic styling. The Sony a1 is more like a Lamborghini. Yes, there are more flat panels and sharp angles. But I still take a Diablo over a 455 any day!
The cameras are broadly similar in size and weight. However, the R5 has a slightly larger and fully articulated rear screen. The a1's LCD only tilts up and down.
The a1 does better with its electronic viewfinder's (EVF) resolution, magnification, and refresh rate. It's the brightest, clearest, and most "realistic" of any mirrorless camera on the market.
I also found that the toggle lock switch on my a1's Exposure Compensation dial got stuck sometimes. It's a sign of poor build quality.
Sony a1 vs Canon R5 Optics
As you can see below, this is where the a1 performs slightly better than the R5.
Sensors and Color
Canon's image quality on its full frame cameras has always been good. And the R5 is no exception. It also has a slightly higher dynamic range.
The Sony a1's BSI (back-side illuminated) CMOS sensor gives it the advantage in low-light conditions. The a1's extra 5MP is handy if you like to crop your images. But it isn't a significant difference.
There is a problem with sensor spots on the a1, though. When I was in Africa recently, I had to clean the sensor three times in three weeks, which was irritating. The R5 doesn't have that problem.
But both sensors are excellent. Your personal preference will probably be based on the color rendition.
Canon users will typically be used to "Canon color." So it might be a bit of a shock if you switch to Sony—especially if you do a lot of portrait work.
It's possible to "fix" the problem by choosing a different Adobe picture profile, for instance. But it can be annoying.
Frame Rates, AF, and Shutter Speed
The RAW frame rate of 30 fps is phenomenal—even if it's only possible in the lossy compressed format. It might seem like overkill, but animals and birds can move a long way in a fraction of a second!
Regarding autofocus systems, both cameras offer market-leading eye detection and tracking. Plus, both have blackout-free shooting.
The a1's autofocus system is the main reason I bought it. It's quite astonishing to watch the little green square in the EVF lock on to a bird's eye and follow it wherever it goes in the frame.
My only complaint is that you must choose between human, animal, or bird eye-tracking on the a1. Having to toggle between them is a waste of time. And it's easy to end up in the wrong setting.
The R5 has far more phase-detection points than the a1. They cover 100% of the image area vs just 92%. The Canon Dual Pixel CMOS AF system also works better in low light (-6EV vs -4EV).
Finally, both cameras have a maximum shutter speed of 1/8000 s when using the mechanical shutter. However, the a1 can reach 1/32,000 s with the electronic shutter. And it has no problem with rolling shutter.
Sony a1
A serious mirrorless camera with a unique combination of sensor size, frame rate, buffer size, eye detection, and subject tracking!
Optics

Megapixels

The higher the number of megapixels, the more detail the cameras sensor can capture.

Image Resolution

Image resolution is measured in pixels and megapixels, width by height. The higher the number, the higher its resolution.

8192 x 5464 px

8640 x 5760 px

Sensor Type

The camera sensor captures light and records the image. Sensors vary in physical size, the number of pixels, and quality.

CMOS

CMOS

Sensor Size

The sensor size contributes to the overall quality as well as the dynamic and tonal range a camera can capture. As a rule of thumb, the more surface there is to read the light, the more information it will capture.

23.9 x 35.9 mm

24 x 35.9 mm

Sensor Format

Refers to the most commonly used sensor sizes.

Full Frame

Full Frame

Frame Rate

The number of sequential frames per second the camera can write to the memory card when shooting in burst or continuous mode.

Lens Mount

The lens mount will tell you what type of lens range you can fit onto the camera body. Often the same camera company will have different lens ranges for different cameras.

Canon RF

Sony FE

Image Processor

The image processor in the camera converts the information collected on the sensor for digital storage on the memory card.

Digic X

Dual Bionz XR

Aspect Ratio

The aspect ratio refers to the proportional difference between width and height. The most popular aspect ratios are 3:2 and 4:3.

3:2

3:2

Minimum ISO (Native)

Refers to the lowest native (or 'base') ISO setting. Lower ISO are less sensitive to light but make a cleaner image.

Maximum ISO (Native)

Refers to the highest native (or 'base') ISO setting. Higher ISO is necessary for low-light situations or night photography, but higher ISOs often introduce grain or noise.

Minimum ISO (Expanded)

Expanded (or extended) ISO is a digitally enhanced feature available on some cameras. It allows you to push beyond the native ISO range if necessary.

Maximum ISO (Expanded)

Expanded (or extended) ISO is a digitally enhanced feature available on some cameras. It allows you to push beyond the native ISO range if necessary.

Minimum Shutter Speed

The minimum shutter speed will tell you the longest exposure your camera can take without using an external accessory.

Maximum Shutter Speed

The maximum shutter speed tells you the length inside 1 second the camera will capture. These can sometimes be extended with accessories such as extra external batteries.

Autofocus Points

Autofocus points show where the camera is focusing graphically as squares or brackets in Live View or on an electronic viewfinder. These points are also used for light meter readings.

In-body Stabilization

In-body Stabilization means the camera has a certain technology embedded that counteracts camera shake.

Viewfinder Type

The viewfinder type is either electronic or optical. Electronic viewfinders will have a small screen in the viewfinder. Optical viewfinders will use prisms and mirrors to look through the lens.

Electronic

Electronic

Viewfinder Resolution
Canon EOS R5 vs Sony a1 Video Performance
The only time I recorded a video clip on my a1, I lost it! Video clips end up in a different folder than still images. And I had formatted the memory card before I realized it was missing!
Little details like that are annoying. But there's certainly no problem with the video capabilities of either the Sony a1 or the Canon R5.
Both can shoot 8K Ultra HD video. The differences in protocols and bit rates are only for the initiated!
The advantage of the R5 is that it offers slightly better video resolution. Plus, it can record 12-bit RAW internally.
On the other hand, the a1 can shoot for longer without overheating. And it's capable of 16-bit HDMI output as opposed to 4K / 60p.
Video

Video

Indicates if this camera is capable of recording video.

Max Video Resolution

The best resolution this camera can capture video in. Modern cameras can capture up to 8K video.

8K

8K

Max Video Dimensions

Video resolution measured by the greatest number of pixels possible in each frame, width by height. A higher resolution means more detail or clarity in your video.

8192 x 4320 px

7680 x 4320 px

Max Video Frame Rate

How many frames per second your video will capture. Most cameras have options for multiple frame rates, depending on the resolution you shoot in. For a general video, 24p or 30p is the standard, but more serious filmmakers may need a higher frame rate for creative effect.

120 p

120 p

Time-Lapse Built In

A built in time-lapse mode will allow continuous shooting throughout a prolonged period of time to be compressed into a sped up video.

Video File Format

Different cameras can record in various video file formats. The File format you record in can impact how you edit and use the files.

MP4

LPCM 2ch(48 kHz 16bit), LPCM 2ch(48 kHz 24bit), LPCM 4ch(48 kHz 24bit), MPEG-4 AAC-LC 2ch
Canon EOS R5 vs Sony a1 Features and Benefits
After using the a1 extensively in the field, my main gripe is it has sometimes stopped working for no clear reason. I later found out that I knocked a switch to the off position or used the wrong custom preset… it's was a bit disconcerting!
I'm not sure the R5 would be any better. There are so many buttons, switches, and dials on modern cameras. So it's easy to end up with the wrong settings by mistake.
Both models protect the sensor when changing lenses—although, annoyingly, not when silent shooting on the Sony a1. You must set up a custom button to toggle it on and off!
Customization
Looking at the positives, the joy of the a1 is that it's extremely customizable. There are several custom and function buttons. The main mode dial even has three numbered custom presets. These are ideal for switching between different types of shots.
I have mine set up for wildlife portraits, birds in flight, and slow pans. Sony could only improve this if they didn't lock the dial. It isn't easy to unlock it and choose a different setting while looking through the viewfinder!
The R5 has similar customization options. But it doesn't have the main command dial. Instead, there's a Mode button with a Quick Control Dial and an LCD screen on top.
Sony's menus used to be notoriously complicated and poorly laid out. However, the current version is as easy to use as the R5's. The touchscreen capability helps.
Features

Built-in Flash

A built-in flash will often be positioned right above the lens. This will automatically pop up when you activate it.

External Flash

External flashes are often connected through a hot shoe at the top of a camera, or a cable at the side of the camera.

GPS

GPS features in a camera will include location metadata to each of your photographs.

Weather Sealing

Weather sealing capabilities will give you more confidence when shooting in unfavourable conditions.

Screen Type

LCD

LCD

Touch Screen

Touchscreen allows you to change camera settings and access menus with a swipe of your finger, instead of using buttons.

Screen Size

3.2"

3"

Screen Resolution

Screen dots indicate the resolution of the LCD screen by including each sub pixel.

Flip Screen

A flip screen (or articulating screen) is a second screen which can flip out from the side or top of the camera. This rotating screen allows you more freedom to take photos at different angles.

Live View

Live View feature allows you to see a continuous live video of what is being seen through your lens.

Wi-Fi

Bluetooth

Bluetooth capabilities allow you wireless control of your camera with other external devices.
Canon EOS R5 vs Sony a1 Storage and Battery
Most cameras involve compromises between major features. However, Sony and Canon have managed to develop two cameras that can pretty much do everything!
One of the few compromises of the a1 is that it only supports SD UHS-I/II and CFexpress Type A cards. That each slot can take both is a useful feature. The problem is that CFexpress Type A cards are much slower than Type B cards.
Type A is the Sony-backed format. But the read and write speeds are only 800 and 700 mbps, whereas the Type B cards supported by the R5 can manage 1400 and 1700 mbps!
Yes, the a1's shooting buffer—155 compressed RAW images vs 238 RAW files—is better than the R5's. But speed is king. So it's a shame Sony backed the wrong horse.
When it comes to battery life, it's worth taking the official CIPA measurements with a pinch of salt. Officially, my a1 camera can only take 430 pictures using the EVF on a single battery charge. But in Botswana, I happily filled three memory cards with over 6,000 images of little bee-eaters (birds)!
Why such a difference? It all comes down to the way you take pictures. If you take single shots, you might only take a few hundred. But most photographers shoot continuously. That means the camera is much less power-hungry.
I'm sure it's the same with the R5. Officially, it's rated at 320 shots per charge. But I'm sure you can get more by shooting in a continuous mode.
Just be wary of cold conditions. It tends to reduce battery life. I had real problems with my batteries shooting polar bears in Canada, with temperatures as low as -13 F (-25 C)!
Storage and Battery

Memory Card

SD / SDHC / SDXC (UHS-II compatible), CFexpress

SD,CFexpress Type A (UHS-II compatible)

Dual Memory Card Slots

Battery Type

LP-E6NH

NP-FZ100

Battery Life

Approximately how long this cameras battery will last measured by how many photographs you will be able to take.

USB Charging
Overall Score

DXOMARK overall sensor score.

Portrait (Color Depth)

As described by

DXOMARK

'The Portrait score in our camera sensor reviews defines color depth performance and its unit is a number of bits. A color depth of 22 bits is excellent; differences below 1 bit are barely noticeable.'

Landscape (Dynamic Range)

As described by

DXOMARK

'The Landscape score in our camera sensor tests defines the maximum dynamic range of the camera sensor and its unit is an exposure value (EV). A value of 12 EV is excellent with differences below 0.5 EV usually not noticeable.'

Sports (Low-Light ISO)

Described by

DXOMARK

as 'The maximal value of ISO sensitivity needed to reach a given value of Signal-to-Noise Ratio (SNR). The greater the value, the better'
Main Features

N/A

Extra Features

N/A

Construction and Durability

N/A

Handling and Ergonomics

N/A

Value for Money

N/A

Total Score

N/A
Canon EOS R5 vs Sony a1 – Our Verdict
In Sony a1 vs Canon r5, these two cameras are the flagship mirrorless products for Canon and Sony. So you won't go far wrong buying either of them.
If you're a Canon DSLR owner, you might be tempted to choose the R5 and use your existing lenses. But you'd have to use an adapter, and the performance would be affected.
You need native lenses from the Canon's EF range or Sony's G Master series to get the best out of either camera. That's why I traded in all my Nikon equipment when I moved to mirrorless. It was expensive but worth it!
The final remaining issue is the price. The R5 is a lot cheaper than the a1. That's fine if you're happy with a lower frame rate and smaller sensor. Otherwise, if money is no object, the Sony a1 remains the better choice.
Sony a1
A serious mirrorless camera with a unique combination of sensor size, frame rate, buffer size, eye detection, and subject tracking!
Sony a1 vs Canon R5 Alternatives
Still not sure which camera is best for you? Check out our other popular camera comparisons:
B&H photo video

N/A
Spotted a mistake with these camera specs? Please let us know so we can update it!