Last Update: August 1, 2023
Buying your first "proper" digital camera can be complicated… especially because the mirrorless vs DSLR battle continues. So what's the difference between a DSLR and a mirrorless camera? And which is better?
Why are some cameras more expensive than others? Do I need an adaptor to use my existing lenses? Why are so many models unavailable? These are all valid questions. And I'll try to answer them in this article.
Overview of Mirrorless vs DSLR for Beginners
The first detail to discuss is how a DSLR works differently from a mirrorless camera. Light passing through a camera can reach the viewfinder or the sensor (or film). It can't do both at the same time.
In a DSLR, the problem is solved by putting a mirror in. This normally directs light to an optical viewfinder. But it flips up while taking a picture to let light through to the sensor.
This means you get a "blackout." So you can't see anything in the viewfinder while taking the picture. With a fast shutter speed like 1/1000 s, you hardly notice. But if it's as long as five seconds, your subject might disappear without you realizing it!
So you either accept blackouts or replace the optical viewfinder with an electronic viewfinder (EVF). DSLR cameras take the first route, while mirrorless cameras take the second.
Mirrorless cameras have been around for a long time in the form of compact cameras. But it's only recently that advanced, interchangeable-lens models have appeared.
This is because of technological progress in electronic viewfinders and autofocus (AF) systems… particularly eye detection. In fact, I recently switched from Nikon DSLRs to two Sony a1 mirrorless cameras. This meant trading in all my incompatible DSLR lenses!
The Rise of Mirrorless Cameras
Technical progress has led camera manufacturers to pour money into their mirrorless products. Sadly, companies like Nikon and Canon have also neglected their DSLRs. As of June 2022, only 16 DSLR cameras hadn't been discontinued.
This includes seven Canon, four Nikon, four Ricoh/Pentax, and one Leica. Of those, two were medium format, and seven were full frames. Only seven of the APS-C (or DX) models are suitable as beginner cameras.
The other result of this revolution is that mirrorless manufacturers like Sony have grown their sales. DSLR cameras made a comeback in 2021 due to a chip shortage. But the trend is likely to favor mirrorless models in the future.
So what does all that mean for you if you're starting as a photographer? Why would you back an old technology by buying a DSLR? I hope to answer that question by reviewing the pros and cons of DSLRs and mirrorless cameras.
This includes important specs like camera resolution, AF, frame rate, ergonomics, and battery life. I'll also give examples of each camera type suitable for beginners.
What is a Mirrorless Camera?
Mirrorless systems are digital cameras that don't use a mirror to reflect light up to the viewfinder like DSLRs. As a result, they need to have an electronic viewfinder.
This is like a TV screen that you can "watch" through the eyepiece or on the rear LCD (Liquid Crystal Display). Metering and focusing happen on the sensor itself. So this means lenses don't have to be calibrated, among other things.
Compacts and bridge cameras (superzooms) are also mirrorless cameras. But they don't have interchangeable lenses. This limits their appeal to photographers wanting to improve. So I've left them out, along with medium format cameras.
Are Mirrorless Cameras Better for Beginners?
Pros
Mirrorless is lighter and smaller
WYSIWYG electronic viewfinder
Faster frame rates
Eye detection
Silent shooting
Better video
Cons
Poorer ergonomics than DSLRs
Rolling shutter effect
Shutter lag
Fewer native lenses and accessories
Shorter battery life
Pros of Mirrorless Cameras in Detail
Most mirrorless cameras offer beginners great portability and usability—especially entry-level models. That's because they don't need a mirror or a pentaprism in the viewfinder and have a lower "flange distance" from mount to sensor.
The Sony a6000, for instance, measures 4.7 x 2.6 x 1.8 inches (120 x 67 x 45 mm) and only weighs 12.1 oz (344 g)! Most models also have touchscreen rear LCDs. And this makes them almost as easy to operate as an iPhone.
Mirrorless also offers an experience of "what you see is what you get" (WYSIWYG). This means you don't have to guess the effect of exposure compensation, for example. The image looks exactly like what's shown on the electronic viewfinder or the rear screen.
Portrait, wildlife, and sports photographers will benefit from eye detection and tracking.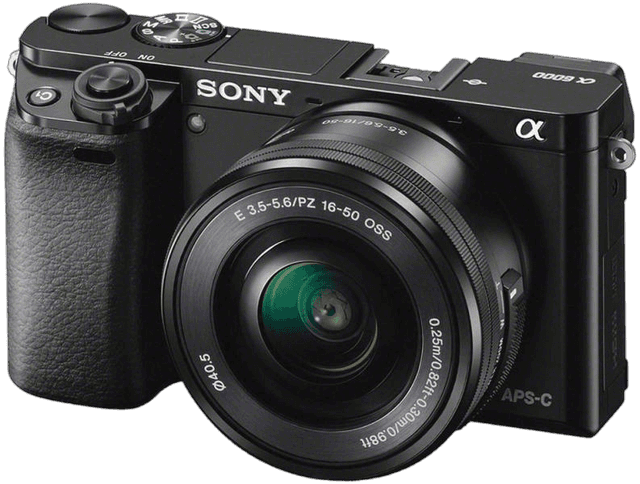 Sony a6000
Excellent image quality, fast AF, and a user-friendly interface. All in a compact and affordable package.
Action photographers with fast CFexpress cards will get higher frame rates and deeper buffers. For example, my Sony a1 mirrorless camera can shoot compressed RAW files at 30 fps for five seconds!
Mirrorless models are also more likely than DSLRs to have electronic shutters. This means you get the benefit of silent shooting, no vibration from "mirror slap," and faster potential shutter speeds (up to 1/64,000 s).
The Nikon Z9, for instance, only has an electronic shutter. It has no mechanical one at all!
Finally, mirrorless cameras tend to offer better video features than DSLRs:
4K-quality shooting (and above)
Use of electronic viewfinders
And the autofocus (AF) also tends to be better. So it avoids the annoying habit of a camera "hunting" for focus in the middle of a video clip!
Cons of Mirrorless Cameras in Detail
Some people don't like the ergonomics of mirrorless cameras. Their small size should be a benefit. But the buttons and dials tend to be closer together and more fiddly.
So people with large hands might have a difficult time! I also tend to get blisters when using my Sony a1 for a long shoot. And there's also the impact on balance when using a long lens.
If you use the electronic shutter, you also get an effect called "rolling shutter." This distorts moving subjects in stills and video due to the staggered read-out from each line of pixels.
If you've ever seen a video of a propeller turning taken with an iPhone, you'll know what I mean!
Also, the intrinsic design of mirrorless cameras often leads to shutter lag. This is the delay between pressing the shutter and recording the picture.
It may be due to the electronic circuitry that controls the shutter or the need to work out the exposure and focus before taking the picture. Either way, this is not ideal if you're taking action shots!
Finally, the need for an electronic viewfinder rather than an optical viewfinder is a drain on the battery. This affects battery life. And even my professional-grade Sony a1 is only rated 430 shots per charge using the electronic viewfinder.
But this shot rate rises dramatically if you shoot in bursts—which most people do.
Which Mirrorless Cameras are Best for Beginners?
Here are a few suggestions for the best entry-level mirrorless cameras. The one you choose will depend on your budget and needs.
That's why I've given a few recommendations for different types of models with different strengths—and weaknesses!
The Canon EOS M200 mirrorless camera has a 24.1 MP APS-C sensor. It also has eye detection and enhanced Dual Pixel AF. These combine for sharp, high-resolution photos and 4K video.
It weighs just over a pound (454 g), which makes it compact and portable. And it features a self-portrait mode and a rear screen that turns 180 degrees. That makes it perfect for vlogging.
Beginners will benefit from Creative Assist mode. This makes choosing the correct settings more intuitive. Finally, you can buy the mirrorless camera body with a kit lens (15-45mm) for a very reasonable price.
Canon EOS M200 White Mirrorless Camera Body
A simple, user-friendly interface. And it has versatile features like built-in Wi-Fi and a 24.1 MP APS-C CMOS sensor for high-quality images.
A more expensive option is the Fujifilm X-S10 mirrorless camera. This is a "junior" version of the X-T4. It offers most of the functionality at around a third of the price. You can compare the X-S10 with the X-T4.
The X-S10 has a compact, lightweight body perfect for travel photography. But only if it can cope without weather sealing.
It has a 26.1 MP APS-C sensor, 5-axis in-body image stabilization (IBIS), and a frame rate of 8 fps (frames per second). So it covers all the bases for someone just starting.
Fujifilm X-S10
An intuitive layout and compact size. It has excellent image quality thanks to its 26.1 MP sensor and X-Trans CMOS 4 image processor.
Another option is the Nikon Z5 mirrorless camera if your budget can stretch further. It has a 24.3 MP full-frame sensor, 273-point AF with eye detection, and Vibration Reduction (VR). So it creates sharp, stabilized photos and 4K video.
You get various built-in creative features, like time-lapse and multiple exposures. Finally, Wi-Fi and Bluetooth connections lead to a seamless transfer of images to your mobile device or computer.
Nikon Z5
A full-frame sensor, fast AF system, and easy-to-use interface. And It takes high-quality images and records 4K video.
What is a DSLR Camera?
Digital Single Lens Reflex (or DSLR) cameras have been the most popular type of camera in the last few years. The word "reflex" (or reflection) is the key to the design.
It is based on a mirror that bounces light to the optical viewfinder. Or it flips up to let it through to the sensor during the exposure.
A pentaprism (or five-sided prism) or series of mirrors flips the image so that it's the right way round when you look through the viewfinder. A panel of sensors separate from the image sensor carries out metering and focus.
DSLRs have a rear LCD as well as a viewfinder. This is the only way to monitor video footage because the mirror needs to be up during filming.
But you can also use it to take still pictures in "Live View." But even DSLRs like the top-of-the-line Nikon D850 only support contrast detect autofocus in Live View. This is much slower than phase detection autofocus.
Are DSLR Cameras Better for Beginners?
Pros
Better ergonomics than mirrorless cameras
Cheap, second-hand models are available
Optical viewfinder
More native lenses and accessories
Longer battery life
Cons
Heavier
Bigger
No eye detection
Slower frame rates
Less chance of silent shooting
As you can see from the two lists of pros and cons, the strengths of DSLRs are generally the same as the weaknesses of mirrorless cameras (and vice versa).
Pros of DSLR Cameras in Detail
DSLRs tend to be big, solid, and weather-sealed and feel comfortable handheld. Manufacturers like Nikon and Canon have been producing them for so long. So there's definitely a particular "feel" to each brand.
They don't necessarily have exactly the same controls in the same places. But it's a bit like smartphones. You get used to a particular interface. And you're drawn to the brand that offers the features you value most.
To some people, the biggest selling point of DSLRs is the optical viewfinder. You can always see exactly what's in front of you. And that can be a big advantage in low light. It doesn't need much power either, leading to longer battery life.
Buying a DSLR and compatible lenses is also cheap and easy. There are many affordable second-hand models available online. The range of native lenses and accessories is also much wider than for mirrorless cameras.
Cons of DSLR Cameras in Detail
But DSLRs do tend to be much bigger and heavier than mirrorless cameras. For many beginners, that might make the difference between packing your camera in your bag before you go on a hike and leaving it behind!
The features of DSLRs are generally less impressive than those of mirrorless cameras. The basic design means DSLRs struggle to provide eye detection, rapid frame rates, and hyper-fast shutter speeds.
In recent years, the investment in mirrorless models also shows up in entry-level DSLRs and mirrorless cameras.
Which DSLR Cameras are Best for Beginners?
Until last year, the Nikon D3500 and D5600 would've been strong contenders for the best DSLRs for beginners. But they were both discontinued in June 2022. So what does that leave you with?
The Canon EOS Rebel SL3 / 250D is probably the best DSLR camera for beginners in the Canon range. Announced in April 2019, it has a 24 MP APS-C sensor and can shoot 4K 30p and 60p video. And it has a selfie-friendly screen, making it ideal for vlogging.
You can shoot up to 1,070 frames with one battery charge. And it weighs less than a pound (449 g) with a battery and memory card. The price with an 18-55mm kit lens is reasonable. And you can save around a third by buying second-hand.
Canon EOS Rebel SL3 / 250D
Beginner-oriented features like built-in guides and Creative Auto mode. Also compact and has a user-friendly interface.
The new Pentax KF is a more expensive DSLR camera than the SL3. It has lower video resolution and battery life with no touchscreen or Bluetooth connection.
But it offers a 24 MP APS-C sensor, IBIS, and more focus points. Plus, it has Pixel Shift High-Res Mode and Astrotracer mode for taking pictures of the stars. It also has a rotatable LCD for taking selfies or vlogging.
Pentax KF
A DSLR with a user-friendly interface. It has features like in-body shake reduction. And there are various advanced shooting modes.
Announced in April 2017, the Nikon D7500 is now the only sub-frame (or APS-C) Nikon DSLR camera. It features a 21 MP APS-C sensor with a decent frame rate (8 fps).
It also has a long battery life (950 shots), Bluetooth and Wi-Fi connections, and 4K video. But it has no IBIS system or "selfie screen." And it is a little heavy at 1 lb 9.4 oz (720 g).
Nikon D7500
Advanced features like fast AF and continuous shooting. It also has a user-friendly interface and helpful guide mode.
Mirrorless vs DSLR Specifics
Now let's have a look at two of these cameras head-to-head. If the Nikon Z5 is the best mirrorless camera and the Nikon D7500 is the best DSLR for beginners, how do they match up?
The Z5 has a full-frame sensor, whereas the D7500 only has a DX (or APS-C) sensor. But the advantages of the mirrorless camera don't end there.
Nikon Z5 (Mirrorless) vs Nikon D7500 (DSLR)
All cameras have different strengths and weaknesses. So it's important to work out what you value most.
Do you want to shoot wildlife (like me)? Then you might want a high-resolution, full-frame sensor with a high frame rate and eye detection. But this will be different for portrait or landscape photographers.
Similar Specs
Let's have a look at the Z5 vs D7500 in more detail. Because they're both in the Nikon range, they share many shooting features:
RAW Support: Uncompressed RAW files keep all the data from each exposure. That gives you much more flexibility when editing. So you can easily open up shadows and change the white balance.
Face Detection
AE Bracketing: This is a convenient way to cover your bases if you have tricky lighting conditions. The camera takes one shot at what it thinks is the correct exposure. And then it takes one a stop darker and another a stop lighter. You can then choose the best one later.
Anti-flicker Setting: This is for indoor photography in fluorescent light.
Timelapse Recording
They also share many other features:
External Flash Shoe
Microphone and Headphone Ports: Good for video.
LDC (Display): 3.2-inch tilting touchscreen.
Smartphone Remote Control
Wi-Fi and Bluetooth: Connectivity for easy file transfers.
Weather Sealing
The D7500 even beats the Z5 in some respects. It has a built-in flash and an LCD on the top plate. It also offers a higher continuous shooting speed (8 fps vs 4.5 fps). And it has more than double the battery life (950 vs 470 shots).
These last two features might be important to anyone wanting to take bursts of action shots. But the CIPA figures don't consider the number of shots taken in burst mode. So the battery life shouldn't ever be a problem with the Z5.
In all other respects, the mirrorless Z5 comes out on top:
Better Mirrorless Resolution
Sensor Resolution: 24 MP vs 21 MP. This is not a big deal. So you probably couldn't see the difference if you put identical pictures from each camera side-by-side.
Pixel Pitch or Area: 35.51 µm² vs 17.85 µm². The extra area of each pixel makes the Z5 much better at gathering light. This is a big advantage in low light, as shadowy areas show the most noise.
Better Mirrorless Focus
Image Processor: Expeed 6 vs Expeed 5. This provides extra speed for processing, especially for the autofocus system.
Focus Points: 273 vs 51. Mirrorless cameras can generally focus across the entire frame. But DSLRs are restricted to a central region. This gives you a big advantage as you don't have to "focus and recompose." You can let the camera find and track your subject's eye wherever it is.
Eye Tracking: This is a feature unique to mirrorless cameras. And the best can now identify and track humans, animals, birds, and even insects!
Focus Bracketing: This is a bit like exposure bracketing, except it's used to provide a better depth of field. You set up the camera to take up to 1,000 images with one at the "correct" focus setting. And the rest split between varying distances behind and in front of your subject.
Better Mirrorless Display and Viewfinder
Viewfinder Magnification: 0.8x vs 0.63x. This makes it a bit easier to get the right composition and check focus, especially using manual focus in macro photography.
LCD (display) Resolution: 1.040k vs 922k dots
Other Better Mirrorless Qualities
In-body Image Stabilization (IBIS): This is something only mirrorless cameras can offer. And it's generally better than stabilizing the lens.
Webcam functionality: Great for vlogging and streaming.
Card Storage Slots: 2 vs 1
Card support: UHS-II vs UHS-I. UHS-II cards are slightly faster, which speeds up writing to the card in burst mode. This clears the buffer sooner, letting you carry on shooting.
Weight: 1.6 oz (45 g) lighter)
Overall, the big difference between the two cameras is in the sensor. The mirrorless Z5's full-frame sensor has a slight resolution advantage.
But the pixels are almost twice the size. This gives it much more light-gathering capability, which is crucial in low light.
The Z5 also scores well in the number of focus points, covering 90% of the frame. And eye detection and tracking are also crucial for portraits, wildlife, and sports photography.
Our Verdict
One of the problems with choosing a new camera these days is the number of options available. It's a choice of mirrorless vs DSLR for beginners. And there can be a cost of getting it wrong.
All the major camera brands have incompatible lens mounts. So you can't use the wrong lenses without using an adaptor. But an adapter may affect the AF and electronic rangefinder performance, especially with older lenses. Plus, it's also one more thing to pack, adding weight and bulk to your camera bag.
It's the same with budget DSLRs and cheaper mirrorless cameras. You don't want to go down the wrong path in the long run. So to avoid buyer's remorse, it's worth thinking about exactly what you're looking for in a camera.
Main Specs to Consider When Buying a Camera
The main considerations are sensor size and resolution, frame rate, buffer size, and autofocus. The importance of each of these factors depends on the kind of pictures you take and specific niches or locations:
Sensor Size and Resolution: These are important if you like cropping in or working in low light.
Frame Rate: This is vital for action shots like wildlife, sports, or other action photography.
Autofocus (AF): This is important to every photographer. But eye detection and tracking favor portraits, wildlife, and sports.
Size, Weight, and Durability: These aspects of your camera are important if you regularly visit far-flung locations. This is especially true now that hand luggage limits on certain flights are as low as 33 lb (15 kg)!
Mirrorless vs DSLR for Beginner Matchup
So how do entry-level DSLRs and mirrorless cameras match up? Well, it all depends on the particular model—and the availability! Many mirrorless models have been hard to get due to the supply chain crisis caused.
I had to try several suppliers before finding one with the Sony a1 in stock. It's also true that cheap, second-hand DSLRs with kit lenses are easy to find. But there are relatively few native mirrorless lenses on the market.
But mirrorless cameras do tend to offer more features than DSLRs in a smaller, lighter package (including the lenses). They have better AF and eye detection), WYSIWYG electronic viewfinders and faster frame rates.
You also get better video quality and features with mirrorless. But some people might not like the ergonomics, the shorter battery life, or problems such as shutter lag and rolling shutter.
The clinching argument is probably that DSLRs are on their way out. Nikon has already culled its line-up. And Canon has announced that it won't make another flagship DSLR to replace the EOS-1D X Mark III.
Who knows how long the remaining canon DSLRs will survive? And that leaves Ricoh's Pentax line. If you want to future-proof your buy, I suggest you don't get a DSLR!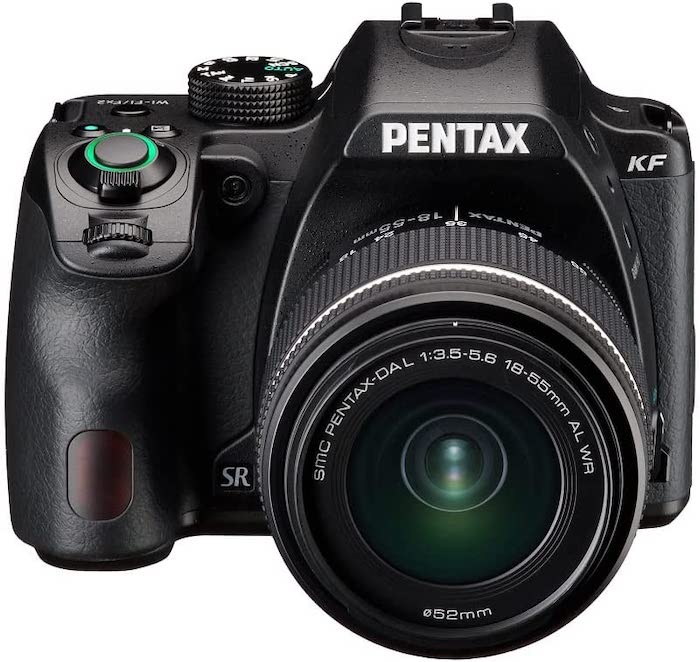 DSLR vs Mirrorless for Beginner Options
Having said all that, you still have several good options if you really want a DSLR:
The Canon EOS Rebel SL3's size and weight make it a good option for travel photographers. The 4K video resolution and selfie screen will excite vloggers!
The new Pentax KF has a similar screen. Plus, it has sensor-shift IBIS. And it has more focus points for sharper telephoto shots of wildlife or sports. It also has an Astrotracer mode for shots of the Milky Way.
The Nikon D7500's frame rate, low-light ability, and image quality make it a great all-around competitor—if you can afford it!
If you decide to buy a mirrorless camera, the best options probably come from Canon, Fujifilm, and Nikon:
The Canon EOS M200 offers eye detection and enhanced Dual Pixel AF for sharpness. It also has a self-portrait mode, 4K video quality, and a selfie-friendly rear screen for vloggers.
The Fujifilm X-S10 is compact and light enough for travel photography. But the IBIS system and frame rate keep it competitive for telephoto action shots.
The Nikon Z5 offers a full frame sensor, Vibration Reduction (VR), and a 273-point focus system with eye detection. It also features 4K video and various creative effects.
The choice is yours!
What's Next?
If you're still unsure which camera type to buy, try comparing different models in our camera comparison tool next. You can also start with one of these popular mirrorless vs DSLR comparisons for inspiration: