Last Update: December 26, 2022
It's easier to write a Nikon D850 review when you've owned a Nikon D850! I had one of these until recently, and it was a great camera. The only reason I got rid of it was to enjoy the power and resolution of the mirrorless Sony Alpha 1 instead.
As a wildlife photographer, I was frustrated with the D850's frame rate, buffer, and the limited area for AF points. So it was only a matter of time. I also had a few problems with the build quality. It's supposed to be durable, but a couple of the screws kept falling out of the lens mount. That meant I had to twist and push the lens against the camera body to maintain focus!
Nikon D850
With excellent image quality, video and battery life, it's still the best Nikon DSLR on the market
The bell finally tolled for my Nikon D850 on a Zodiac excursion in Antarctica when a wave splashed over it. The saltwater was too much for it to cope with. I couldn't switch it on until the next day, and the autofocus, aperture, and shutter selection stopped working. So much for weather-sealing!
Having said all that, this is still the best Nikon DSLR on the market. If you're looking for your first Nikon DSLR, are already a Nikon user, and want to keep all your Nikon lenses, or perhaps don't want to switch to mirrorless just yet… this Nikon D850 review will cover everything you need to know!
Nikon D850 Overview
Nikon D850
Camera Type

DSLR

Megapixels

The higher the number of megapixels, the more detail the cameras sensor can capture.

Sensor Format

Refers to the most commonly used sensor sizes.

Full Frame

Sensor Size

The sensor size contributes to the overall quality as well as the dynamic and tonal range a camera can capture. As a rule of thumb, the more surface there is to read the light, the more information it will capture.

23.9 x 35.9 mm

Frame Rate

The number of sequential frames per second the camera can write to the memory card when shooting in burst or continuous mode.

Autofocus Points

Autofocus points show where the camera is focusing graphically as squares or brackets in Live View or on an electronic viewfinder. These points are also used for light meter readings.
Pros
Fantastic overall image quality
Excellent 3D continuous AF tracking
Sharp 4K / 30p Ultra HD video
Long, 1,840-shot battery life
Durable, weather-sealed construction
Cons
No customizable shooting presets
Slow autofocus in Live View
Needs an expensive XQD card
Rolling shutter noticeable in 4K video
Slow 7 fps or 9 fps with an expensive battery grip
What's Special About the Nikon D850?
The Nikon D850 is the pinnacle of professional, full-frame DSLR Nikon cameras. It's an upgrade on the Nikon D810 and beats it in every category apart from weight. With its large, back-illuminated sensor and fast, accurate AF system, the D850 is still worth buying.
The D850 is perfect for anyone looking for a high-resolution Nikon DSLR. It's versatile enough for landscape, wedding, fashion, sports, or wildlife photography. Let's dive in a bit deeper.
Key Features and Performance
The Nikon D850 is a feature-rich pro camera. It offers incredible resolution, dynamic range, and a best-in-class focus system. Here are my views on all the main aspects of performance and handling.
Camera Body, Design, and Handling
The D850 looks similar to its predecessor, the D810 (full comparison here), but is more similar to the D500 (full comparison here). Nikon has kept the magnesium alloy frame. But there are a few changes to the ergonomics:
A deeper and more comfortable grip
Mode and ISO buttons swapped
Auto-exposure/auto-focus lock (AE-L/AF-L) button removed
A new function (Fn2) button on the left side of the LCD
New dedicated joystick (or "nubbin")
No more pop-up flash
The flash mode and exposure compensation button have disappeared
There are backlit buttons (as on the D500) for low-light conditions
Buttons and access doors are weather-sealed (although that didn't stop the southern ocean for me!)
Layout Issues
This new layout makes it easy to change the camera settings. But there are a few minor issues:
There is no easy ISO option. You have to press the ISO button in Program and Aperture Priority modes to change the value with the dial.
The second function (Fn2) button is virtually useless as there are few customization options.
It takes a bit of getting used to. That was especially true for me as I used a Nikon D850 and D810. And it was confusing having to make the different adjustments between them. Getting to the right dials in a hurry is a big part of wildlife photography. There's no substitute for familiarity.
Viewfinder and Touch Screen
The viewfinder has also undergone an upgrade. It went from 0.70x magnification on the D810 to 0.75x on the Nikon D850. It has greater clarity, brightness, comfort, and precision. The screen is still 3.2″ wide. But the resolution has almost doubled to 2.359 million dots, and it's now a tilting touch screen.
The touch screen features make navigating the menus much quicker and easier. It also allows one-touch AF acquisition in Live View and even touch-shutter operation. That means a picture is taken as soon as the image is in focus.
As with the D810, you can customize the tint and brightness. But it would be even better if it were a fully articulating screen. There are many times in wildlife photography and other genres when you have to shoot at odd angles. It's also handy to turn the screen 180° to take a video selfie!
Sensor Resolution
Nikon designed its 45.7MP Backside Illumination (BSI) CMOS full-frame sensor with gapless on-chip microlenses. Then they contracted out the manufacturing. Nikon has often used Sony image sensors. But Sony wants to keep its best sensors for its own cameras. So Nikon probably made a good decision.
The color is rich and natural, and BSI sensors better capture light. So the Nikon D850 works well in low-light conditions.
It's only a 25% improvement in resolution over the D810's 36.3MP sensor—and even less than that on a linear basis. But the removal of the anti-aliasing filter also helps to achieve sharp focus.
The only other way to get this resolution is with a Canon EOS 5DS or a 50MP medium format camera. Just make sure your lenses and camera techniques are up to it!
ISO Range (Base)
The Nikon D850's ISO range is 64-25600 ISO, expandable to 32-102400. The EXPEED 5 processor helps with noise control, and the D850 works well up to around 12800 ISO.
After that, there's a lot of noise, lost detail (especially in the shadows), and poor color rendition. The light-collecting elements and ISO range are more prominent on the D5. That makes it a better choice for low-light photography.
But Nikon claims the D850 is one stop better than the D810 in terms of chroma and luminance noise. The difference is evident at ISO 6400 and above.
Benefits of Low ISO Range
The D850's native base level of 64 ISO produces an excellent dynamic range. It also beats the D810 at recovering highlights and shadows in overexposed or underexposed images. That makes the Nikon D850 the best full-frame camera on the market in this respect.
The low native ISO is also a benefit with wider apertures like f/1.4 and more normal shutter speeds. Nikon limits the D850 to 1/8000 s when it could easily solve this problem by pushing it to 1/16000, 1/32000, or 1/64000 s.
Two-thirds of a stop may not sound like much, but it's usually harder to recover detail in the highlights than in the shadows. So the advantage of 64 ISO over the usual base ISO of 100 can sometimes be important.
Another benefit comes when you're using flash. The maximum flash sync speed is only 1/250 s. To avoid overexposure, reducing the ISO to 64 or even 32 is better than narrowing your aperture to f/5.6 or f/8 because it has no impact on the depth of field.
You can even set the ISO manually at 32. That's handy if you want to avoid using an ND filter. I often do this when I'm slow panning wildlife. It's usually so bright that I need a few tricks up my sleeve to avoid hitting the aperture limit on my lenses and overexposing the shot. Lenses are often at their sharpest at f/5.6 or f/8, and you get diffraction effects at around f/22.
Autofocus (AF)
The Nikon D850's autofocus system is reliable and accurate, especially in low light and continuous subject tracking. Taken from the Nikon D5 and D500 cameras, the Multi-CAM 20K autofocus system comes with 153 focus points—99 are cross-type, and 15 are sensitive down to f/8.
The autofocus capabilities of the camera are boosted by a 181,000-pixel RGB metering sensor. You notice the difference shooting in Auto-Area and 3D-Tracking modes. It should work down to -4 EV (exposure value). That's a two-stop improvement over its predecessor, the D810.
Pinpoint AF is a handy tool for getting precise focus in Live View. It's a boon for product photography and macro photography. But the Nikon D850 has a contrast-detection rather than phase-detection autofocus system (unlike some Canon DSLRs). It often "hunts'" or fails to get a lock.
Finally, the best DSLR autofocus system in the world won't do much good if you don't AF fine-tune (calibrate) all your cameras and lenses. I found that out the hard way when I came back from Svalbard with thousands of shots of polar bears—and they were all blurred!
Focus Stacking
Focus Shift is Nikon's (misnamed) focus stacking feature aimed at landscape and macro photographers. You mount your camera on a tripod, set the focus, the number of shots, and the focus increments on a 1-10 scale, and then let the camera shoot automatically.
The Nikon D850 waits three seconds between each shot to avoid camera shake. It refocuses and keeps shooting until it reaches infinity or the shot limit. And it even files them all away in a separate folder! Then you have to create the final image in software such as Photoshop, Zerene Stacker, or Helicon Focus.
Focus stacking is a great new feature. But it does involve a lot of guesswork. The focus scale has no units. And it's hard to know where to start. It would be much easier if you could simply focus on the front and rear of the subject and let the camera do the rest.
The best thing to probably do is focus on the nearest point of your subject, set the number of frames at the maximum, leave the focus increment at five, and press start. That seems to work both for macro shots and landscapes.
As usual, you can control the depth of field with the aperture. If you want everything sharp, you can choose f/8 or f/11. If you desire a bokeh in the background, then shoot wide open.
Remember that the whole focus stacking process takes quite a while. So it's much better for subjects that don't move around!
Frame Rate
People say the D850's frame rate of 7fps is "good" for a high-resolution camera. But it depends on what kind of photographer you are and what you're comparing it to.
Yes, the limitations of camera technology mean there used to be a trade-off between resolution and continuous shooting speed. But that's just not true anymore. And a sports or wildlife photographer like me won't think 7fps is good enough!
The mirrorless revolution means you now see cameras like the Sony Alpha 1 with a 50MP image sensor and a maximum frame rate of 30fps! The D850's score of just 7fps—or 6fps in Live View—looks painfully slow in comparison.
You can get up to 9fps if you buy an MB-D18 battery pack. But it's expensive—and even 9fps is still not that impressive!
Buffer
You can shoot 51 RAW images in 14-bit lossless compressed format and 170 RAW images in 12-bit lossless compressed format with the D850. That's a massive improvement on the Nikon D810's buffer—limited to 28 and 47 RAW images.
There are many possible combinations of image format and buffer size. So which one is the best?
The best options for action shots are 12-bit or 14-bit lossless compressed. There's no point in choosing an uncompressed format as you won't get any more detail. The file sizes will also be enormous, which will reduce the buffer size.
If your subject is stationary or slow-moving, the 14-bit lossless compressed format gives you more detail. That gives you roughly 7.3 seconds of continuous shooting at 7fps or 5.6 seconds at 9fps before the camera slows down. If you need more time, you can always switch back to 12-bit.
If you shoot in DX format (cropped), the buffer size is 200 images. So the only limiting factor is the size of your memory card!
Nikon D850
With excellent image quality, video and battery life, it's still the best Nikon DSLR on the market
XQD Card and RAW File Rates
The other variable is the frame rate. The D850's performance is only possible at 7fps with an expensive XQD card. But the buffer may grow when faster cards come on the market.
At 9fps with an XQD card, you only get half the RAW buffer capacity as you do at 7fps. That's 23 14-bit, uncompressed RAW files—the same number of lossless compressed RAW files or 30 14-bit compressed RAW files.
You might expect you could improve the buffer size by shooting in a compressed RAW format, but that's unfortunately not the case.
The D850 offers various RAW quality options. Here are the figures using an XQD card at 100 ISO:
Full RAW, lossless compressed, 12-bit, 41.5MB file size, 763 images, 170-shot buffer
mRAW, lossless compressed, 12-bit, 30.0MB file size, 1,000 images, 94-shot buffer
sRAW, lossless compressed, 12-bit, 21.9MB file size, 1,400 images, 56-shot buffer
The whole point of shooting in mRAW or sRAW is to reduce the file sizes. But that isn't matched by an increase in the buffer. In fact, it gets smaller! That's because of the processing overhead involved in double resampling the files.
With a slower UHS-II SD memory card, the buffer figures come down again to 51, 67, and 65 shots.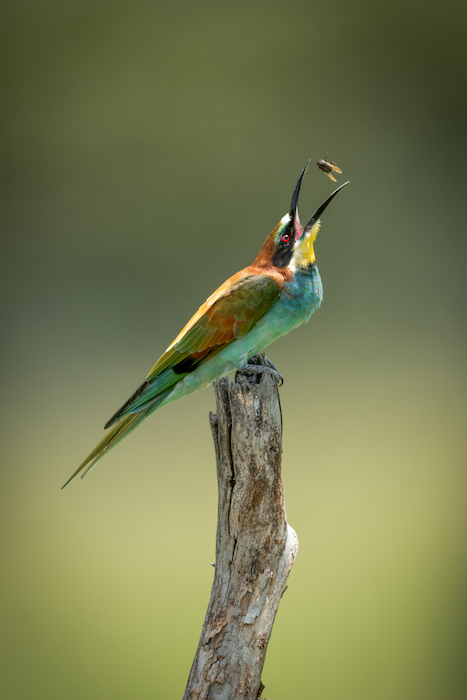 Live View
The D850's Live View capabilities are compromised by the slow, contrast-detect AF system used—especially when shooting video. But it's still a helpful feature.
If you press the 'i' button in Live View, you'll switch to Silent Shutter Mode. It's good for eliminating camera shake. So you won't need a remote release anymore—unless your shutter speed is over 30 seconds.
There are two Silent Live modes. SL 1 takes standard stills. SL 2 allows you to take 3600x2400px, 8.6MP DX-sized JPEGs at 30fps. But the rolling shutter distortion means you can't use it for moving subjects. There's also a risk of unsightly banding. And you can't fix that in post-production!
Electronic Front-Curtain Shutter can be used in Q, Qc, and Mirror Up modes. That means the mechanical shutter doesn't open at the start of the exposure, which further reduces the camera shake. It should really be available in all modes and beyond 1/2000 s… hopefully down the road!
Live View now shows an actual 1:1 pixel-level magnification because it doesn't have any interpolation issues when viewing at 100% zoom.
Split-screen zoom help check the sharpness of the foreground and background. It's now lag-free. But you can't move the two windows around independently in landscape mode.
Other Camera Features
Here are a few other miscellaneous features:
New 1:1 aspect ratio
New "Natural Light" Auto White Balance (AWB) setting
New "Auto" Picture Control setting
"Time" Exposure mode allows exposures of any length
New in-camera RAW batch processing
Film Scanner mode—lets you digitize film with an ES-2 film digitizing adapter and Nikon 1:1 macro lens
Video Specs and Performance
The D850 can shoot video in 4K/30p and HD/60p formats (plus MP4 and MOV). It can also output uncompressed 4:2:2, 8-bit, 4K Ultra HD via HDMI to an external recorder while simultaneously writing to a memory card.
The D850 is the first Nikon camera to use the entire sensor width when shooting 4K. That means the focal length stays the same. And you don't have to worry about crop factors. But you also have crop options available like DX Crop and Super 35.
Timelapse
You can shoot in-camera 4K time-lapse footage with several options:
Exposure Smoothing
Image Area DX or FX
Interval Priority
Movie Resolution up to 4K/30p
Silent Photography mode
You can also shoot 8K time-lapse movies with silent interval timer shooting. But you have to use external software. Even if you set the white balance manually, it reverts to the auto setting. That doesn't work so well when there's a mix of natural and artificial light.
Other Video Features
Video features include the following:
4x slow motion in Full HD/30p
Active D-Lighting
Electronic VR (vibraiton reduction)
Focus peaking
Selectable audio frequency range
Touch AF (autofocus)
Uncompressed HDMI output
"Zebra stripes" that show overexposures
But electronic VR (beyond optical), exposure highlights, focus peaking, and slow motion don't work in 4K.
Many different picture profiles are available, including a "flat" version that lets you color-grade footage in post. But there's no dedicated log profile. You can also make exposure adjustments directly in Live View.
The only problem with the D850 for videographers is the contrast-based AF system in Live View. It's far too slow.
Battery, Connectivity, and Storage
The Nikon D850 comes with a new EN-EL15a battery that provides a 1,840-shot battery life. That's a huge benefit to wildlife photographers like me, who might easily take a couple of thousand pictures during a game drive.
It's also a significant improvement on the D810. It can only manage 1,200 shots. And you can get even longer battery life with the MB-D18 battery grip.
One nice feature is that the EN-EL15 and EN-EL15a batteries are interchangeable. The earlier version is not as long-lasting. But at least you don't have to worry about using the "right" batteries if you have a D810 and D850 as I did.
The D850 supports Wi-Fi and Bluetooth. But there's still no GPS. There's also a photo-sharing app called Snapbridge (Android/iOS) that connects to Nikon Image Space. It has good review. But it didn't work for me correctly, so I never bothered with it after day one!
The other point to remember is the type of memory cards the D850 supports. It has one XQD and one UHS-II compatible SD card slot. But to take advantage of the higher shooting speeds, you need an XQD card, which will cost you big bucks!
Who is the Nikon D850 for?
The Nikon D850 is probably the best all-around DSLR on the market today. It's versatile enough to suit those specializing in landscape, wedding, portrait, sports, or wildlife photography.
It's probably too big and heavy for street photography. And it doesn't offer silent shooting through the optical viewfinder. But it's good enough for professional photographers and affordable enough for hobbyists.
Nikon D850
With excellent image quality, video and battery life, it's still the best Nikon DSLR on the market
Nikon D850 Alternatives and Comparisons
The D850 is a fantastic camera, and my only complaint is the continuous shooting speed. If you're a sports or wildlife photographer, you're probably better off doing what I did and switching to mirrorless.
I went for a pair of Sony Alpha 1 mirrorless cameras. But the Nikon Z 9 and the various versions of the Canon R are similar in resolution, autofocus (AF) systems, buffer size, and frame rate.
You'll notice that there aren't any DSLRs on this list. That's just because the D850 is the best Nikon DSLR. So there isn't a Nikon DSLR alternative. And if you already had another brand of DSLR, you probably wouldn't be reading a Nikon D850 review in the first place!
The new 33MP sensor provides better sharpness and low-light performance than previous versions of the a7. But it would be a step down from the D850 in terms of resolution, frame rate, and autofocus capability.
---
The R3 offers an excellent dynamic range. It has good high-ISO and low-light performance with faithful color rendition. But the 24.1MP sensor doesn't provide the image quality required by professional wedding, portrait, or landscape photographers.
---
The R5 has similar specs to the Sony Alpha 1 with excellent Canon's Dual Pixel AF. But the sensor resolution and frame rate in continuous shooting mode are not quite as good. Video quality is superb, but it does have problems with overheating if you want to use the highest-quality 8K format.
Check out the D850 vs Canon EOS R5 specs here.
---
The a7R IV is the perfect camera if you're a landscape photographer. Given the 60.2MP, high-resolution sensor, it's effectively a medium format camera. It has excellent image quality, a wide dynamic range, and low noise levels.
---
The Sony Alpha 1 (or Sony a1!) ticks all the boxes for image quality, wide dynamic range, autofocus, continuous shooting speed, and usability. 'Nuff said.
---
The Z9 is an affordable camera with the best specs on paper of any mirrorless full-frame model. The sensor is only slightly smaller than the Alpha 1. And the frame rate is vastly superior—if you don't mind 11MP files!
Our Verdict
If you're reading this Nikon D850 review, you might have a Nikon camera already. And perhaps it's a crop sensor DSLR. If so, you might think the D850 is a "natural' upgrade." But what about mirrorless cameras?
Yes, I know that choosing the Z9 would mean using an FTZ adaptor, which would compromise autofocus speed and accuracy. And it might ultimately mean replacing all your lenses!
At that point, I'd have to ask if you're a wildlife or sports photographer. If you are, you should probably get the mirrorless Z9 or Sony Alpha 1. If not, then the D850 is not a bad option.
Nikon D850
With excellent image quality, video and battery life, it's still the best Nikon DSLR on the market
But if you have a different brand of DSLR or a mirrorless camera, the D850 is probably not your best option. Canon users would have to replace all their lenses, and mirrorless users would probably think they were going backwards!
If you're still not sure if the Nikon D850 is for you, try filtering our camera database to match your needs! We also have a full review of the Sony a1 and a Sony a7R III review to check out next!