Last Update: July 5, 2023
Do you have photography equipment you no longer need (or never should've bought in the first place!)? Read on to find out the best place to sell used camera gear.
My hall cupboard is where my photography equipment goes to die. They all sit in the dark, just waiting to be sold off!
There's the flashgun I used for only one party and one wedding, the GoPro I used for a single rafting trip, and the clamp I couldn't work out how to use on safari.
But I've been through the process of selling used camera equipment. And there are plenty of places to do so online (or in person). So let's go through our top 10 recommendations.
10 Best Places to Sell Used Camera Gear Online
If you want to sell cameras, lenses, video equipment, or audio gear online, you can try selling to a company or an individual.
The process will be pretty swift and seamless if you pick a company. But you might not get the best price. If you target individuals, you might get more money, but finding a buyer is harder.
There are four main ways to sell camera gear online. They all offer slightly different price, speed, and convenience trade-offs. So we've broken our list down into four sections:
Find out which option is best for you. Or jump to the end to read our top five tips for selling used cameras and equipment.
Major Dealers
Several photographic dealers offer a quick and simple process for selling used camera equipment. Most operate in the USA, but some are active in Europe and the UK.
On other continents, the options may be few and far between! And remember that it's entirely up to the company which items are acceptable and on what terms.
You might find that you can't sell memory cards due to data protection laws. You also might only be able to sell certain low-value items for store credit or as part of a trade-in deal.
Unfortunately, it's not really possible to compare dealers' pricing. A lot depends on the individual item and its condition. But many offer free, instant quotes, so it doesn't take long to find out.
Locations: USA only
To sell camera gear to Adorama, you must complete an online form. After you've entered your details and described the items, they will contact you with shipping information.
Someone has to check the equipment before a quote is issued. That makes the process more long-winded than with the other dealers.
Or you can take your items to the Adorama stores at 42 W 18th Street in Manhattan or 370 19th Street in Brooklyn, New York. There, they can do an appraisal while you wait.

Pros
May buy old and obsolete equipment
A well-known, established retailer
Cons
Not likely to offer the highest price
Equipment must be "good," "like new," or "excellent"
May refuse heavily used equipment
Don't always reply to requests for estimates
No instant quote
Locations: USA only
The online process is like the one for most other dealers. In exchange for filling out a description of your item on their website, you get a free, no-obligation quote by email.
The whole process only takes a few seconds. And if you accept the quote and live in the lower 48 states, they send a shipping label so you can FedEx your items to B&H.
After they get the items, they'll check them and compare them to your description. You'll get the agreed amount if it matches and the quote is still valid.
If there's a discrepancy, B&H will get in touch to negotiate a new, lower offer. If you're unhappy with the counteroffer, they return the equipment free of charge.
Like Adorama, B&H also has physical stores where you can take in your camera equipment for appraisal. The New York City superstore is at 366 West 34th Street.

Pros
A well-known, established retailer
Free quote with no obligation
Cons
Unlikely to offer the best price
Don't specialize in used photography equipment
Locations: USA only (and international sellers with items over $300)
KEH is an online marketplace for photographers to buy and sell used camera equipment.
They mainly target the domestic US market. But international sellers can sell items over $300 if they cover all shipping fees and taxes.
Getting a free quote on the website is quick and easy. You don't need to enter your email address. You can even arrange a one-on-one video appraisal session with a KEH assistant.
In either case, after you've accepted the quote, they'll send you a shipping label so you can send in your items.
You'll receive free, tracked shipping if you live in the lower 48 states. You'll also get free pick-up if the quoted value of the goods is over $300.
After KEH receives the goods, they'll look at them to see if the quote is valid. If so, you can then accept the quote and wait for payment.
If you choose the Quick Pay option, you'll get paid automatically if the valuation is at least as high as the initial quote.
If the valuation is lower, someone will contact you for approval. If you don't want to accept the new price, you're entitled to the return of your equipment at no extra cost.

Pros
A well-known, established retailer
Free quotes
Quick and easy process
Cons
Lower prices than peer-to-peer marketplaces
May downgrade the initial quote after review by up to 25%
Locations: USA, UK, and Europe
Like KEH, MPB specializes in used camera gear.
As a seller, your first step is to fill in an online form, giving a description and the condition of the item(s) for sale. The options run from "like new" to "heavily used."
You'll get an instant quote, and the company will follow up by email. If you accept the quote, you can book the shipping.
MPB offers free pick-up, shipping, insurance, and tracking. You only need to package your items, print the shipping label, and attach it to the box.
On receipt of the items, MPB will assess the initial quote. If the valuation matches, you can accept the quote and wait for payment.
If not, you'll get a revised one. You can then choose whether to accept it or not. If you don't want to sell your camera gear at the new price, MPB will ship it back to you free of charge.

Pros
Specialists in used camera equipment
No need to take pictures
Lots of positive customer feedback
Cons
Unlikely to accept older gear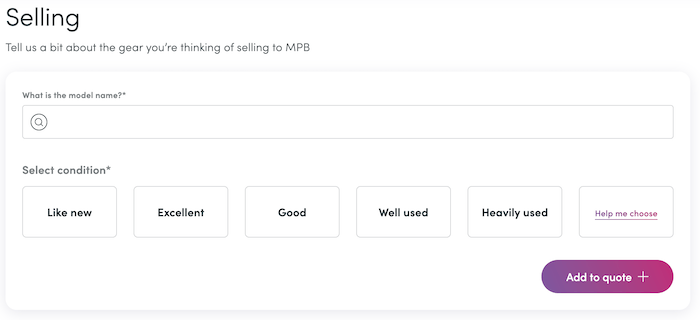 Locations: UK only
Wex is one of the largest, best-known photo retailers in the UK. To sell camera gear, you must complete an online form listing your equipment and accessories.
You can describe the condition of the items on a scale from 6 to 10 (lowest to highest). They describe what each value means. And there's guidance on shutter counts for cameras.
After you've filled in the form, you'll get an instant quote. You'll either be offered cash, a credit note, or both. You're more likely to get a cash valuation if it's a popular product.
For other items, you'll have to settle for a credit note. This doesn't expire, but it's less flexible if you don't need more camera gear yet!
If you accept the quote, you can arrange free pick-up or drop your items off at your local Wex store. Someone will value the goods on receipt.
If the valuation matches the quote, you can accept it and wait for the money or credit note. If the valuation is lower (or you change your mind), WEX will return your goods for free.
Wex also offers a price match guarantee if you can find a better quote elsewhere.

Pros
Instant quotes
Simple process
No hidden fees
Cons
May offer credit note rather than cash
Auction Sites
Auction sites such as eBay have advantages and disadvantages. You'll probably get a better price than from a dealer. But it's much more of an effort!
There's also no guarantee of a sale. And you might have to wait weeks or months to get rid of your goods.
Locations: Worldwide
eBay is the most famous and successful auction site, and it also offers an easy "Buy Now" option for conventional retail sales.
It's an easy way to reach potential buyers from hundreds of countries around the globe. But they won't all be looking for photographic equipment!
Opening an account and starting a listing are fairly straightforward. And an eBay "wizard" will guide you through the process.
You have to provide text and images of your goods. The flip side is that you can set your price. If you choose the auction option, you should start low and see what happens.
But you can always specify a reserve price. Then the result will be void if the auction doesn't reach that value.
In addition to or instead of an auction, you can set a Buy Now price. Buyers can then click on that button and buy your gear as if on Amazon or any other online marketplace.
Buyers can pay with credit or debit cards using PayPal, so you don't have to worry about accepting payment. After payment goes through, you can ship the goods to the buyer.

Pros
No restrictions on items for sale
You can set your price
Card payments accepted
Worldwide pool of potential buyers
Good for regions not served by US and European retailers
Cons
Must create a listing, including text and pictures
Must handle queries from buyers
May face competition for popular items
No free shipping
Charges various fees and commission of 10 to 13%
Hard to get started with no positive ratings
Locations: USA only
Gear Focus is a kind of hybrid of an auction site and a dealer. You can either list your goods as you would on eBay or sell it directly to the company.
If you create a listing, the process is like the one used to set up an eBay listing. You must provide text and images of the items.
After the goods are sold, you ship the product to the buyer. And Gear Focus forwards the payment.
You have to pay a commission of 3.5%, but there are no listing fees. There's also a protection policy in place to offer security to both sides.
If you want to sell camera gear to Gear Focus directly, it's just like selling via a dealer. You simply have to provide personal details, a description of the items for sale, and at least one picture.
You must say if the goods are "Like New," "Excellent," "Good," or "Well Used." You can also set an "Asking Amount" if you have a figure in mind.
Gear Focus has a price promise to beat any other quotes you may have received. And you can upload those documents when asking for your estimate.

Pros
Lowest commission fees among auction sites
Cons
Only founded in 2019, so a limited number of users
Classifieds
Local classified sites offer a convenient way to sell to local buyers. But there's no consumer protection.
They also offer enormous reach. But they don't usually specialize in photography—apart from Fred Miranda and Cloudy Nights.
It also means dealing with all the correspondence from potential buyers, meeting them, and even haggling with them!
Locations: Launched in the US, but now available in cities in over 70 countries.
Craigslist is a classified listing site launched in 1995. It was designed for in-person, local sales of goods.
It's (still) a text-based platform, and it does have a problem with scam emails. But it's free to list items, and it offers massive reach.
Users can also post what they want to buy. So this offers potential sellers a good way to test the market.
If you want to sell your used equipment on Craigslist, most sites have a specialist photo and video classified section. Users tend to haggle on price, so bear that in mind!
Like most classified sites, Craigslist doesn't get involved in selling. That means you'll have to do all the correspondence and accept payment.
Buyers will likely collect the goods in person because it has a local focus. As there's no seller protection, the best way to get paid is to take cash.
Pros
No need for shipping if goods collected
Free listings
Users can post what items they want
Cons
Too many scam emails
Sometimes need to haggle
Not a specialist photography site
Locations: Worldwide
Facebook is the world's largest social media platform. And Facebook Marketplace is a free classified listing service where you can sell your used equipment.
As with other classified services, you must create a listing with text and images. You can also promote your items using Facebook adverts.
But Facebook doesn't get involved in correspondence, payment, shipping, or collection. And there's also no payment protection for buyers or sellers.
Like Craigslist, Facebook Marketplace might be a good option for local, in-person sales.

Pros
Billions of Facebook users worldwide
Potentially higher prices than dealers
Cons
Not specialists in photography
No financial protection
No help with correspondence, payment, or shipping
A Local Camera Store
Buying photography gear online is much cheaper than visiting your local camera store. As a result, there aren't as many local dealerships as there once were. But you should have options.
10. In-Person or Their Website
The advantage of visiting a local retailer is that you can take in your equipment. And you get personal service from a knowledgeable staff member.
I've bought and sold a few digital cameras, lenses, and other equipment at the London Camera Exchange store in London. I've always had a good experience.
They also have a website. So you can look for deals on second-hand gear across the whole UK. So you can always check if your local camera store has a website.
Top 5 Tips for Selling a Camera
Here are our top five tips for selling old photography equipment.
1. Choose a Place That Fits Your Needs
I recently traded in all my Nikon DSLRs and lenses for their Sony mirrorless equivalents. I went to a local photography store I trusted and talked to a man I'd dealt with before.
The whole process was quick and convenient. But I still lost around a third of the value of the equipment!
And that's one of the problems you face when selling your old gear. Getting a good price is hard if you also want speed and convenience.
Those three factors are the most important, but you usually must sacrifice one. If you can decide which one that should be, it should help you choose where to sell your old camera equipment.
Major dealers like Adorama offer a quick and convenient service. But they have to make a margin, and that's reflected in the prices they offer.
Auction sites like eBay might get you a better price. But you must upload your images, describe the product for sale, and handle any inquiries yourself.
It might also take longer to sell your items if you want the best price—even if you include a "Buy Now" option.
General classifieds like Craigslist offer a good chance to get the highest price (without commission). But you do all the work, and there are no guarantees you'll find a buyer.
Specialist classifieds like Fred Miranda score highly on price. And at least you know that their users are likely photographers. But the process is relatively slow and inconvenient.
Local photography stores usually have websites. Or you can go in person for a more personal experience.
I went to my local camera shop. And I was happy to sacrifice a little on price for speed, convenience, and peace of mind.
2. Clean and Service Items
Ideally, it's best to look after your equipment at all times. But accidents happen, and cameras and lenses often look dusty and dirty after several years of service.
It's worth giving it a good clean before you ask for an estimate or sell your used gear. People like shiny things. And they're more likely to buy your items if they look new-ish and in good condition.
It's a bit like staging a property. You vacuum the place, clean up any mess, and put flowers in your vases and cookies in the oven to attract buyers.
It's the same with cameras. Nobody wants to buy a lens with African mud on the glass! If the items aren't in good working order, it's worth checking how much it costs to fix any problems.
A sensor clean should cost under $100, for example. So it might be worth it if you expect to sell your camera for thousands of dollars.
But there wouldn't be much point if it was just an old film camera worth a couple hundred bucks.
3. Describe Goods Honestly
However tempting it is to exaggerate the condition of your kit, it's not worth it. If you're selling online, nobody will take your word for it. So it'll all come out in the wash.
Your camera equipment has to be valued before any sale can go through. So telling white lies would just involve more paperwork and reflect badly on you!
If you have the original packaging, instruction manual, and accessories, you should include those in the bundle. Buyers won't thank you for selling them a camera with no charger!
4. Take a Lot of Pictures
Buyers don't want to buy cameras or equipment without a good look at them. They want to know exactly what they're getting—especially if it's used camera gear.
This means it's a good idea to include as many clear photos of your items as possible from many different angles. Ideally, they should be taken in good light against a plain background.
You should also include pictures of damaged areas, such as a scratched lens. You'll only get complaints if you don't, and the sale might even fall through.
One common scam on some platforms is to use photographs downloaded from the manufacturers' websites. This suggests that the items are newer than they are.
To avoid suspicion, you can include a handwritten note in one of the photos, perhaps with your name and date.
5. Be Realistic With Pricing
Unless you're happy to wait months (or even years!) to sell your used camera equipment, you should set a realistic price.
Many websites have several competing users trying to sell popular camera gear. That means potential buyers will ignore the most expensive options.
If you're unsure how much your items are worth, you can always ask one of the dealers for a free estimate.
You can also check the price of similar goods online. Or you can use an IRS depreciation chart to allow for wear and tear over time.
If you have an old, worn-out, or obsolete item, you might have to accept it has no resale value. If you don't want to throw it out, you can always give it to a charity, museum, friend, or relative.
Conclusion
Most photographers accumulate old cameras, lenses, and other gear that gather dust. But there are various options if you want to sell a few items.
If you want the quick and easy route, you should probably get a free quote from one of the major online dealers.
If you don't mind doing a bit more of the legwork in the hunt for a better price, you can take out an ad on one of the auction sites or classified listings.
Finally, you can always go into your local photography store—if you can find one! Or you can even look up their website.
Whichever option you choose, camera gear is only worth what someone's prepared to pay! This means you may have to trade off speed and convenience against price.
Craving more photography info? Check out our recent posts on zoom vs telephoto lenses, photoshoot themes, or sunset photography settings next!