Exprotrek 4K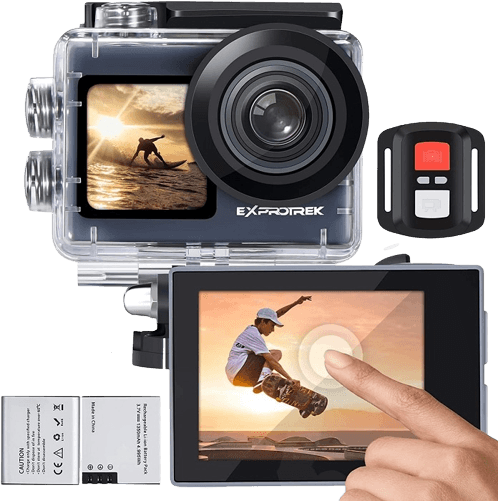 Exprotrek 4K

Price

Brand

Exprotrek

Model

4K

Released

Refers to the year this camera was officially made available for sale.

2022

Camera Weight
Pros
20 MP sensor for fantastic still photos
Rapid 30 fps burst for action shots
Wireless wrist remote control for added usability
Wi-Fi for quick and easy file sharing
Smooth, clear 4K with 60 fps option
Cons
Not waterproof without the underwater case
Wi-Fi output is limited and unreliable, especially outdoors
Battery life isn't great compared to other action cams
Exprotrek app is basic and offers few extra features
Optics

Exprotrek 4K

Megapixels

The higher the number of megapixels, the more detail the cameras sensor can capture.

Field of View

The wider the field of view, the more action you can capture.

Sensor Size

unspecified

Zoom

Unspecified

In-body Stabilization

Electronic Image Stabalization
Video

Exprotrek 4K

Video

Indicates if this camera is capable of recording video.

Max Video Dimensions

Video resolution measured by the greatest number of pixels possible in each frame, width by height. A higher resolution means more detail or clarity in your video.

px

Max Video Resolution

The best resolution this camera can capture video in. Modern cameras can capture up to 8K video.

4K

Time-Lapse Built In

A built in time-lapse mode will allow continuous shooting throughout a prolonged period of time to be compressed into a sped up video.
Features

Exprotrek 4K

360 Shooting

Slow Motion Speed

1x

Shock Resistant

Depth Rating

40m m

Bluetooth

Bluetooth capabilities allow you wireless control of your camera with other external devices.

Wi-Fi
Storage and Battery

Exprotrek 4K

Memory Card

microSD

Removable Battery

Can the battery be fully removed? Helpful if you want to bring a backup battery.

Charging Time

How long it takes to charge the battery from empty to full in minutes. Estimate Only.

180 mins

Battery Life

How long the battery will last you in minutes. Estimate Only.

120 mins
Spotted a mistake with these camera specs? Please let us know so we can update it!