Sony a7 II vs a7 IV Comparison
Optics
Video
Features
Storage & Battery
Sony a7 II
Sony a7 IV
Winner!
Price

Brand

Sony

Sony

Model

a7 II

a7 IV

Released

Refers to the year this camera was officially made available for sale.

2014

2021

Announcement Date

Refers to the date the manufacturer publicly announced the upcoming release and general specs of this camera.

November 20, 2014

October 21, 2021

Camera Type

Mirrorless

Mirrorless

Camera Size

Camera Weight
The Sony a7 IV outperforms the Sony a7 II with a score of 84/100 compared to 69/100. Both cameras are mirrorless and share similar dimensions, with the a7 IV being slightly larger and heavier. They also have the same launch prices when adjusted for inflation.
The a7 IV excels with its more recent release date in 2021, offering updated technology and features. The a7 II, released in 2014, still holds its own with a lower launch price of $1600, making it a more budget-friendly option.
When comparing these cameras, the Sony a7 IV proves to be the better choice due to its higher score and advanced features. However, the Sony a7 II remains a solid option for those on a tighter budget.
Sony a7 II vs a7 IV Overview and Optics
The Sony a7 IV outperforms the Sony a7 II in optics with a score of 85/100 compared to 78/100. Both cameras share several specifications, including a CMOS sensor, full-frame sensor size, and image stabilization. They also have compatible lens mounts: the Sony a7 II with Sony E and the Sony a7 IV with Sony FE.
The Sony a7 IV has a clear advantage with its 33-megapixel resolution, significantly higher than the Sony a7 II's 24.2 megapixels. This increase in resolution translates to more detailed images and better cropping flexibility. Additionally, the a7 IV boasts a faster shooting speed of 10 frames per second, doubling the a7 II's 5 frames per second. This improvement is essential for capturing fast-moving subjects or action shots. Furthermore, the a7 IV has a more advanced Bionz XR processor and a higher DXOMARK sensor score of 97, compared to the a7 II's Bionz X processor and sensor score of 90. These factors contribute to the a7 IV's superior image quality and processing capabilities.
Though the Sony a7 II falls short in some areas, it still holds its ground as a reliable camera with solid optics. Its 24.2-megapixel resolution and 5 frames per second shooting speed are sufficient for most photography needs, and its full-frame sensor and image stabilization remain competitive features.
When comparing the optics of these two cameras, the Sony a7 IV emerges as the winner due to its higher resolution, faster shooting speed, and improved processing and sensor performance. However, the Sony a7 II remains a viable option for those seeking a more affordable camera with adequate capabilities.
Optics

Megapixels

The higher the number of megapixels, the more detail the cameras sensor can capture.

Image Resolution

Image resolution is measured in pixels and megapixels, width by height. The higher the number, the higher its resolution.

6000 x 4000 px

7008 x 4672 px

Sensor Type

The camera sensor captures light and records the image. Sensors vary in physical size, the number of pixels, and quality.

CMOS

CMOS

Sensor Size

The sensor size contributes to the overall quality as well as the dynamic and tonal range a camera can capture. As a rule of thumb, the more surface there is to read the light, the more information it will capture.

23.9 x 35.8 mm

23.8 x 35.6 mm

Sensor Format

Refers to the most commonly used sensor sizes.

Full Frame

Full Frame

Frame Rate

The number of sequential frames per second the camera can write to the memory card when shooting in burst or continuous mode.

Lens Mount

The lens mount will tell you what type of lens range you can fit onto the camera body. Often the same camera company will have different lens ranges for different cameras.

Sony E

Sony E

Image Processor

The image processor in the camera converts the information collected on the sensor for digital storage on the memory card.

Bionz X

Bionz XR

Aspect Ratio

The aspect ratio refers to the proportional difference between width and height. The most popular aspect ratios are 3:2 and 4:3.

3:2

3:2

Minimum ISO (Native)

Refers to the lowest native (or 'base') ISO setting. Lower ISO are less sensitive to light but make a cleaner image.

Maximum ISO (Native)

Refers to the highest native (or 'base') ISO setting. Higher ISO is necessary for low-light situations or night photography, but higher ISOs often introduce grain or noise.

Minimum ISO (Expanded)

Expanded (or extended) ISO is a digitally enhanced feature available on some cameras. It allows you to push beyond the native ISO range if necessary.

Maximum ISO (Expanded)

Expanded (or extended) ISO is a digitally enhanced feature available on some cameras. It allows you to push beyond the native ISO range if necessary.

Minimum Shutter Speed

The minimum shutter speed will tell you the longest exposure your camera can take without using an external accessory.

Maximum Shutter Speed

The maximum shutter speed tells you the length inside 1 second the camera will capture. These can sometimes be extended with accessories such as extra external batteries.

Autofocus Points

Autofocus points show where the camera is focusing graphically as squares or brackets in Live View or on an electronic viewfinder. These points are also used for light meter readings.

In-body Stabilization

In-body Stabilization means the camera has a certain technology embedded that counteracts camera shake.

Viewfinder Type

The viewfinder type is either electronic or optical. Electronic viewfinders will have a small screen in the viewfinder. Optical viewfinders will use prisms and mirrors to look through the lens.

Electronic

Electronic

Viewfinder Resolution
Sony a7 II vs a7 IV Video Performance
The Sony a7 IV outperforms the Sony a7 II in video capabilities, with a video score of 91/100 compared to the a7 II's 56/100. Both cameras share some common specifications, but the a7 IV has more advanced features, making it the better choice for videographers.
The Sony a7 II and a7 IV both have Full HD video resolution. However, the a7 IV goes beyond this by offering 4K video resolution, with max video dimensions of 3840 x 2160. This is a significant improvement over the a7 II's max dimensions of 1920 x 1080, allowing for more detailed and higher-quality footage. Additionally, the a7 IV has a higher maximum video frame rate of 120fps, compared to the a7 II's 60fps. This enables smoother slow-motion video and better overall performance in capturing fast-moving subjects.
Furthermore, the Sony a7 IV has built-in time-lapse functionality, a feature that is absent in the a7 II. This allows for easy creation of stunning time-lapse videos without the need for additional equipment or software, making it a more versatile option for videographers.
While the Sony a7 II may be more affordable and sufficient for casual video shooters, its video performance falls short when compared to the a7 IV. The a7 IV's superior video resolution, frame rate, and time-lapse capabilities make it the clear winner in terms of video performance.
Considering these factors, the Sony a7 IV is the better choice for those seeking advanced video capabilities and improved performance. The a7 II may still be suitable for those with more modest video needs, but for filmmakers and videographers looking to create high-quality content, the a7 IV is the superior option.
Video

Video

Indicates if this camera is capable of recording video.

Max Video Resolution

The best resolution this camera can capture video in. Modern cameras can capture up to 8K video.

Full HD

4K

Max Video Dimensions

Video resolution measured by the greatest number of pixels possible in each frame, width by height. A higher resolution means more detail or clarity in your video.

1920 x 1080 px

3840 x 2160 px

Max Video Frame Rate

How many frames per second your video will capture. Most cameras have options for multiple frame rates, depending on the resolution you shoot in. For a general video, 24p or 30p is the standard, but more serious filmmakers may need a higher frame rate for creative effect.

60 p

120 p

Time-Lapse Built In

A built in time-lapse mode will allow continuous shooting throughout a prolonged period of time to be compressed into a sped up video.

Video File Format

Different cameras can record in various video file formats. The File format you record in can impact how you edit and use the files.

XAVC S

MPEG-4, XAVC S, XAVC HS, XAVC S-I, H.264, H.265
Sony a7 II vs a7 IV Features and Benefits
The Sony a7 IV outperforms the Sony a7 II in features with a score of 83/100 compared to the latter's 57/100. Both cameras share some specifications, including a 3-inch screen size, flip screen, Wi-Fi connectivity, and the absence of GPS.
The Sony a7 IV excels in several aspects, making it a better choice for those seeking advanced features. The a7 IV boasts a touchscreen, which significantly enhances user experience and control. The touchscreen allows for faster and more intuitive adjustments, making it a valuable addition. Moreover, the Sony a7 IV includes Bluetooth connectivity, enabling seamless communication with other devices and accessories.
On the other hand, the Sony a7 II has a higher screen resolution of 1,230,000 dots compared to the a7 IV's 1,040,000 dots. This results in a sharper display, which can be beneficial for reviewing images and videos on the camera. However, this advantage does not outweigh the additional features that the a7 IV offers.
The Sony a7 IV emerges as a superior camera due to its enhanced features, such as a touchscreen and Bluetooth connectivity. These additions provide better user experience and improved compatibility with other devices. Meanwhile, the Sony a7 II's higher screen resolution does not compensate for its lack of advanced features. Therefore, the Sony a7 IV is the clear winner in terms of features, making it a more suitable choice for photographers seeking an upgrade or a versatile, feature-rich camera.
Features

Built-in Flash

A built-in flash will often be positioned right above the lens. This will automatically pop up when you activate it.

External Flash

External flashes are often connected through a hot shoe at the top of a camera, or a cable at the side of the camera.

GPS

GPS features in a camera will include location metadata to each of your photographs.

Weather Sealing

Weather sealing capabilities will give you more confidence when shooting in unfavourable conditions.

Screen Type

LCD

LCD

Touch Screen

Touchscreen allows you to change camera settings and access menus with a swipe of your finger, instead of using buttons.

Screen Size

3"

3"

Screen Resolution

Screen dots indicate the resolution of the LCD screen by including each sub pixel.

Flip Screen

A flip screen (or articulating screen) is a second screen which can flip out from the side or top of the camera. This rotating screen allows you more freedom to take photos at different angles.

Live View

Live View feature allows you to see a continuous live video of what is being seen through your lens.

Wi-Fi

Bluetooth

Bluetooth capabilities allow you wireless control of your camera with other external devices.
Sony a7 II vs a7 IV Storage and Battery
The Sony a7 IV outperforms the Sony a7 II in storage and battery, with a score of 76/100 compared to the a7 II's 35/100. Both cameras accept SD, SDHC, and SDXC memory cards, as well as Memory Stick Duo, Pro Duo, and Pro-HG Duo. However, the a7 IV has two memory card slots and is compatible with CFexpress Type A and UHS-II SD cards, giving it an advantage in storage flexibility.
In terms of battery life, the a7 IV lasts for 580 shots, while the a7 II's battery life is limited to 350 shots. The a7 IV uses the NP-FZ100 battery, an upgrade from the a7 II's NP-FW50.
Despite its lower score, the a7 II remains a viable option for those seeking a more budget-friendly camera without the need for extensive storage or battery capabilities. However, for photographers requiring extended usage and storage options, the Sony a7 IV is the clear winner in this comparison.
Storage and Battery

Memory Card

SD / SDHC / SDXC, Memory Stick Duo / Pro Duo / Pro-HG Duo

CFexpress Type A, SD (UHS-II compatible)

Dual Memory Card Slots

Battery Type

NP-FW50

NP-FZ100

Battery Life

Approximately how long this cameras battery will last measured by how many photographs you will be able to take.

USB Charging
Overall Score

DXOMARK overall sensor score.

Portrait (Color Depth)

As described by

DXOMARK

'The Portrait score in our camera sensor reviews defines color depth performance and its unit is a number of bits. A color depth of 22 bits is excellent; differences below 1 bit are barely noticeable.'

Landscape (Dynamic Range)

As described by

DXOMARK

'The Landscape score in our camera sensor tests defines the maximum dynamic range of the camera sensor and its unit is an exposure value (EV). A value of 12 EV is excellent with differences below 0.5 EV usually not noticeable.'

Sports (Low-Light ISO)

Described by

DXOMARK

as 'The maximal value of ISO sensitivity needed to reach a given value of Signal-to-Noise Ratio (SNR). The greater the value, the better'
Main Features

N/A

Extra Features

N/A

Construction and Durability

N/A

Handling and Ergonomics

N/A

Value for Money

N/A

Total Score

N/A
Sony a7 II vs a7 IV – Our Verdict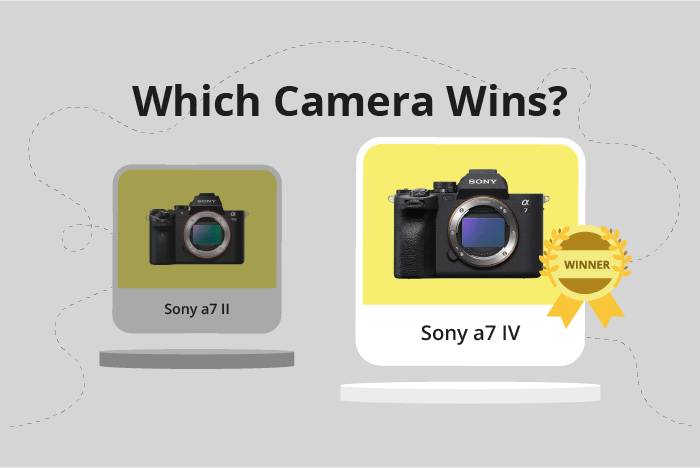 Are you still undecided about which camera is right for you? Have a look at these popular comparisons that feature the Sony a7 II or the Sony a7 IV:
B&H photo video
Spotted a mistake with these camera specs? Please let us know so we can update it!