Canon EOS R3 vs Nikon Z9 Comparison
Optics
Video
Features
Storage & Battery
Canon EOS R3
Nikon Z9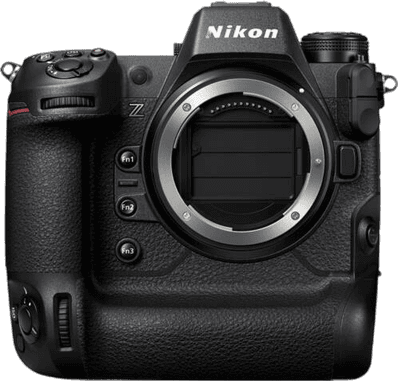 Winner!
Price

Brand

Canon

Nikon

Model

EOS R3

Z9

Released

Refers to the year this camera was officially made available for sale.

2021

2021

Announcement Date

Refers to the date the manufacturer publicly announced the upcoming release and general specs of this camera.

September 14, 2021

October 28, 2021

Camera Type

Mirrorless

Mirrorless

Camera Size

Camera Weight
Nikon Z9 vs Canon EOS R3 Overview
Nikon Z9 vs Canon R3 is a tough call.
The Z9 is Nikon's flagship full frame mirrorless camera. It comes with all the bells and whistles you'd expect.
It has a large sensor, excellent image quality, and eye detection AF (autofocus). However, its maximum frame rate of 20 fps is slightly disappointing.
The R3 is not quite at the top of the mirrorless tree for Canon. It shows in its small sensor size, which impacts resolution and video performance.
Yes, the smaller sensor gives the R3 a higher frame rate. Its larger pixels give it better low-light performance. And its Eye Control AF is an exciting innovation.
But those features don't quite make up for the R3's lack of resolution… However, these two mirrorless cameras are both solid options.
Body and Handling
Both the Nikon Z9 and the Canon EOS R3 have a magnesium alloy frame. And their overall dimensions are similar.
They're the first two mirrorless cameras to offer an integrated grip. It helps battery life and ease of use when shooting in Portrait mode.
The Canon R3 is 11.4 oz (324 g) lighter. That's a lot if you're a wildlife photographer, especially if you use a long lens! You sometimes have to handhold in the field for hours on end.
Available Lenses
I should also note that both Nikon and Canon were a bit late to the party with professional mirrorless cameras. That means the range of available lenses is not as broad as Sony's.
Nikon and Canon have a similar number of full frame, "native," mirrorless lenses (33 Nikon Z-mount lenses vs 32 Canon RF-mount lenses). Canon has more telephoto primes. But Nikon has more standard and wide-angle primes.
Both cameras feature sensor-shift image stabilization, so you don't necessarily need IS (Canon) or VR (Nikon) lenses. But it doesn't hurt!
You can also use DSLR lenses on both cameras with an adapter (Canon's EF to RF adapter or a Nikon adapter for F-mount to Z-mount or the FTZ adapter).
There are no glass elements in the adapters. So there is no loss of light or drop in autofocus performance that you usually get from a teleconverter or extender.
Optics
Resolution vs Frame Rate
Until recently, there was always a trade-off between sensor size and continuous shooting speed. The Sony a1 broke the mold by offering a 50 MP sensor and 30 fps RAW shooting!
These two cameras haven't made the technological breakthroughs to do the same (despite the lack of a mechanical shutter on the Z9). But they approach the trade-off differently.
Both have back-side illuminated (BSI) stacked CMOS sensors. But the Z9 prioritizes image quality. The R3 emphasizes frame rate.
The Z9's 20 fps continuous shooting speed with the electronic shutter doesn't quite cut it for wildlife and sports photography. Equally, the R3's 24.1 MP sensor is a dealbreaker for landscape photographers.
That's why I chose to go with the Sony a1 instead. But the Canon R3 features an anti-flicker component and has a faster shutter speed, as seen in the specs below.
Nikon Z9 Autofocus
The Z9's autofocus system uses a deep learning algorithm. According to Nikon, it can detect and track the world's largest number of subjects. This includes people, dogs, cats, birds, bicycles, motorbikes, cars, trains, and airplanes.
It works with stills and video. And the new EXPEED 7 processing engine makes AF and AE (autoexposure) calculations at 120 cycles per second.
Eye Detect AF automatically tracks the eyes of people, dogs, cats, and birds. It works even if hair or glasses cover their eyes or if the eyes only take up a small part of your composition. It even works upside-down!
Like Nikon's DSLR cameras, such as the D850, the Z9 offers 3D Tracking. But this time, it comes with "deep learning" subject detection.
This allows the autofocus system to lock on to fast-moving subjects. Then it follows them throughout the frame in all three dimensions.
The Z9's autofocus works well in low light–all the way down to -6.5 EV or -8.5 EV in Starlight Mode. And you can even design your own focus areas with 20 custom wide-area AF (C1/C2) options.
Canon R3 Autofocus
Canon claims the R3's Dual Pixel CMOS AF II system is the fastest and most sensitive full frame sensor camera in the world. They say it can focus as fast as 0.03 seconds and in light as low as -7.5 EV.
It turns every pixel into a focusing sensor. Then, it groups pixels into 4,779 selectable focus points that cover 100% of the frame.
The R3 also boasts "next-generation subject tracking" based on deep learning artificial intelligence (AI). Canon engineers have used hundreds of thousands of images to "teach" the camera what to look for.
The R3 can recognize and follow people, animals, and motorsport vehicles. Subject tracking works on all AF area settings. And the refresh rate is 60 cycles per second.
Like the Z9, the R3 works in a hierarchical way. It looks for the eyes of the subject first, then the head, and then the body. In the case of motorsport, it "knows" it should focus on the driver's helmet.
The R3's most impressive autofocus innovation is Eye Control AF. All you need to do is look at something… and the camera will focus on it!
Eight infrared sensors monitor the position of your eye. Then they send the focus point to the relevant part of the frame. I haven't tried it yet. But it could be a game-changer for sports and wildlife photographers!
Electronic Viewfinder (EVF)
Another main difference is in the EVF. It's better on the Canon R3.
Nikon claims its viewfinder is the world's first blackout-free electronic viewfinder and the brightest on the market at 3,000 nits. It does have a slightly higher magnification than the one in the R3 (0.8x vs 0.76x).
But the R3 has double the refresh rate (120 Hz vs 60 Hz) and more than 50% more resolution, as shown below.
Canon R3 Advantages and Similarities
As we can see below, the Canon R3 has an advantage over the Z9 in several areas. It's also better with the following:
Highest continuous shooting speed in RAW (30 fps vs 20 fps)—although the buffer is only 150 shots vs 1000+ on the Z9
Number of focus points (4779 autofocus points)
Sensor-shift image stabilization (8 EV vs 6 EV, depending on the lens) plus digital stabilization
But both cameras have  the following:
Face detection
Eye tracking,
Automatic exposure and focus bracketing
Focus stacking
Blackout-free shooting
Minimal rolling shutter effect with the electronic shutter.
Optics

Megapixels

The higher the number of megapixels, the more detail the cameras sensor can capture.

Image Resolution

Image resolution is measured in pixels and megapixels, width by height. The higher the number, the higher its resolution.

6012 x 4016 px

8256 x 5504 px

Sensor Type

The camera sensor captures light and records the image. Sensors vary in physical size, the number of pixels, and quality.

CMOS

CMOS

Sensor Size

The sensor size contributes to the overall quality as well as the dynamic and tonal range a camera can capture. As a rule of thumb, the more surface there is to read the light, the more information it will capture.

24 x 36 mm

23.9 x 35.9 mm

Sensor Format

Refers to the most commonly used sensor sizes.

Full Frame

Full Frame

Frame Rate

The number of sequential frames per second the camera can write to the memory card when shooting in burst or continuous mode.

Lens Mount

The lens mount will tell you what type of lens range you can fit onto the camera body. Often the same camera company will have different lens ranges for different cameras.

Canon RF

Nikon Z

Image Processor

The image processor in the camera converts the information collected on the sensor for digital storage on the memory card.

Digic X

Expeed 7

Aspect Ratio

The aspect ratio refers to the proportional difference between width and height. The most popular aspect ratios are 3:2 and 4:3.

3:2

3:2

Minimum ISO (Native)

Refers to the lowest native (or 'base') ISO setting. Lower ISO are less sensitive to light but make a cleaner image.

Maximum ISO (Native)

Refers to the highest native (or 'base') ISO setting. Higher ISO is necessary for low-light situations or night photography, but higher ISOs often introduce grain or noise.

Minimum ISO (Expanded)

Expanded (or extended) ISO is a digitally enhanced feature available on some cameras. It allows you to push beyond the native ISO range if necessary.

Maximum ISO (Expanded)

Expanded (or extended) ISO is a digitally enhanced feature available on some cameras. It allows you to push beyond the native ISO range if necessary.

Minimum Shutter Speed

The minimum shutter speed will tell you the longest exposure your camera can take without using an external accessory.

Maximum Shutter Speed

The maximum shutter speed tells you the length inside 1 second the camera will capture. These can sometimes be extended with accessories such as extra external batteries.

Autofocus Points

Autofocus points show where the camera is focusing graphically as squares or brackets in Live View or on an electronic viewfinder. These points are also used for light meter readings.

In-body Stabilization

In-body Stabilization means the camera has a certain technology embedded that counteracts camera shake.

Viewfinder Type

The viewfinder type is either electronic or optical. Electronic viewfinders will have a small screen in the viewfinder. Optical viewfinders will use prisms and mirrors to look through the lens.

Electronic

Electronic

Viewfinder Resolution
Canon EOS R3 vs Nikon Z9 Video Performance
Mirrorless cameras offer better video capability than DSLRs. And the Nikon Z9 and Canon R3 are no exception.
The Nikon Z9 has a higher-resolution sensor and thus the ability to record in 8K. But you need an 8K monitor to appreciate it. And not many people have those! The Canon R3's 6K video should be more than enough for most videographers.
Both cameras do the following:
Use the full sensor area
Offer 8-bit and 10-bit recording
Can shoot for longer than the usual 30-minute limit
Shoot time-lapse
The Nikon Z9 is capable of 8K video at 30p, 25p, and 24p, using the H.265 codec with a resolution of 7680 x 4320. It can also shoot 4K Ultra HD video at 120p, 60p, and 30p (with oversampling at 30p). A firmware update allows you to shoot 8K 60p and 8K RAW internally.
The Canon R3's 24 MP sensor means its highest-resolution video format is "only" 6K with a resolution of 6000 x 3164. It can shoot 6K at 60p, 50p, 30p, 25p and 24p with the option of internal 12-bit RAW recording. It can also shoot 4K at 120p, 60p, and 30p.
Video

Video

Indicates if this camera is capable of recording video.

Max Video Resolution

The best resolution this camera can capture video in. Modern cameras can capture up to 8K video.

6K

8K

Max Video Dimensions

Video resolution measured by the greatest number of pixels possible in each frame, width by height. A higher resolution means more detail or clarity in your video.

6000 x 3164 px

7680 x 4320 px

Max Video Frame Rate

How many frames per second your video will capture. Most cameras have options for multiple frame rates, depending on the resolution you shoot in. For a general video, 24p or 30p is the standard, but more serious filmmakers may need a higher frame rate for creative effect.

120 p

120 p

Time-Lapse Built In

A built in time-lapse mode will allow continuous shooting throughout a prolonged period of time to be compressed into a sped up video.

Video File Format

Different cameras can record in various video file formats. The File format you record in can impact how you edit and use the files.

MPEG-4

MOV
Canon EOS R3 vs Nikon Z9 Features and Benefits
The Canon R3 has the advantage over the Z9 in several areas:
Flash sync speed (1/250 s vs 1/200 s)
A Flash sync port
An anti-dust shutter mechanism
But apart from not having a built-in flash, the Nikon Z9 and the Canon R3 tick all the other boxes:
RAW support
Wireless and Bluetooth connectivity
An external flash shoe
Microphone and headphone ports
Smartphone remote control
Webcam function
Illuminated buttons
An LCD on the top plate
The R3 has a better LCD. The one on the Nikon Z9 works on four axes. This means you can tilt it up and down in landscape or portrait mode.
However, you can use the R3's LCD at any angle. You can even flip it out to the side and turn it 180 degrees for selfie shooting and vlogging. And it also has nearly twice the resolution.
Features

Built-in Flash

A built-in flash will often be positioned right above the lens. This will automatically pop up when you activate it.

External Flash

External flashes are often connected through a hot shoe at the top of a camera, or a cable at the side of the camera.

GPS

GPS features in a camera will include location metadata to each of your photographs.

Weather Sealing

Weather sealing capabilities will give you more confidence when shooting in unfavourable conditions.

Screen Type

LCD

LCD

Touch Screen

Touchscreen allows you to change camera settings and access menus with a swipe of your finger, instead of using buttons.

Screen Size

3.2"

3.2"

Screen Resolution

Screen dots indicate the resolution of the LCD screen by including each sub pixel.

Flip Screen

A flip screen (or articulating screen) is a second screen which can flip out from the side or top of the camera. This rotating screen allows you more freedom to take photos at different angles.

Live View

Live View feature allows you to see a continuous live video of what is being seen through your lens.

Wi-Fi

Bluetooth

Bluetooth capabilities allow you wireless control of your camera with other external devices.
Canon EOS R3 vs Nikon Z9 Storage and Battery
The Nikon Z9 has two CFexpress Type B card slots. But the Canon EOS R3 has one CFexpress Type B card slot and one that takes SD cards.
Canon can argue that SD cards are cheaper and more popular. But they're just not as fast. So why would they try and keep amateurs happy when making a camera for professionals?
The Canon R3 has slightly better battery life. Still, my experience of the Sony a1 suggests the official CIPA numbers vastly underestimate the number of pictures mirrorless cameras can take per charge in continuous mode.
Storage and Battery

Memory Card

SD / SDHC / SDXC, CFexpress Type B (UHS-II compatible)

CFexpress, XQD

Dual Memory Card Slots

Battery Type

LP-E19

EN-EL18d

Battery Life

Approximately how long this cameras battery will last measured by how many photographs you will be able to take.

USB Charging
Overall Score

DXOMARK overall sensor score.

Portrait (Color Depth)

As described by

DXOMARK

'The Portrait score in our camera sensor reviews defines color depth performance and its unit is a number of bits. A color depth of 22 bits is excellent; differences below 1 bit are barely noticeable.'

Landscape (Dynamic Range)

As described by

DXOMARK

'The Landscape score in our camera sensor tests defines the maximum dynamic range of the camera sensor and its unit is an exposure value (EV). A value of 12 EV is excellent with differences below 0.5 EV usually not noticeable.'

Sports (Low-Light ISO)

Described by

DXOMARK

as 'The maximal value of ISO sensitivity needed to reach a given value of Signal-to-Noise Ratio (SNR). The greater the value, the better'
Canon EOS R3 vs Nikon Z9 – Our Verdict
In the debate of Nikon Z9 vs Canon R3, both are excellent full frame mirrorless cameras. Their specifications are strong across the board.
According to DXOMARK, the Nikon Z9 beats the Canon EOS R3 on image color depth and dynamic range. But the R3's larger pixels of 36.00 µm² vs 18.88 µm² (square micrometers) give it a much higher low-light sensitivity. As we see above, the Z9's score is two points higher.
As a wildlife photographer, my priorities are sensor resolution, RAW frame rate, and eye detection autofocus. The Z9 doesn't quite match the frame rate of my Sony a1. And the Canon EOS R3 doesn't quite match the resolution.
So, where does that leave us? Well, I'm a perfectionist. So I probably wouldn't be happy with either of these cameras!
However, the small sensor makes the Canon R3 seem like too much of a compromise. So I'd probably go for the Nikon Z9. But perhaps you disagree?
What Camera is Better Than the Nikon Z9?
"Mine" is the short answer! The Sony a1 isn't perfect. But it ticks all the boxes concerning sensor size, RAW frame rate, and eye detection autofocus.
Yes, the Z9 might offer slightly better color depth and dynamic range at a much lower price. However, the Sony a1 has a 50 MP sensor and can shoot at 30 fps.
It also performs better at high ISOs, has a sensationally bright and clear EVF, and weighs just over half as much as the Z9!
If you want to check out more camera specs, try these popular comparisons next:
B&H photo video
Spotted a mistake with these camera specs? Please let us know so we can update it!