Last Update: June 2, 2023
Finding the best lightweight camera for hiking and travel isn't easy. You need the best camera to capture the magic moments from your next adventure. You don't want a camera that weighs you down. And you need to know it can handle the hard life of a traveler.
We've got a collection of the best lightweight cameras that are ideal for travel and hiking. It includes DSLR and mirrorless cameras. And we have bridge and compact cameras too. They are all lightweight cameras. And they have features that'll get the best out of your hiking and travel photography.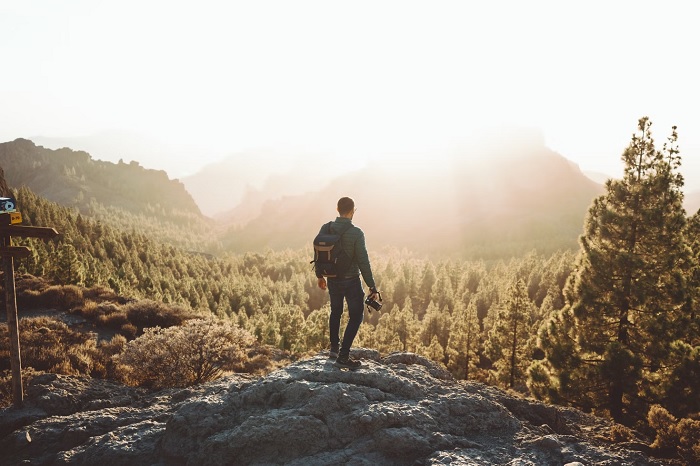 What is the Best Lightweight Camera for Travel and Hiking?
You need to consider a few things when buying a lightweight camera for travel. Image quality is very important. You need a camera that captures the world you find in all its glory. And backpacking cameras always need to be lightweight and portable. You don't want anything weighing you down.
Video features are becoming just as important for modern travel photographers. And we've included some cameras dedicated to video creation. A rugged and weatherproof body is important in a camera for hiking. And autofocus and image stabilization are other great features to look out for.
Olympus OM-D E-M5 Mark III

Compact and weather-sealed camera body
50 MP High-Res Shot mode
4K video quality and 120 fps frame rate for slow-mo
30 fps max burst rate

Canon EOS M50 Mark II

Excellent image quality from the 24.1 MP sensor
Face and eye detection and tracking AF
Built-in image stabilization
4K video recording and webcam abilities

Fujifilm X-T4

26 MP from the APS-C sensor
20 fps max burst speed
Brilliant AF system for tracking moving subjects
Tough, weather-sealed body

Panasonic Lumix ZS200 (TZ200)

20 MP from a 1-inch sensor
Long-lasting battery life
Incredible 15x zoom from the Leica lens
Built-in image stabilization

Pentax K-70

Rugged, weather-sealed camera body
Wide ISO range and fantastic low-light performance
Built-in shake reduction system

Nikon Z30

Fantastic 4K video quality
Wide ISO range
Weatherproof compact body
USB charging

Olympus Tough TG-6

Completely waterproof for underwater pictures and videos
Excellent video features for adventure
Macro shooting modes for nature lovers

Sony ZV-E10

Brilliant autofocus system for tracking
No time limit on video recording
Fully articulating screen for vlogs and selfies

Panasonic Lumix DMC-FZ2000 / FZ2500

Built-in 5-axis image stabilization
Fantastic 4K video quality
Fixed Leica lens has a 20x Optical zoom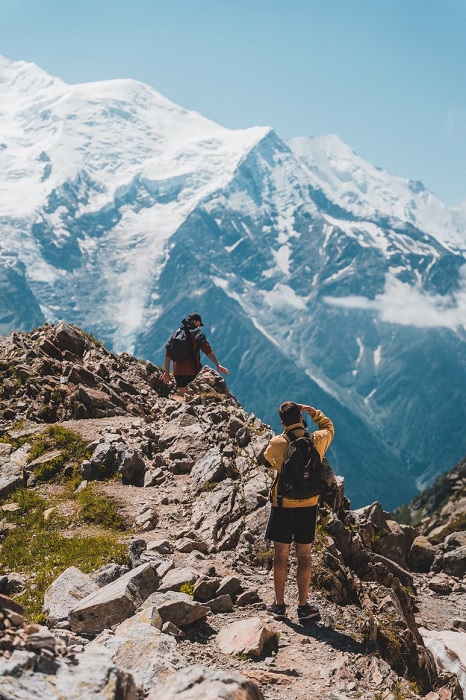 9 Best Lightweight Cameras for Travel and Hiking
Before you pack your bag and set sail, you need to find the perfect camera for hiking and backpacking. We've included cameras of all types, like DSLR and mirrorless cameras. Compacts and bridge cameras are also included. There's a lightweight hiking camera on this list for every traveler.

Our Verdict
The Olympus OM-D E-M5 Mark III is our pick as the best lightweight camera for hiking and traveling. The Olympus micro four thirds series lends itself to travel because of the compact nature of the cameras. And the OM-D E-M5 Mark III has fantastic features hikers and backpackers will love.
But you don't have to go with an MFT camera. You can also go for a mirrorless or DSLR camera. And we've included models that specialize in photography and video for modern content creators.
You need to know your lightweight camera is up for a life of hiking, traveling, and backpacking. All the cameras on this list are tough enough and deliver on quality and performance. Now you're ready to shoot your next adventure.
Buying Guide for Lightweight Travel and Hiking Cameras
If you're unsure of what to look for in a lightweight camera fro travel and hiking, we can help fill in the blanks. Here are some features and specs you'll want to look out for in a travel camera.
The Camera Body
The size and weight are the first things you need to consider in a travel camera. You don't want anything that takes up too much space in your pack. And you don't want your camera to weigh you down. You need a machine that's compact and lightweight.
You'll also need something rugged for the road. The best hiking camera is a weather-sealed camera. You never know when the weather can take a turn for the worse. And you don't want your camera getting damaged in the rain.
Image Quality
Much of a camera's image quality comes from the sensor resolution. You should look at the number of megapixels the camera sensor has. That will give you an idea of the image quality you can expect from your action camera.
Other features also contribute to image quality. The ISO range will give you an idea of how the camera performs in low light. And an image stabilization system keeps your images sharp. This means you don't have to pack a tripod.
Video Quality
If you want to make travel and hiking videos, you'll need a camera that's up to the job. Most modern cameras have video features. But if you're serious about videos, you shouldn't settle for less than 4K video quality. It'll look professional, and it'll blow your social media competition out of the water.
What Camera Bag Will You Need?
That depends on the type of camera you choose. If you're using a compact camera, you can fit it into your pack. Maybe it'll fit into a big pocket. But if you're using an interchangeable lens camera, you need a bag that protects the camera and the lenses.
Many travel and hiking photographers opt for camera backpacks. They're spacious and they'll protect your gear. And they leave your hands free for other essential tasks.
We recommend you try out our camera comparison feature or our article on budget travel cameras next!