Last Update: July 26, 2023
DSLRs and mirrorless cameras can now manage 8K video recording and 50 MP pictures. But does that mean there's no place for camcorders? Well, a digital camera often doesn't have a microphone port, image stabilization, or a fully articulated screen. Also, you might have to use a slow, contrast-detect AF (autofocus) system in live view.
Camcorders have a wide zoom range and built-in image stabilization. They're comfortable to use with just one hand. But their sensors are smaller than those of a digital camera. That means they struggle in low light and are not built to take photographs.
If you're serious about video, a cinema camera combines the benefits of camcorders and cameras. It would give you the best of both worlds. But professional video cameras are much dearer than camcorders and most digital cameras. But they're outside the scope of this article. So let's get back to the great camcorder vs DSLR debate!
Camcorder vs DSLR and Mirrorless: Which is Best?
We'll look at camcorders, DSLRs, and mirrorless separately. And we'll see which one comes out on top!
Are Camcorders Best for Video?
The main advantage of camcorders is that they're designed for continuous video shooting. The pull-out LCD screen and strap make it easy to shoot video footage for several minutes—or even hours!
The video controls are also generally easier to get to. And recording video is as easy as pushing a button. But you also usually get manual controls to tweak your video output to your own taste.
Another great benefit is the zoom range, which can easily reach 50x or more! High-magnification video cameras are light, compact, and cheap. But the longest lenses for photography weigh a ton and cost a bomb!
The optical constraints mean it's hard to build one longer than 800mm. That means only 16x magnification (assuming the human eye is equivalent to a 50mm lens).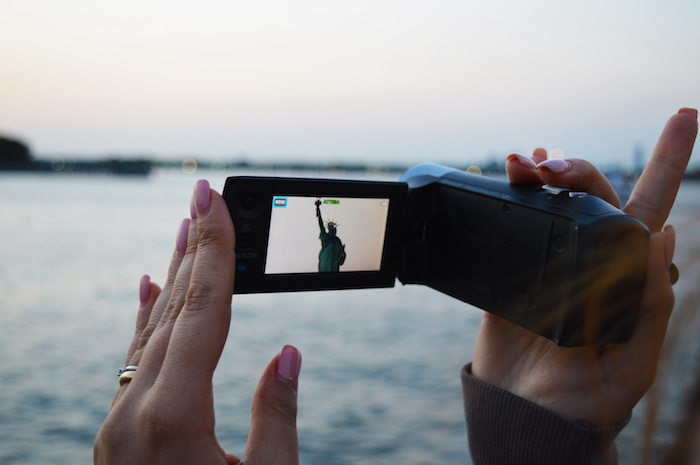 Poor audio can often spoil video footage, but camcorders usually have better microphones. They also usually have a mic port if that's still not good enough. It lets you use an external mic if you need to. It might even be an XLR socket to fit professional microphones.
On the other hand, camcorders have smaller sensors. That means a deeper depth of field, poorer image quality, and worse performance in low light.
They also don't have interchangeable lenses. That might seem an advantage as it's always a hassle changing lenses. But you need different lenses for different types of shots.
Once you buy a camcorder, that's it. You can't improve the max aperture or focal length by getting a new lens! And finally, most camcorders can't take pictures, so that's off the table.
Which Camcorders are Best for Video?
The VIXIA HF R800 has a three-inch touchscreen and an incredible 57x zoom range. That makes it ideal for hobbyists, enthusiasts, and vloggers.
The autofocus system is rapid. And video is stored on interchangeable SD, SDXC, SDHC, and FlashAir memory cards.
The bundle is generous. It includes a 32 GB SD card, a battery, and an LED. It also has a camera case, a spider tripod, a cleaning kit, and a memory card wallet.
The HC-V770 is more expensive and only has a 20x zoom. But you get a Back Side Illumination (BSI) MOS sensor and nine quality video recording formats. Those include 1920 x 1080, 4736 x 2664, 6528 x 3672, and 5472 x 3648 pixels.
Standard HD is 1920 x 1080 (or 1080p). All these can be stored on SD, SDXC, or SDHC memory cards. And the Crystal Engine PRO+ image processor ensures colors are natural and lifelike.
The HC-V180K is cheaper but features 50x and 80x intelligent zoom! And don't worry, zoomed-in footage won't be too shaky. The five-axis image stabilization handles pan, tilt, and roll plus horizontal and vertical motion. The BSI sensor is only 10 MP, and the screen is 2.7 inches. But you get a two-channel mic and four Creative Control effects:
8mm movie
Miniature
Silent movie
Time-lapse video recording
Are Digital Cameras Best for Video?
Digital cameras come in all shapes and sizes, both mirrorless and DSLR, so it's hard to generalize. But today's best hybrid cameras can shoot 8K and oversampled 4K and 50 MP pictures with eye detection and tracking. That's some package!
The problem is that video is almost always an afterthought. Cameras are for taking pictures, right? That means the main controls on DSLRs and mirrorless cameras are for photography.
If you want to shoot video using digital cameras, you have to pay for the privilege. Digital cameras are more expensive than camcorders… especially those that can shoot 4K video and take decent pictures!
It's also wise to check digital camera specs to ensure the desired model has the key video features you need. These include the following: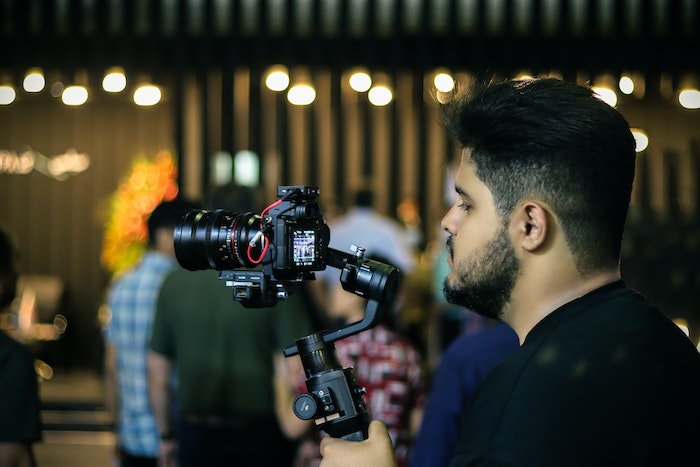 DSLR vs Mirrorless for Video
Combining an electronic viewfinder (EVF) and full frame AF gives mirrorless cameras an advantage over DSLRs. That's especially true after the mirrorless revolution over the last few years.
It's now possible to buy a mirrorless camera with 50 MP, eye detection, a high frame rate, and 8K video. In fact, I have one myself. It's called the Sony a1!
My old camera was the Nikon D850, which was useless for video. Yes, it could shoot 4K footage. But I couldn't use the optical viewfinder while the mirror was up.
That meant I had to put up with contrast detect autofocus in Live View. That was slow and unreliable. And I didn't get the eye detection and tracking now common on mirrorless cameras.
These limitations apply to most DSLRs. But the sensor-based Dual Pixel AF (DPAF) system in Canon's DSLRs offers phase detection AF based on pixels covering 80% of the sensor. That means smoother and more consistent focus.
Best DSLR for Video
The log version of the full frame 30.4 MP EOS 5D Mark IV is an ideal hybrid camera. It provides quality 4K DCI (Digital Cinema Initiatives) at 30 or 24p.
Canon Log gets the most out of the sensor, leading to better dynamic range, shadow detail, and sharpness. It lets you improve video quality by increasing color saturation and manipulating tones.
Movie Servo autofocus and DPAF provide smooth, rapid, consistent focus acquisition and tracking. All you need to do is tap on the touchscreen to select your subject.
You also get headphone-and-mic jacks plus a USB-C connection for rapid file transfer. And finally, if you want images to go with your video, you can capture individual frames from 4K footage.
The SLT Alpha 77 II is an APS-C DSLR with a 24.3 MP Exmor CMOS sensor. It can't shoot in 4K, and the max video quality is only 1080p at 60 fps.
But it has a 79-point AF module. And 15 cross-type AF points cover 40% of the frame for accurate focusing. It also has a pull-out, three-hinge, tilt-and-swivel LCD screen. This is ideal for selfies and vlogging.
It provides audio level monitoring while shooting. And you get a stereo mic and an external mic socket. Finally, the built-in Wi-Fi and NFC connections help transfer large video files.
The Canon EOS 90D is another of the company's DSLR cameras equipped with DPAF. If you choose the subject on the touchscreen in Live View, the AF system will use 5,000 Dual Pixel focus points to track it.
The 32.5 MP APS-C CMOS sensor can record 4K / 30p, 1080 / 60p, or 1080/ 120p video without crop. But the lack of a 24p (frames per second) option is an odd limitation.
The 4K is softer than its rivals. And digital image stabilization adds a heavy crop.
Best Mirrorless for Video in 2022
Some of the best mirrorless cameras for recording video come from Panasonic. The 16 MP Lumix DMC-G7 is an entry-level Micro Four Thirds (MFT) model. It captures 4K Ultra HD video at 24, 25, and 30p.
The body has a mic port, But it doesn't offer image stabilization—although you can buy lenses that do. You also get several quality video recording features to improve the user experience. They include the following:
Zebra stripes that warn of blown-out highlights
Focus peaking for sharper focus
4K Photo mode with a pre-burst where you can choose still images (8MP JPEG) before and after recording
The AF system has a proprietary technology called Depth from Defocus (DFD). This speeds up the contrast detection system, but you're probably better off using manual focus.
The flip-out screen has touch controls for smooth, silent adjustments while shooting video. And finally, the Wi-Fi connection should make remote control and file transfer a doddle.
But the system's hard to set up. You used to have to sign up for Panasonic's Lumix Club to take advantage of the more advanced options. But it was discontinued. Now you can use the Lumix Synch app for various functions.
Further up the scale is the DC-S1H. This is a full frame camera designed for videographers. It can capture unlimited 4K Ultra HD / DCI footage and 6K / 24p video with built-in stabilization. (And there's support for Panasonic Dual-IS 2.)
The 6K option means the camera's ready for the next generation of screens. But you can also use it for oversampled 4K footage. It's useful for "open gate" shooting. This lets you roam around the frame, choosing any 4K region (with the option of digital stabilization).
It also offers 4:2:2 10-bit internal recording (for color correction and green screen) and V-Log gamma (for dynamic range). The video scopes include histograms and zebra stripes. And the anamorphic support lets you create a more cinematic look.
Lastly, the dual SD card slots can take V90 cards. And you get a hinged and fully articulated rear screen for difficult-angle shooting, selfies, and vlogging.
The M50 II is a 24 MP APS-C camera popular among vloggers. This Canon mirrorless offers 4K / 24p, a fully articulated touchscreen, and webcam support (with the EOS Webcam Utility).
You can also live stream wirelessly on YouTube if you have over 1,000 subscribers. But the 4K footage is heavily cropped, which makes it hard to shoot wide-angle views.
You also have to use contrast detection rather than DPAF, which means poor autofocus. If you drop down to 1080p, you get DPAF and eye detection. But the autofocus struggles in low light, the footage is soft, and you get moiré artifacts.
Our Verdict
Deciding between a camcorder vs DSLR vs mirrorless digital camera is tricky. It depends on what you're looking for.
If you don't want to take pictures, then a dedicated camcorder like the Canon VIXIA HF R800 will do the trick. (If you're serious, you can always spring for a professional video camera!)
But most people want to do a little of both now and then. They want to shoot footage of the kids in the pool and then a few "arty" portraits or landscapes.
If you want a hybrid camera capable of stills and video, your best bet is a mirrorless camera. You can now find a wide range of models at different price points and with various features. There are more budget-friendly options like the Panasonic Lumix DMC-G7 and Canon EOS M50 Mark II. Or there's the feature-rich Panasonic Lumix DC-S1H.