Nikon D780 vs D850 Comparison
Optics
Video
Features
Storage & Battery
Nikon D780
Nikon D850
Winner!
Price

Brand

Nikon

Nikon

Model

D780

D850

Released

Refers to the year this camera was officially made available for sale.

2020

2017

Announcement Date

Refers to the date the manufacturer publicly announced the upcoming release and general specs of this camera.

February 12, 2020

August 23, 2017

Camera Type

DSLR

DSLR

Camera Size

Camera Weight
Nikon D780 vs D850 Overview
I had a Nikon D850 for a few years, and it served me well. It was and is the best DSLR on the market. And it's the ideal camera for wildlife photography thanks to its large sensor and excellent autofocus (AF) system. However, its Achilles heel is its very slow frame rate… So what does a side-by-side Nikon D780 vs D850 comparison tell us?
The Nikon D780 is also a DSLR. But it was launched more than three years later than the Nikon D850. It's an updated version of the D750 that benefits from some of the mirrorless features of the Z6. That makes it a kind of hybrid.
Nikon D850
With excellent image quality, video and battery life, it's still the best Nikon DSLR on the market
Nikon D850 Pros and Cons
Pros
Fantastic overall image quality
Excellent 3D continuous AF tracking
Sharp 4K / 30p Ultra HD video
Long, 1,840-shot battery life
Durable, weather-sealed construction
Cons
No customizable shooting presets
Slow autofocus in Live View
Needs an expensive XQD card
Rolling shutter noticeable in 4K video
Slow 7 fps or 9 fps with an expensive battery grip
The D780 doesn't have the sensor size or autofocus system of the D850. But it's lighter, better for video, and has a longer battery life. It's a shame you can only benefit from the faster frame rate by using Live View. Normally, you get a higher continuous shooting speed by trading off sensor resolution, but not with the D780.
Nikon D780 Pros and Cons
Pros
Long-exposure presets
Plenty of autofocus (AF) points
Nice, uncropped 4K video capabilities
Dual memory card slots (UHS-II)
Cons
Relatively expensive
No built-in image stabilization
Noise reduction can be harsh
No built-in GPS
Body and Handling
There's not much to say here. Yes, the Nikon D780 is slightly smaller in all three dimensions and a bit lighter. But that's not a big deal.
Both are weather sealed. And they have the same diagonal-size, tilting, touch-screen LCD display. However, the D850 has a slightly higher viewfinder magnification.
The two digital cameras look almost identical. They have similar Nikon menu systems. But there are some differences in the button layout.
The Nikon D780 doesn't have the autofocus "nubbin." This is on the back of the Nikon D850. And the Live View button and switch are to the left of the AF-ON button on the D780. There's also an AE-L / AF-L button just above the multi-selector.
The main drive mode dial on the left of the top plate is also different. The Nikon D850 has embedded buttons for image quality, metering mode, shooting mode, and white balance.
The Nikon D780 adds an exposure mode dial with the usual options. It also lets you choose from Auto mode, two memory presets, and a special effects mode. This offers picture profiles such as Super Vivid, Selective Color, and Toy Camera Effect.
The Nikon D850 doesn't have user presets (U1 and U2). Its inability to switch between saved shooting modes used to drive me crazy!
In general, the buttons and dials on both cameras are very responsive. So you never get the same lag as with some mirrorless models.
However, there's no Nikon-made battery grip for the Nikon D780. You have to go to a third-party manufacturer if you want one of those. For most photographers, that's a big downside. It limits the frame rate and battery life. Plus, it makes it harder to shoot in portrait format.
Nikon D780 vs D850 Optics
The big difference between these two cameras is in the resolution of their full frame sensors. The Nikon D850 has far more pixels and no anti-alias filter. This means much more detail in the images. DXOMARK hasn't tested the Nikon D780. So it's hard to find comparable figures on color depth, dynamic range, and low-light performance.
The benefit of the Nikon D780's larger pixels and Expeed 6 advanced image processing engine is a higher ISO limit (both native and expanded).
A comparison of autofocus (AF) systems also favors the Nikon D850. It has 153 AF points (99 cross-type focus points) compared to 51 (15) on the Nikon D780.
The Nikon D850's sensitivity is also one stop better in darker and brighter conditions. Although, the Nikon D780 wins if you switch on Low Light mode.
Live View is a different story. The Nikon D780's 273-point On-Sensor Phase-Detect autofocus is much faster and more accurate. The Nikon D850 only has an old and slow contrast-detect system.
Both digital cameras have the F-type lens mount. So there's no difference in the range and quality of glass. Nikon has a good selection of lenses.
Optics

Megapixels

The higher the number of megapixels, the more detail the cameras sensor can capture.

Image Resolution

Image resolution is measured in pixels and megapixels, width by height. The higher the number, the higher its resolution.

6048 x 4024 px

8256 x 5504 px

Sensor Type

The camera sensor captures light and records the image. Sensors vary in physical size, the number of pixels, and quality.

CMOS

CMOS

Sensor Size

The sensor size contributes to the overall quality as well as the dynamic and tonal range a camera can capture. As a rule of thumb, the more surface there is to read the light, the more information it will capture.

23.9 x 35.9 mm

23.9 x 35.9 mm

Sensor Format

Refers to the most commonly used sensor sizes.

Full Frame

Full Frame

Frame Rate

The number of sequential frames per second the camera can write to the memory card when shooting in burst or continuous mode.

Lens Mount

The lens mount will tell you what type of lens range you can fit onto the camera body. Often the same camera company will have different lens ranges for different cameras.

Nikon F

Nikon F FX

Image Processor

The image processor in the camera converts the information collected on the sensor for digital storage on the memory card.

Expeed 6

Expeed 5

Aspect Ratio

The aspect ratio refers to the proportional difference between width and height. The most popular aspect ratios are 3:2 and 4:3.

3:2

3:2

Minimum ISO (Native)

Refers to the lowest native (or 'base') ISO setting. Lower ISO are less sensitive to light but make a cleaner image.

Maximum ISO (Native)

Refers to the highest native (or 'base') ISO setting. Higher ISO is necessary for low-light situations or night photography, but higher ISOs often introduce grain or noise.

Minimum ISO (Expanded)

Expanded (or extended) ISO is a digitally enhanced feature available on some cameras. It allows you to push beyond the native ISO range if necessary.

Maximum ISO (Expanded)

Expanded (or extended) ISO is a digitally enhanced feature available on some cameras. It allows you to push beyond the native ISO range if necessary.

Minimum Shutter Speed

The minimum shutter speed will tell you the longest exposure your camera can take without using an external accessory.

Maximum Shutter Speed

The maximum shutter speed tells you the length inside 1 second the camera will capture. These can sometimes be extended with accessories such as extra external batteries.

Autofocus Points

Autofocus points show where the camera is focusing graphically as squares or brackets in Live View or on an electronic viewfinder. These points are also used for light meter readings.

In-body Stabilization

In-body Stabilization means the camera has a certain technology embedded that counteracts camera shake.

Viewfinder Type

The viewfinder type is either electronic or optical. Electronic viewfinders will have a small screen in the viewfinder. Optical viewfinders will use prisms and mirrors to look through the lens.

Optical (pentaprism)

Optical (pentaprism)
Nikon D780 vs D850 Video Performance
Both cameras can shoot 4K video. But the Nikon D780 can output 10-bit N-log over HDMI rather than 8-bit. It gives you 12 EV (Exposure Value) stops of dynamic range with an external recorder like the Ninja V. So the D780 has better video resolutions and video quality.
The D780's hybrid autofocus system in Live View makes it more reliable for videography. And you also get Face Detection in Live View.
Video

Video

Indicates if this camera is capable of recording video.

Max Video Resolution

The best resolution this camera can capture video in. Modern cameras can capture up to 8K video.

4K

4K

Max Video Dimensions

Video resolution measured by the greatest number of pixels possible in each frame, width by height. A higher resolution means more detail or clarity in your video.

3840 x 2160 px

3840 x 2160 px

Max Video Frame Rate

How many frames per second your video will capture. Most cameras have options for multiple frame rates, depending on the resolution you shoot in. For a general video, 24p or 30p is the standard, but more serious filmmakers may need a higher frame rate for creative effect.

120 p

30 p

Time-Lapse Built In

A built in time-lapse mode will allow continuous shooting throughout a prolonged period of time to be compressed into a sped up video.

Video File Format

Different cameras can record in various video file formats. The File format you record in can impact how you edit and use the files.

MPEG-4, MOV

MOV, MP4
Nikon D780 vs D850 Features and Benefits
The D780 is a smaller, lighter camera. It has a higher ISO limit, Live View Face Detection, and a faster USB-C port.
Apart from price, the Nikon D850 wins in all the other main areas. It has a higher-resolution full-frame sensor, better autofocus, and a larger viewfinder. It also offers a lower base ISO, a faster flash sync speed, and a longer shutter life expectancy. Finally, it has a flash sync port, an NFC connection, 8K time-lapse mode, and illuminated buttons.
Other than that, the two models share many different features. These include the same fast shutter speed, time-lapse sequences, face detection, and RAW support. They also offer AE bracketing, focus bracketing, focus stacking, smartphone remote control, and an anti-flicker mode.
Both have Bluetooth and wireless connection, microphone and headphone ports, and an external flash shoe. However, neither has a built-in flash or sensor-based image stabilization.
Features

Built-in Flash

A built-in flash will often be positioned right above the lens. This will automatically pop up when you activate it.

External Flash

External flashes are often connected through a hot shoe at the top of a camera, or a cable at the side of the camera.

GPS

GPS features in a camera will include location metadata to each of your photographs.

Weather Sealing

Weather sealing capabilities will give you more confidence when shooting in unfavourable conditions.

Screen Type

TFT LCD

LCD

Touch Screen

Touchscreen allows you to change camera settings and access menus with a swipe of your finger, instead of using buttons.

Screen Size

3.2"

3.2"

Screen Resolution

Screen dots indicate the resolution of the LCD screen by including each sub pixel.

Flip Screen

A flip screen (or articulating screen) is a second screen which can flip out from the side or top of the camera. This rotating screen allows you more freedom to take photos at different angles.

Live View

Live View feature allows you to see a continuous live video of what is being seen through your lens.

Wi-Fi

Bluetooth

Bluetooth capabilities allow you wireless control of your camera with other external devices.
Nikon D780 vs D850 Storage and Battery
Both cameras feature dual card slots. They're handy if one memory card fails. However, the Nikon D780 only supports SD UHS-II cards. These are popular, convenient, and cheap.
But I prefer the Nikon D850's option to use XQD cards. And a recent firmware update means you can now use fast CFexpress Type A cards, too! Speed is vital for reducing buffer lag and when you're shooting data-hungry 4K video.
The battery of the Nikon D780 appears to last longer at first glance. However, the lack of a Nikon battery grip means you'd be better off with a Nikon D850 with the MB-D18 power pack. It houses two batteries and has duplicate controls for shooting in portrait format, which kills two birds with one stone.
Storage and Battery

Memory Card

SD / SDHC / SDXC (UHS-II compatible)

SD / SDHC / SDXC (UHS-II compatible), XQD

Dual Memory Card Slots

Battery Type

EN-EL15b

EN-EL15a

Battery Life

Approximately how long this cameras battery will last measured by how many photographs you will be able to take.

USB Charging
Overall Score

DXOMARK overall sensor score.

N/A

Portrait (Color Depth)

As described by

DXOMARK

'The Portrait score in our camera sensor reviews defines color depth performance and its unit is a number of bits. A color depth of 22 bits is excellent; differences below 1 bit are barely noticeable.'

N/A

Landscape (Dynamic Range)

As described by

DXOMARK

'The Landscape score in our camera sensor tests defines the maximum dynamic range of the camera sensor and its unit is an exposure value (EV). A value of 12 EV is excellent with differences below 0.5 EV usually not noticeable.'

N/A

Sports (Low-Light ISO)

Described by

DXOMARK

as 'The maximal value of ISO sensitivity needed to reach a given value of Signal-to-Noise Ratio (SNR). The greater the value, the better'

N/A
Nikon D780 vs D850 – Our Verdict
Any Nikon D780 vs D850 comparison will tell you the Nikon D850 is the better camera. Both cameras are missing features, such as built-in flash and image stabilization.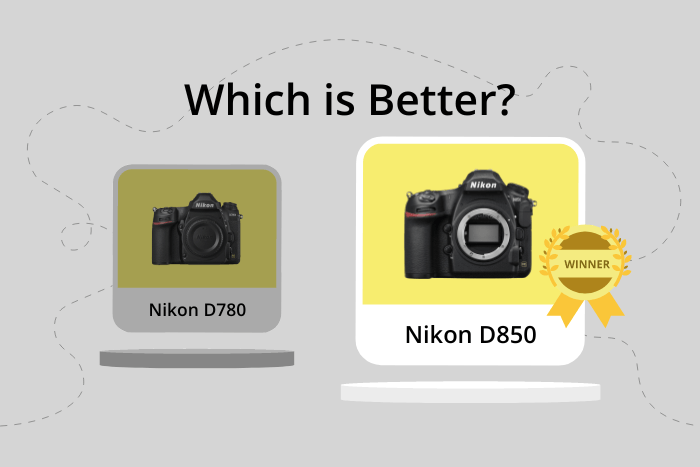 However, the D850 wins in every category except video capability and size. The sensor resolution and autofocus capability alone should make it an easy decision for you.
Nikon D850
With excellent image quality, video and battery life, it's still the best Nikon DSLR on the market
But all that changes if you want a hybrid camera that lets you shoot video and stills. If that's the deciding factor, the Nikon D780 wins. It has excellent Live View autofocus performance and 10-bit external recording.
Which one you choose depends on what you want to use it for. For wildlife photography, landscape photography, or portrait photography, the Nikon D850 is the clear winner. For videography, I'd save a bit of money and go for the Nikon D780.
What Cameras are Better than the Nikon D850?
Again, this rather depends on what kind of photographer you are. The Nikon D850 is a great camera for any genre. However, DSLR cameras can't match the smaller and lighter mirrorless ones.
Mirrorless cameras offer faster frame rates, better autofocus, and in-body image stabilization. I recommend these four cameras if you don't mind using an electronic viewfinder (EVF) rather than an optical viewfinder.
This is what I bought myself when I traded in my Nikon D850. The Sony a1 has a 50 MP full frame sensor, 30 fps RAW shooting, and a market-leading autofocus system with eye detection and subject tracking. In other words, it takes the word "trade-off" and chucks it in the trash!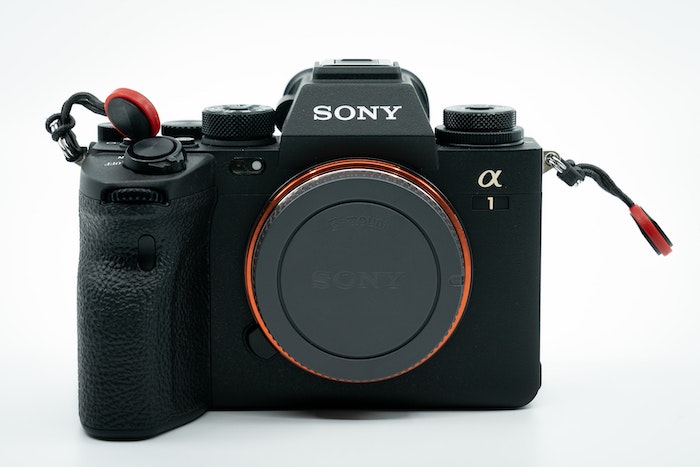 This camera came out a bit too late for me. But the Nikon Z9 offers a great combination of a full frame sensor size, frame rate, and autofocus performance. The frame rate is "only" 20 fps when shooting in RAW. And you don't get the a1's bird-eye detection mode.
However, the main problem is that the integrated grip makes it very large and heavy. Still, this is your best option if you want to carry on using your Nikon glass.
I can never decide between the Canon R3 and R5. So I'll list them both!
On paper, the R3 should be the better camera by far. It has an integrated grip, Dual Pixel AF, and Eye Control AF to move the focus point with your eye. It also has a 30 fps RAW frame rate that rises to a whopping 195 fps if you don't mind fixing the exposure and focus.
However, it only scales these heights with a 24 MP full frame sensor. And I can't quite forgive it for that.
The R5 is lighter and has a "proper" 45 MP full frame sensor that lets you shoot 8K video. However, the RAW frame rate drops to 20 fps, the battery life halves, and you don't get Eye Control AF or blackout-free shooting!
Before you go, check out these popular camera comparisons next:
B&H photo video
Spotted a mistake with these camera specs? Please let us know so we can update it!