When I decided to buy my first DSLR, I asked a photographer friend of mine which brand to get. "Canon or Nikon," he said… Fujifilm vs Canon wasn't even an afterthought! That's the power of a brand.
Ask someone—not just a professional photographer—to compare Fujifilm and Canon. Almost everyone will say Canon is the bigger brand. But they operate in slightly different markets. So they're not always direct competitors. They both sell compact cameras, but they have different niches. Canon focuses on full-frame, digital, SLRs, and mirrorless cameras. Fujifilm zeroes in on a range of APS-C mirrorless models and a medium format mirrorless camera.
So even though Canon might be the more prominent name, it may not always beat Fujifilm. So which camera brand is better—Fujifilm vs Canon? Let's find out!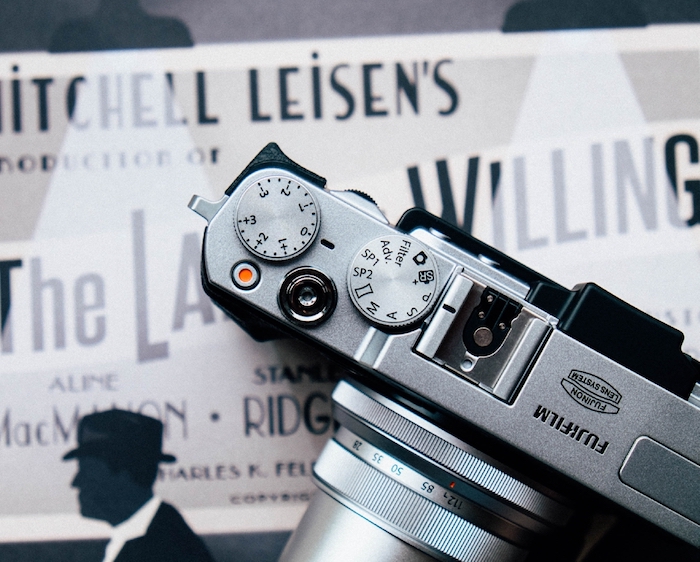 What is Special About Canon?
Canon is a Japanese public company based in Tokyo. It specializes in optical products such as cameras, lenses, scanners. The company was founded in 1934 as Precision Optical Industry Co. Ltd. It's been Canon Inc. since 1969 after a couple of name changes.
During its history, Canon has been responsible for various milestones in camera technology. Moments include unveiling the F-1 SLR and the AE-1—the world's first camera with a built-in computer! Many of its current camera bodies bear the name "EOS." It stands for "Electro-Optical System." (Read our article explaining Canon camera types and names for more info!)
Canon's Imaging System Business Unit now produces a wide range of lenses and accessories. But it's perhaps best known for its DSLRs and mirrorless camera systems.
You can check out the full specs for top Canon models below:

What is Special About Fujifilm?
Fujifilm (or Fuji) is another publicly traded Japanese multinational conglomerate based in Tokyo. It operates in various markets, including photography. It was also founded in 1934. But Fuji Photo Film Co., Ltd. was a subsidiary of Daicel, established to manufacture photographic films. Over the following decades, it diversified into other markets. It formed a joint venture with Xerox Corporation.
As digital photography gradually replaced film, Fujifilm adapted by developing and selling digital cameras and Fujinon lenses. They now market their compact, 3D, and bridge cameras under the FinePix brand. They also sell mirrorless cameras with the APS-C sensor and the GFX 50S medium format mirrorless system.
You can check out the full specs for top Fujifilm models below: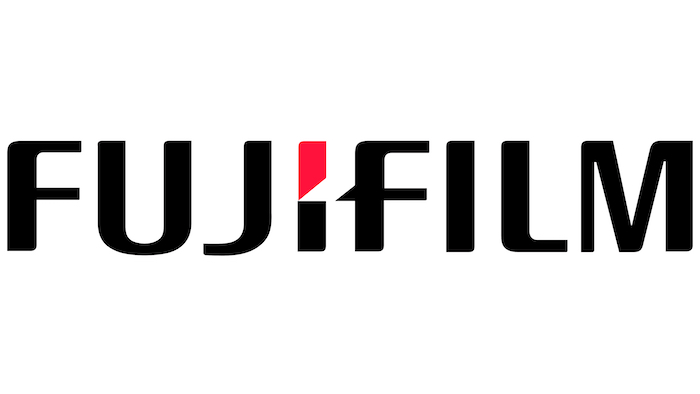 Canon vs Fujifilm – Strengths and Weaknesses
Let's first compare exactly what a Fujifilm system offers versus a Canon system.
Camera Bodies
Canon's compact and APS-C cameras are similar to Fujifilm's (although Canon's crop sensor lenses are more expensive. But Canon has a significant advantage in DSLRs. Fujifilm no longer makes them. Plus, Canon bodies are considered by many to be the market leaders. A Canon camera body offers high frame rates and built-in battery packs. It distinguishes them from their main competitor, Nikon.
That Canon is one of the few makers of full-frame cameras also means Canon is a better bet for landscape photography. It's also better for photographers who like to work in low light, such as wildlife enthusiasts. Fujifilm APS-C sensors don't do well, given their reduced size and resolution. But if you want the ultimate photo resolution for large gallery prints and fashion photography, Fujifilm sells medium-format cameras.
Lenses
Again, the difference here is due to the different camera formats. For instance, Canon full-frame, f/4 zoom lenses offer better value than Fujifilm APS-C, f/2.8 zoom lenses. Canon offers a similar depth of field without being that much larger or heavier—although they only let in half the light wide open. If you have the budget and are looking for an even shallower depth of field and better bokeh, you can go even further and splash out on a Canon f/2.8 full-frame lens.
Prime lenses are a different story. Here, the advantage is with Fujifilm's Fujinon lenses for their APS-C cameras. The f/2 lenses offer excellent sharpness. And they're smaller and lighter lenses than their DSLR equivalents. But Fujifilm doesn't currently sell many f/1 or f/1.2 weather-sealed lenses that can support fast autofocus. For portrait photographers, the 50mm f/1 R WR lens is a bright portrait lens for Fujifilm's X-mount cameras, but it's heavy and expensive!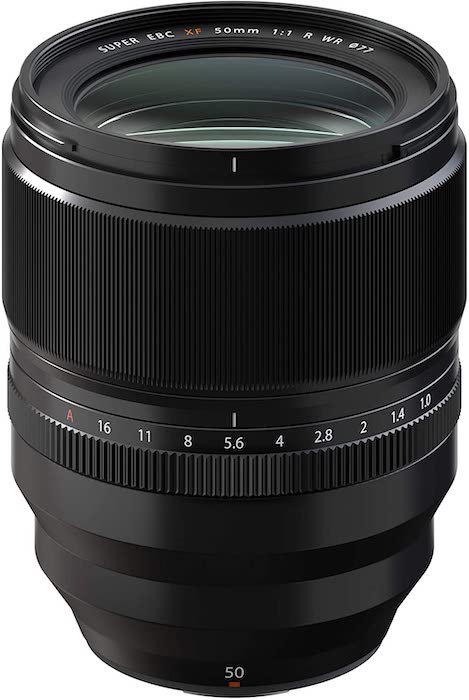 Autofocus (AF)
Canon has always had a good reputation for its DSLR autofocus systems. Its dual-pixel autofocus is excellent. And its focus when shooting video with the EOS R is probably the smoothest on the market. The eye-AF is also excellent. But it only works in one focus mode. And there is no way to switch between eyes using a custom key without disengaging autofocus and moving the tracking box around. You can change eye focus with the Sony Alpha 1.
Fujifilm's focus is generally reasonable. But it depends on the lens and the camera. The f/1.4 lenses tend to struggle with continuous autofocus in low light. Eye and face detection also conflicts with the zone and spot settings. For instance, switching it on with the X-T3 has it search the whole frame even if you're using a zone setting.
Color
Every camera manufacturer has a distinctive color rendition. And it's essential to make sure you like the "look" before buying into the system. It's a subjective choice… but Canon is considered best for the complex color shifts you find in sunset shots. On the other hand, Fujifilm colors are generally favored for their realism. Fuji can also use "film simulations" to mimic the look of their old film cameras. One example is "Velvia," which offers more saturated colors.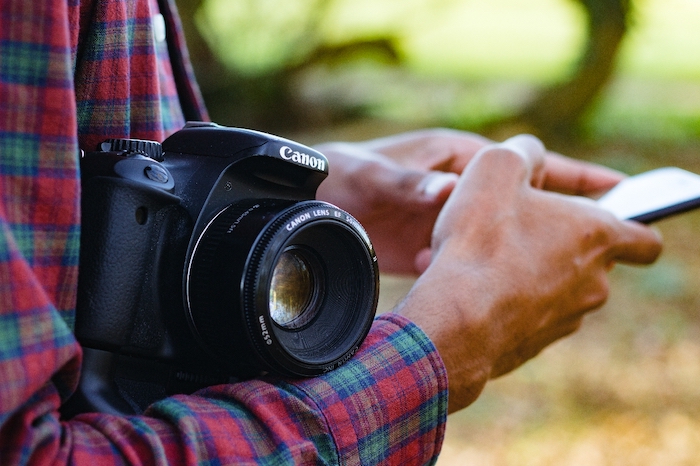 Fujifilm vs Canon Mirrorless Cameras
Canon is at the leading edge of photographic technology. But it has historically focused on full-frame DSLRs like the 1DX Mark III. Although Canon does have a range of APS-C cameras, most of its lenses are designed for full-frame models.
Given the niche's recent popularity, Canon has switched its attention to the mirrorless camera market. Its first mirrorless camera was the EOS M in 2012. More recently, it unveiled the EOS R in 2018.
Fuji's first mirrorless camera was the Fujifilm X-Pro1, introduced in January 2012. Since then, they have expanded Fuji mirrorless lenses to twenty. Meanwhile, Canon only has seven EF-M lenses—mostly slow zooms.
Fuji generally wins on JPEG performance and the vintage styling (if you like that kind of thing). But buying a Canon mirrorless camera, like the M6 Mark II, means you can still use all your regular Canon lenses.
The other issue with Fujifilm is its camera format. There is no immediate prospect of Fujifilm offering full-frame cameras. So if you think you might want to upgrade from APS-C soon, you might be better off with a Canon body.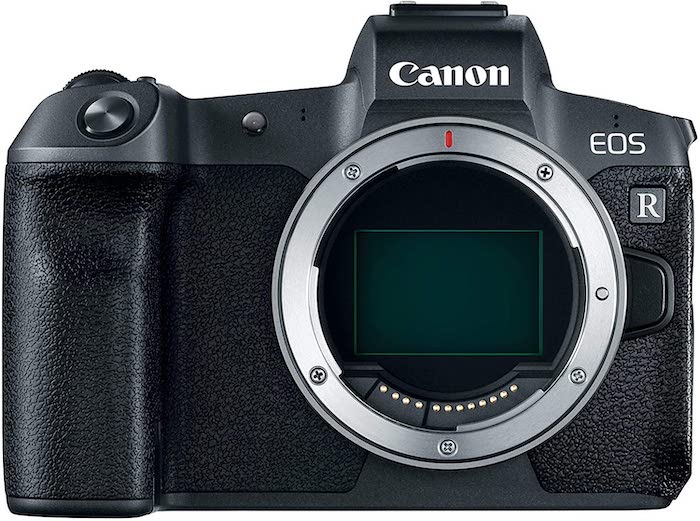 Canon EOS M6 Mark II vs Fujifilm X-T4
The M6 Mark II and X-T4 are Canon and Fujifilm's top crop sensor, mirrorless-market models—great for street photography. We've chosen to compare these two cameras as they occupy one of the few segments where the two companies compete directly. So which is better, the Canon camera or the Fuji mirrorless camera? Let's find out!
Handling
The M6 II has control dials front and back. But most controls are on the back, so your thumb has to do a lot of the work. It's also hard to find the right buttons only by "feel" without taking your eye away from the viewfinder. It also has a small grip, and there's not much room between the grip and the lens if you have big hands—especially if you're using a big lens.
The X-T4 is an update on the X-T3. It has a larger body with a more oversized grip and better dials for ISO, shutter speed, and exposure compensation. It also has front and back control dials, found on most DSLRs, and a neat AF joystick on the back.
Winner: Fujifilm X-T4
Fujifilm X-T4
With super fast focus, excellent face and eye detection and cuttoing edge technology, it's a superb mirrorless choice
Display
The M6 II has a rear LCD screen with 1.04 million pixels and touchscreen capability. It articulates vertically, but that won't work if you mount something on the hot shoe at the same time. It has 2.36 million pixels and is removable—but it does cost extra!
The X-T4 has a 1.62 million pixel flippy screen with full articulation, and the electronic viewfinder (EVF) has 3.69 million dots.
Winner: Fujifilm X-T4
Autofocus
The M6 II has much better tracking than the X-T4. And face and eye detection are easy to use and reliable. But it's not as good as it would be if it were a full-frame camera.
The X-T4 has a much-improved autofocus system than the X-T3 and offers excellent face and eye detection. But the tracking is not very "sticky."
Winner: Canon M6 II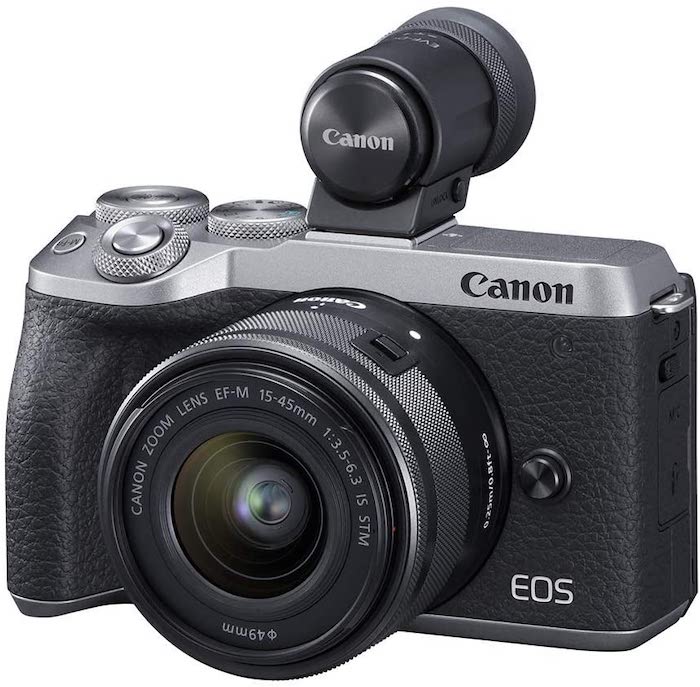 Image Quality
The M6 doesn't have in-body image stabilization (IBIS). But it has a 32MP high-resolution sensor—which is significant for a crop-sensor camera. That means excellent low-light performance plus the ability to print out at larger sizes. It also produces good JPEG images if you don't want to shoot in RAW format.
The X-T4's 26MP sensor is pretty large for an APS-C camera and has no anti-alias filter. It offers good low-light performance and a high dynamic range. There is almost no rolling shutter distortion, making the electronic shutter a good option. It also has an excellent JPEG engine and offers various film simulation modes. The only problem is that Lightroom doesn't get the best out of images from the Fujifilm X-Trans sensor. You might have to switch to Capture One Express software instead (included with the X-T4).
Winner: Fujifilm X-T4
Battery Life
Mirrorless cameras don't generally have such good battery life as DSLRs because of the need to power the EVF. The M6 II only gets 305 shots from a fully charged battery. The other problem is that not all USB chargers will work with it. So you might have problems finding a compatible one in an airport duty-free shop!
The X-T4 is big enough to incorporate an NP-W235 battery. That will give you 500 shots on a single charge. It also offers USB charging, but there's no external charger supplied with the camera.
Winner: Fujifilm X-T4
Video
The Canon M6 II shoots 4K, Ultra-HD video, but the footage is very soft. The other problem is that if you use the hot shoe for the EVF, you have nowhere to attach a microphone or an external monitor. There is also no headphone jack.
The X-T4 is excellent for shooting video, with the option of internal 4K/24p (frames per second), 10-bit, 4:2:0 recording. It can shoot log format (Graded F-Log). And it can even manage 4K/60p (with a small crop). The default "Eterna" profile also has a likable color rendition. There is no headphone jack, but you can always use the USB-C port instead.
Winner: Fujifilm X-T4
Overall
The M6 wins on sensor size and offers sharp images with a high frame rate of 14fps and rapid autofocus with excellent tracking. It's also good-looking, compact in size, and user-friendly. There are also a lot of compatible Canon and third-party lenses.
The X-T4 is more expensive than the M6. But it's an excellent camera in terms of image quality and usability. There's also an extensive lens lineup to choose from. That all makes the X-T4 the better camera. and it's perhaps not surprising. Unlike Canon, Fujifilm doesn't sell full-frame cameras. So it appears to have invested a lot more in the APS-C mirrorless format—and it shows!
Winner: Fujifilm X-T4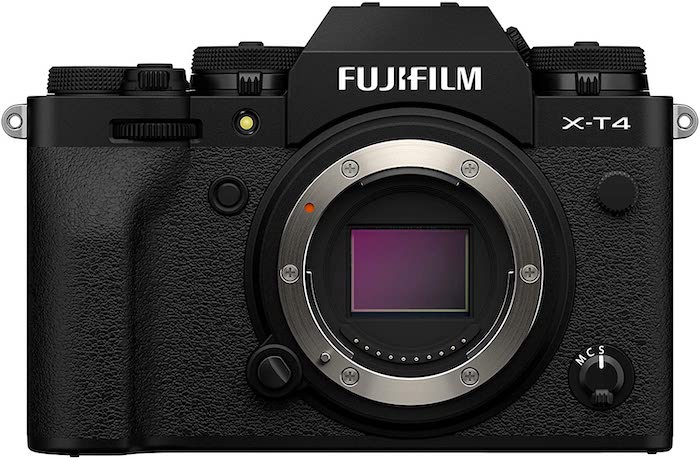 Fujifilm vs Canon – The Verdict
So is Fujifilm better than Canon? Canon is undoubtedly a bigger photography brand than Fujifilm. But what is a brand? In a way, it's just a generalization. And, like a lot of generalities, it isn't always true. Canon gear is not always better. It depends on what you're looking for:
Compact camera or bridge camera—there's not much difference between the Canon PowerShot range and the Fujifilm FinePix cameras
Full-frame DSLRs—Canon cameras are your only option as Fujifilm doesn't make DSLRs anymore
APS-C mirrorless—as we've just seen, the Fujifilm X-T4 is better than the Canon EOS M6 Mark II
Full-frame mirrorless—Fujifilm doesn't make any, but Canon does
Medium format—you have to look at Fujifilm cameras as Canon doesn't sell them
All in all, it's a case of "horses for courses." When it comes to Fujifilm vs. Canon, there's no clear winner between the two camera manufacturers.
Before you go, why not check out our new article discussing Fujifilm vs Sony cameras next!