Last Update: February 27, 2023
African wildlife photography is what I do. As a wildlife photographer, I've taken photos in 26 countries on every continent. But I keep going back to Africa. That's because nowhere else has the same rich variety of game… and the sheer number of exciting, life-and-death moments that come with it!
If you want to find out how to make the most of photographing wild animals in Africa, please read on. We hope this inspires you to capture the best safari photography on your next trip to Africa!
Top 6 African Safari Photography Tips
Here are my best tips for taking amazing photos of African wildlife on safari. These are based on over 18 years of experience as a wildlife photographer.
1. Plan "Where" and "When" for Africa Wildlife Photography
When going on African safaris, it's important to be in the right place at the right time. Nothing is guaranteed with safari photography, of course. So you can never expect to turn up and see Africa's Big Five wherever you go.
But certain camps and certain countries are well-known for certain wild animals. The best place to see African elephants is probably Chobe National Park in Botswana. But you won't see a single cheetah or rhino!
It would be best if you also visited at the right time. Most predators are territorial. This means they stay in the same place all year round. But the prey species are often migratory.
For example, if you want to see wildebeest and zebras, you need to know when the Great Migration takes place. There's no point trying to watch the Mara river crossing in January. This is when the vast herds are in the southern Serengeti, hundreds of miles away!
2. Gear Up for Safari Like a Wildlife Photographer
I'm a professional wildlife photographer. So it makes sense for me to spend thousands of dollars on the best Sony wildlife camera and lenses. But not everyone has that kind of budget for a safari camera or camera equipment. And expecting to capture great wildlife photos with an iPhone is a bit optimistic!
Generally, you want a camera with a fast frame rate, high resolution, and eye-detection autofocus. And you should have two camera bodies to quickly change focal lengths in an ideal world. Make sure to give yourself enough time to compare cameras and really make sure you have the best camera possible for your budget.
African wildlife can be small, skittish, and fast-moving—especially the birds. So having a 400mm+ telephoto lens is vital. But if you want to take a photo of an elephant from 10 yards away? You need a wide-angle lens just to squeeze it all in!
Your camera lens should ideally have a max aperture of f/2.8 or f/4. This means they work in low light and provide good background bokeh. Lens cloth, spare batteries, and memory cards are important. But tripods or monopods aren't practical in a jeep.
It's also a good idea to take a laptop with you so that you can download and edit all your pictures after each game drive. You can then format your memory cards ready for the next one.
I have an 8 TB hard drive, which offers plenty of space. Sometimes I take an external hard drive with me for a backup.
3. Know How to Use Your Camera to Photograph Wildlife
Asking wildlife photographers what cameras they have can be a bit insulting. It would be easy if safari photography were just about having good photography equipment. A great camera is no good unless you know how to use it.
I've lost count of the times guests have told me that they just bought a new camera for the safari. But they "haven't had a chance" to take any photos.
Not being able to dial in the right camera settings can be very frustrating. It's an easy way to turn a week-long safari into a week-long course in "getting to know your camera"!
The answer, of course, is to make time to learn how to use your camera. Yes, we all lead busy lives. But it doesn't take long to read a few articles, book a lesson, or even talk to a mate. Learn about what exposure and autofocus settings to use.
My Presets for Amazing Wildlife Photos
When shooting wildlife photos, I have three default presets on my Sony a1 command dial:
Animals: 1/1000 s, max aperture, and Auto ISO in Manual mode
Birds: 1/3200 s, max aperture, and Auto ISO in Manual mode
Slow Pan: 1/15 s and 50 ISO in Aperture Priority mode
You can choose your own favorite settings. But you often have only a few seconds to capture a picture. So it pays to be ready in advance.
You might also need to change things on the fly. That means knowing how to set your shutter speed, aperture, and other settings… without taking your eye away from the viewfinder. Practice makes perfect!
4. Capture Safari Photos With the Right Lighting
The hours after dawn and before sunset are known as the "golden hour" because of the color of the light. That soft, warm tone is ideal for wildlife safari photography. So it's important to make the most of that perfect time.
Unfortunately, that means getting up in the early morning before dawn. This is hard for anyone who likes to sleep late and eat breakfast at 9:30! Taking wildlife photos at sunset is a lot easier. But only if you're in the right place.
Most African national parks kick guests out just after sunset. So you really want to be in a private concession where you can stay as long as you like.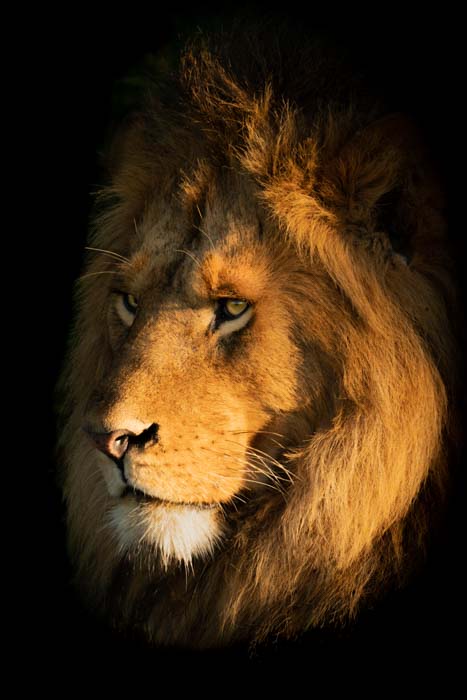 5. Spend More Time With African Wildlife for a Great Photograph
Most guests on a safari drive around in their safari vehicle until they see an animal, take a couple of pictures, and then head off to the next one. Rinse and repeat. Unfortunately, that means you won't usually get many "keepers." That's because you won't be there long enough!
If you want to up your safari photography game, you must spend more time with African wildlife. That might mean an awkward negotiation with your partner or the other guests. But there's a big payoff.
The next time you see a lilac-breasted roller, you can get a picture of a bird in flight rather than a "bird on a stick." If you spend time with lions, leopards, or cheetahs, you can be there when they hunt.
Some people are a bit squeamish about it. And some feel sorry for unsuspecting prey. But I've seen several kills. And they're among the most exciting moments I've ever experienced!
6. Experiment With Different Shots for More Original Photos
It's better to take a thousand pictures than take the same picture a thousand times. It's easy to "spray and pray." And you may not even realize you're doing it. But it's definitely something to avoid.
The best safari photographs need originality and creativity. Everyone has a camera these days. So it's hard to "stand out from the herd." But it pays to be different. Here are a few ideas for you to try on photo safaris:
Action photos
Slow shutter speed shots
Silhouettes at sunrise or sunset
Black-and-white pictures
Low-key and high-key portraits
Photos on night drives
Pictures in bad weather
Conclusion
African safari photography offers a chance to capture memorable shots of exotic animals… but only if you approach it the right way! Use these tips as a guide to take the best wildlife photos possible. I hope my ideas help you make the most of your next safari.