Last Update: June 2, 2023
Choosing the best camera for bird photography is exciting. But it's hard work! There are thousands of different models out there and several different formats. These include superzooms, DSLRs, and mirrorless cameras. And they come in both APS-C and full frame.
I sympathize. I was in the same boat last year. I decided to switch from a DSLR camera to a mirrorless for bird photography. I read so much about mirrorless cameras. And I saw so many YouTube videos on their amazing tracking ability. I was aching to buy one!
I eventually chose a pair of Sony a1 full frame cameras. They escape the usual trade-off between sensor size and frame rate. They also offer market-leading eye detection and subject tracking. That makes them the very best cameras for wildlife photography. Since then, I've taken several photographic trips to Canada, Antarctica, and Africa. And I haven't changed my mind!
Buying a camera is a bit like buying a car. Not everyone wants or can afford a Ferrari or a Lamborghini. There's still a place for a Nissan or a Toyota. Maybe you're happier with a DSLR. Or maybe you want to lighten the load with an APS-C camera or a superzoom. That's fine. I just hope this article helps you make up your mind.
If you're new to cameras or bird photography, scroll to the end of the article. We have a general buying guide. And we break down what features to look for when choosing the best camera for bird photography.
What's the Best Bird Photography Camera to Buy?
Before we discuss each camera in detail, here are my recommended best cameras for bird photography.
Sony a1

Large sensor captures tons of detail
High frame rate of 30 fps
Incredible 8K / 30p Ultra HD video
Eye tracking (human, animal, and bird)
Easy customization
Silent shooting for quiet situations

Nikon Z9

Ultra-fast image processor
High, 120 fps compressed frame rate
No visible rolling shutter
8K / 60p Ultra HD video
Unlimited low-resolution recording
Excellent battery life

Canon EOS R3

A high frame rate of 30 fps
Less noise with BSI stacked sensor
8 stops of image stabilization
6K / 60p RAW video
620-shot battery life

Canon EOS R5

Large 45 MP sensor
High frame rate of 20 fps
In-body image stabilization
8K / 30p Ultra HD video
Body, face, eye, and animal tracking

Sony a9 II

Impressive 20 fps continuous shooting
Lightning-fast autofocus
Improved ergonomics
Great file transferring speeds
5-axis in-body image stabilization to counter camera shake

Sony a7R IV

Super high-resolution sensor
Stunningly sharp image quality
Excellent face and eye detection AF
Large, high-resolution EVF
Sharp 4K Ultra HD video
Weather sealing to protect from elements

Sony a7 IV

Excellent image quality
Super responsive autofocus
5.5 stops of image stabilization
Fully articulating rear screen
Powerful video capabilities (4K / 60p, 10-bit video) and live streaming

Canon EOS R6

Relatively affordable
Excellent in-body image stabilization
Compact and ergonomic design
Fantastic expandable ISO range
Rapid burst speeds

Nikon Z7 II Specs And Features

High-resolution image sensor
Rapid 1/8000 s shutter speed
Excellent AF system
Dual memory card slots
Great 4K video at 60 fps

Canon EOS R7

30 fps with the electronic shutter
5-axis sensor-shift image stabilization
Fully articulated touch screen
Unlimited, oversampled 4K video
Animal Eye AF for wildlife and pets
Spot Detection for driver head focus

Nikon D850

Fantastic overall image quality
Excellent 3D continuous AF tracking
Sharp 4K / 30p Ultra HD video
Long, 1,840-shot battery life
Durable, weather-sealed construction

Nikon D6

Advanced 105-point AF system
Excellent ISO range and low-light performance
Extra-capacity dual card slots
Weather-sealed, durable body
Long-lasting battery life

Canon EOS 1D X Mark III

Excellent low-light capabilities
Dual Pixel AF and AI detection
Fantastic buffer for continuous shots
High frame rate for video recording
Great battery life

Fujifilm X-T4

Decent APS-C BSI-CMOS sensor
A great frame rate of 15 fps
6.5 stops of image stabilization
4K video (DCI or Ultra HD) up to 60 fps
A fully articulating rear touchscreen
12 Film Simulation modes

Canon EOS 5D Mark IV

Quality sensor produces detailed and vibrant images even at high ISOs
Dual Pixel AF with eye detection
User-friendly touch-to-focus screen
900-shot battery life
Cinema-quality (DCI) 4K video

Nikon D500

Excellent low-light performance
10 fps RAW burst with 200-image limit
Weather-sealed body
Long-lasting battery life
4K video with ports for external sound recording

Olympus OM-D E-M1X

Good resolution and dynamic range
Excellent subject tracking
A great frame rate and deep buffer
Pleasing JPEG colors
Up to 7.5 stops of in-body image stablization with supported lenses
Weather-sealed body

Sony Cyber-shot RX10 IV

Impressive 24 fps maximum continuous shooting speed
Crisp image quality
Unrivaled lens for a bridge camera
Incredible 24-600 mm zoom range
4K video quality

Nikon Coolpix P1000

Unbelievable 125x optical zoom
In-camera image stabilization
1 cm minimum focusing distance
High-resolution electronic viewfinder
4K video shooting
Best Cameras for Bird Photography to Buy (in Detail!)
Let's dive into the list to find the best camera for bird photography for you! We see how cameras stack up to our top choice and their competitors.

Our Verdict
What does the best camera for bird photography provide? It has great image quality, a fast frame rate, a large buffer, and a high maximum shutter speed. It also offers eye detection and subject tracking. And it's all in a compact, lightweight, weather-sealed body.
This wasn't available to bird photographers at any price in the past! However, the mirrorless revolution has come. It has brought us cameras such as the Sony a1, Nikon Z9, Canon R3, and Canon R5. So it is possible to have it all!
Sure, the Sony a1 is very expensive. However, it offers pretty much everything you need for bird photography. The equivalent Canon and Nikon cameras follow close behind.
If you can't afford something like that, there are plenty of cheaper DSLRs. Alternatively, getting a crop sensor camera or a superzoom can save money and weight.
A Guide to Buying the Best Camera for Bird Photography
Let's look closely at the key criteria for selecting the right bird photography cameras. Here you can decide what features you want most in
Image Quality
Having a sensor with lots of megapixels is a double-edged sword. On the one hand, you might have to sacrifice a high frame rate. And if you don't have good camera technique, you might even have softer pictures! On the other hand, you should be able to capture much more detail and crop in if you have. And you won't lose too much image quality.
That might seem to rule out getting a crop sensor or bridge cameras. But the advantage you get is the extra reach. Instead of cropping in editing software like Lightroom, the crop happens in the viewfinder. This can make it easier to frame your bird and wildlife photography.
Frame Rate
Beyond 10 fps, you might ask what the benefit of a higher frame rate is. From personal experience, birds in flight can move very fast and erratically. This is especially true for smaller birds. You often get 30 completely different shots at 30 fps. Some images have wings raised. Some have them lowered, and some have wings level.
You can't predict where wings will be at the exact moment when you press the shutter. That means a higher frame rate gives you more chances to get a great shot photographing birds.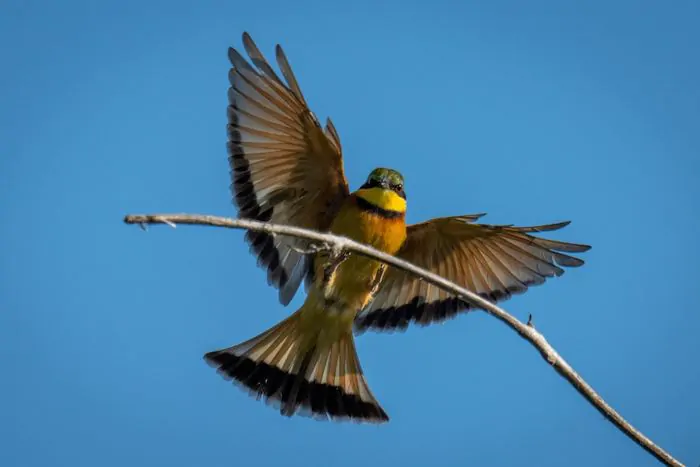 Buffer
The buffer size always limits the frame rate. Say you're shooting at 30 fps. Then a small buffer means even the best camera will soon slow down or even stop shooting. If birds in flight last longer than a second or two, you're out of luck!
Choosing the right camera helps. And so will buying the fastest memory card you can afford. There's a limit to the read and write speeds of SD cards. You are much better off with a CFexpress or XQD card. The faster the camera can write to the card, the faster it can clear the buffer.
Shutter Speed
You need a high shutter speed to freeze birds in flight. With larger birds such as herons, you might be able to get away with 1/1600 s. But smaller birds might demand 1/3200 s or even faster. Top-end mirrorless cameras can shoot at 1/8000 s or even 1/64000 s with the electronic shutter. So you have plenty of room for maneuver.
Sharpness trumps everything else, so don't worry about pushing your ISO up too far. It's much easier to eliminate noise in post-production than to make a blurred image sharp!
Autofocus
This is one of the big advantages of a mirrorless camera for bird photography. Most have selectable focus points across more than 90% of the frame. A DSLR focuses more on the central area. So you never have to focus and recompose with mirrorless models when photographing birds.
The best cameras also offer face or eye detection and subject tracking. These are incredibly useful for bird photography. It is very helpful when trying to photograph a bird in flight.
The speed and accuracy of the mirrorless AF systems are matched by their sheer usability. You have a choice of focus areas. And the camera will choose the subject that is closest and nearest to the center. If that's not enough, eye detection overrides that if the eye is outside the selected area. Genius!
Size and Weight
A mirrorless camera is generally smaller than a DSLR. That's because it doesn't have to include a mirror or pentaprism in the viewfinder. Some of the latest native telephoto lenses from Sony and Canon are also incredibly light. That means handholding at 600 mm is suddenly a lot easier to do!
Mirrorless cameras have had a problem with battery life because of the need to power the EVF. It meant you needed a heavy battery grip to allow you to keep shooting. However, I've found my Sony a1s can shoot for far longer than the official CIPA battery life… as long as you use continuous mode. That means I can leave my battery grips at home to reduce weight.
Durability
Most top-end cameras and lenses are weather sealed these days. But it's worth checking before you buy. Bird photography sometimes means standing outside for long periods in dust, rain, hail, or snow. You don't want to stop shooting to keep your camera dry!