Last Update: November 30, 2022
Both Olympus and Fujifilm have a reputation for manufacturing affordable high-end cameras. But which is better in an Olympus vs Fuji comparison? Which brand has the edge in performance and features? Well, we have done the research for you.
The decision between buying an Olympus camera or a Fujifilm one is not easy. Both camera brands offer innovative and cost-effective cameras. They both tick all the right boxes. But let's look at a side-by-side comparison of Fuji vs Olympus Cameras. The pros and cons will help you decide on the best brand for your needs!
Introducing Olympus Cameras
Olympus is a well-known brand in the photography industry. They have been manufacturing cameras for more than fifty years. Olympus also has a reputation for designing beautiful cameras. And this design is integrated with high-end technology.
Olympus keeps things simple. Their cameras are direct and to the point. There is no marketing nonsense, just performance at an affordable price. Plus, Olympus cameras are intuitive and simple to use. No need to read manuals or fiddle with settings. You won't get exasperated figuring out the camera parts. You just point and shoot.
The cameras are built of quality materials and can withstand lots of abuse. They have excellent photo quality since they have super-sharp lenses. So they are great for travel and landscape photography. And Olympus cameras are very compact and lightweight. So they are also great for traveling and hiking.
The brand is renowned for producing reliable, durable cameras, even in challenging conditions. If you are someone who wants to travel with your camera, then an Olympus model might be the best choice for you.
Some of the more popular cameras from Olympus are the OM-D E-M5 Mark III and the entry-level OM-D E-M10 Mark IV. They also offer a professional-level sports camera, the OM-D E-M1X.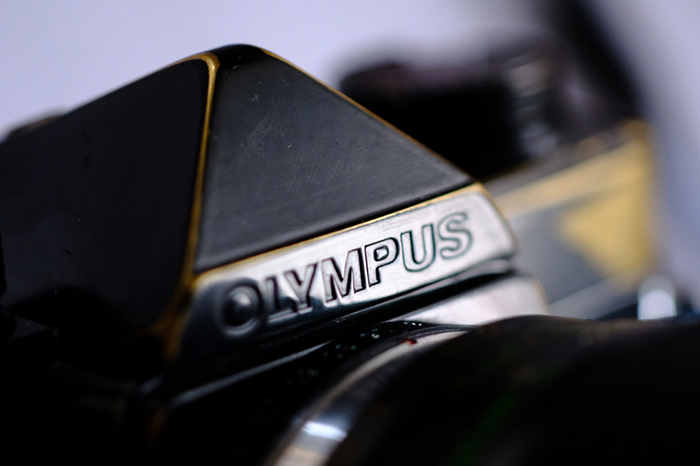 Introducing Fuji Cameras
Fuji cameras are known for their excellent photo quality. The company has a long history of making great cameras. Fujifilm cameras are user-friendly. And they offer a wide variety of features to choose from.
Fujifilm is well-known for two things. They are known for their retro-style designs and the unique look of their photos. And they are known for their expertise with APS-C crop sensors. But they also specialize in medium format cameras without the 35 mm sensor.
Street photographers and travel photographers love Fujifilm compact cameras. The pro-level X-T4 in the X Series is a very popular camera. And the entry-level X-T200 is right up there too. (You can the X-T200 full specs here).
Their GFX series consists of compact, medium format cameras. The GFX 50R was the first camera in this lineup. It has a 51.4 MP sensor. But the GFX 100S is their newest flagship camera. And it has a 102 MP sensor. The sensor is 1.7 times larger than a full frame one!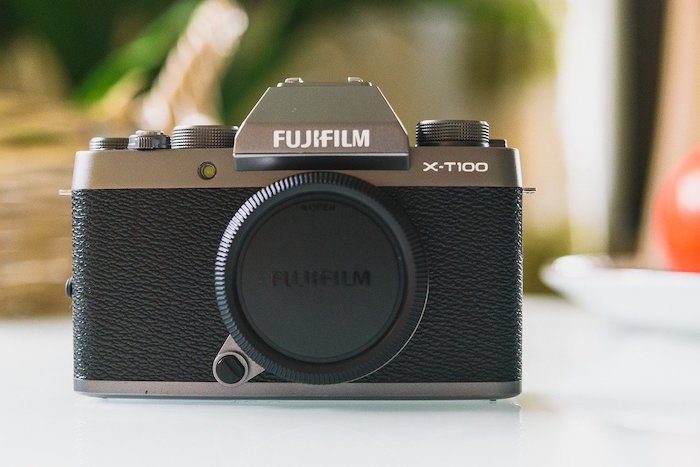 Fuji vs Olympus Feature-by-feature Comparison
Both camera companies make cameras in a range of options. Also, both companies offer cameras at various price points. Let's compare these two brands based on important features for your buying decision. These include body design, size, weight, megapixels (MP), lens options, and image quality.
Body Design and Features
Both Olympus and Fuji cameras have retro styling. It sets them apart from other mirrorless or DSLR cameras. For instance, Fuji bodies have physical dials for settings, like aperture and ISO. It's one thing photographers love about Fuji. The tactile controls of Fuji cameras.
Cameras in both systems have an LCD touch screen display and an electronic viewfinder (EVF). Fuji is one step ahead with a hybrid (optical and electronic) viewfinder. You can tilt the rear LCD screen to different angles on most cameras. But this feature depends on the model. In general, screen resolution is higher on the Fuji models.
Both companies offer cameras with either single or dual SD card slots. These are usually UHS-II compatible. And both companies offer cameras that are weather sealed. But the bodies on the lower end tend not to have this feature.
Where the companies diverge is in camera size. Olympus systems tend to be a little smaller and lighter than their Fuji counterparts. But this is not always the case. The Fujifilm X-T30 II measures 1.84 x 4.66 x 3.26″ (118 x 83 x 47 mm). This is similar to the Olympus OM-D E-M5 Mark III, which measures 4.9 x 3.4 x 2″ (125 x 85 x 50 mm). But both camera systems are smaller and lighter than DSLRs or mirrorless systems.
Both Fujifilm and Olympus offer cameras with features for different photographers. Both have a retro flavor. But Fuji is slightly more forward-looking. Their cameras have a hybrid EVF and a more tactile approach to settings and dials.
Sensor Size and Megapixels
Olympus makes cameras with Micro Four Thirds (MFT or M4/3) sensors. Most cameras in the Fuji lineup have an APS-C sensor. The APS-C sensor is a bit larger and captures more light. So you get sharper images with less noise. You can also get a shallower depth of field. But cameras with Micro Four Thirds sensors are often lighter and more compact.
Most cameras made by Olympus have a sensor with 20 MP. Fujis mostly fall in the 24 to 26 MP range. Fuji also makes expensive medium format cameras like the 102 MP GFX 100S.
There is also a difference in the native aspect ratio. The Fuji sensor creates images in the standard 3:2 aspect ratio. Olympus's Micro Four Thirds sensor creates an image with a 4:3 aspect ratio. It is squarer in comparison. The aspect ratio is not a deal breaker. But you may have a strong preference for one over the other.
When it comes to image quality, both Olympus and Fujifilm cameras are excellent. But Fujis have an edge thanks to their larger sensor. Fuji is the way to go if you want the best photo quality. But if you want a more compact camera, then Olympus is a great option.
Lens Lineup
Both companies offer a range of native lenses, both primes, and zooms. Also, many third-party lens manufacturers make lenses that fit each system.
Fujifilm Lenses
Fuji bodies use either the G-mount or the X-mount system. The medium format GFX series uses G-mount Fujinon lenses. You can adjust the aperture on these lenses with the ring on the lens and the camera. Fuji offers mainly prime lenses and an assortment of zoom lenses.
There are more lenses available for the Fuji X-mount. You can choose from zoom or prime lenses from 8 mm (converts to 12 mm) to 400 mm (converts to 600 mm). There are offerings in the wide-angle, standard, and telephoto range. There are also a couple of macro lenses available.
Lens makers like Tamron, Sigma, and Samyang (Rokinon) also make lenses for the Fuji X-mount.
You can read our article that reviews the best Fuji lenses.
Olympus Lenses
Olympus also makes a wide range of lenses available for their OM mount system. They have both zoom lenses and primes from 7mm (converts to 14mm) to 300mm (converts to 600mm). Lens options cover wide-angle, standard, and telephoto with a couple of macro lenses.
In general, Fujifilm has more native lenses. But Olympus and Panasonic lenses are interchangeable. Not all features transfer between systems. But this opens up a lot more options, including using Leica (Lumix) lenses.
Lens makers like Sigma and Samyang (Rokinon) also offer lenses for a Micro Four Thirds camera.
Autofocus, Image Stabilization, and Dynamic Range
Where Fujifilm and Olympus diverge is in autofocusing and image stabilization. Olympus has the edge with in-body image stabilization. All the lenses mounted on Olympus cameras are stabilized.
Olympus cameras use a 5-axis image stabilization system. This adds between five and seven stops of light. And it reduces camera shake and lets you shoot at slower shutter speeds. Fujifilm also offers 5-axis image stabilization. But it is not standard in all their bodies.
When it comes to autofocus, the Fuji system edges out Olympus. Fuji cameras have 425 autofocus points. On the other hand, Olympus uses 121 hybrid AF points (contrast and phase detection). Fuji cameras also have a better dynamic range. They can handle high-contrast scenes better.
Fuji vs Olympus Image Quality
Both manufacturers are known for excellent image quality. But on paper, Fuji has the advantage.
Images created with an Olympus camera have a vivid color pallet.
But Fujifilm's photos have a distinct look in terms of color. Their specialty is film simulation. They have a historical past in film processing. So they have the knowledge and expertise to mimic the look of film photographs. It is not easy to replicate this with photo editing software. So Fujifilm has the edge here.
Price
Both companies offer a range of cameras targeting amateur
and pro-level photographers. The Olympus OM-D E-M10 Mark IV is an inexpensive, beginner-level camera with many features. It is similar in price to the Fujifilm X-T200.
On the professional end of the spectrum is the Olympus OM-D E-M1X. But you can get a lot more camera for the same price in the Fujifilm range.
On the high end, Fujifilm goes one step further with the 102 MP medium format Fujifilm GFX100S. Fuji's medium format cameras go beyond the needs of most photographers.
No matter what your budget, you will find an Olympus or Fujifilm camera for you.
Olympus vs. Fuji Mirrorless Cameras
Both Olympus and Fujifilm primarily make mirrorless cameras. So the debate is not Olympus vs Fuji. Instead, it is between mirrorless vs. DSLR. And both Olympus and Fujifilm stopped making DSLRs. So if you want a DSLR, you will have to look at another camera brand.
In a DSLR camera, light comes into the camera and is reflected up to the viewfinder by a mirror. When you look through the viewfinder, it is like looking through a window. Pressing the shutter button moves the mirror out of the way to let light hit the sensor and record the image.
There is no mirror inside a mirrorless camera body. So pressing the shutter button opens a door that exposes your sensor to light. And an electronic viewfinder (EVF) replaces the mirror. This lets you see the image coming into the camera. In essence, you are looking at a projection of the frame. So looking through an EVF is like watching a TV.
There are many benefits to a mirrorless camera. Cameras are lighter without the mirror. And with an EVF, you see the world as your camera records it. So you do not have to guess at the right exposure setting. You can read our article on the benefits of mirrorless cameras.
Our Verdict
Choosing between Fuji vs Olympus is a difficult decision. In truth, you cannot go wrong with either system. They are both great brands with many high-quality models to choose from.
If you are looking for excellent autofocus and fast shooting speeds, the Fuji X-T30 II is a good choice. If you want a small, lightweight, and easy-to-use camera, consider the Olympus OM-D E-M10 Mark IV.
Both brands make some very high-quality cameras. The decision between the two comes down to your personal preferences. Go to a camera store and handle each camera body if you can.
The two brands have some similarities but also some key differences. Overall, Fuji camera bodies are less expensive and have more features for the price. But you can compare these specific cameras in more detail with our camera comparison tool. If you're not sure where to start, try these popular Fuji vs Olympus comparisons:
Ultimately, the best camera brand is the one that suits your photography needs best! We also have posts comparing Fujifilm vs Sony, Fujifilm vs Canon and Canon vs Sony mirrorless cameras to check out next!