Last Update: February 10, 2023
Buying a camera is a big commitment.
You might be parting with a considerable amount of cash, so it's not a decision you should rush. The world of cameras can be complicated, and you need to know the camera you buy will meet your needs as a photographer.
Cameras have tons of different specifications. Some are great all-rounders, while others are geared towards specific areas of photography. There are cameras for beginners and some for professionals. With so much information flying around, it can make your head spin.
If you feel lost in a world of techs and specs, take a deep breath. You've come to the right place. We'll take you through the details so you know what to look for when buying a camera.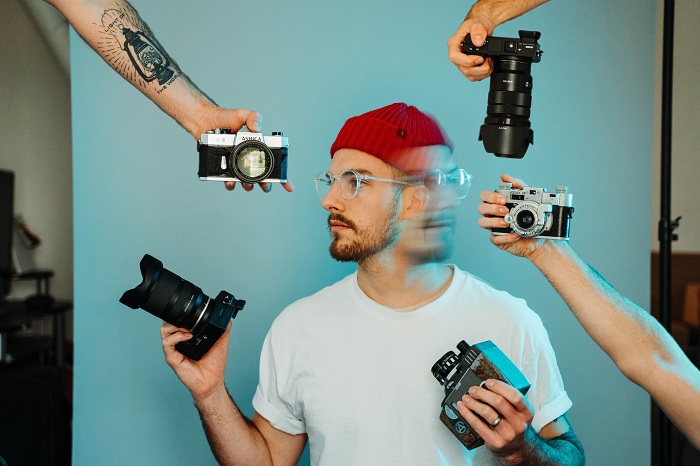 Different Types of Cameras to Consider
When looking for a new camera, the main thing to consider is the type of camera you want. There are many types of digital cameras today—each with their own pros and cons.
Think about your needs as a photographer. Some cameras might not suit you, while others might be a perfect match.
DSLR Cameras
DSLR stands for Digital Single Lens Reflex. It's the digital version of the classic SLR models from the glory days of analogue photography. A DSLR, like the old film cameras, uses a series of mirrors and shutters to capture the picture.
DSLRs use interchangeable lenses, meaning no fixed lens is attached to the camera body. Leading manufacturers have a good selection of interchangeable lenses for their DSLR cameras.
DSLR cameras have a reputation as strong and reliable machines. They are often on the heavier side, but they are used by photographers all over the world. Nikon and Canon are still making top-of-the-range DSLR cameras for beginners, enthusiasts, and professionals.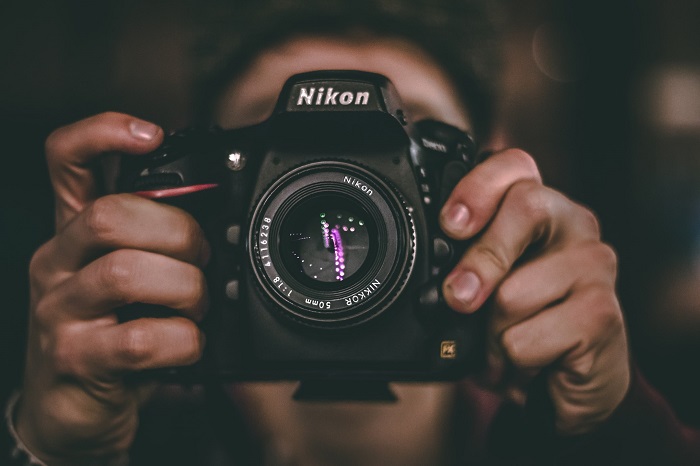 Mirrorless Cameras
Mirrorless cameras have taken the digital photography world by storm over the last decade. These machines don't use the mirror and shutter system of the DSLRs, hence the name. Fewer moving camera parts allow for a lighter and more compact machine. And like DSLRs, they have interchangeable lenses.
Mirrorless cameras have become the dominant force in digital photography. Some of the top camera manufacturers, namely Sony and Fujifilm, focus all their energy on their mirrorless camera range.
The cameras are near-silent and can boast faster shutter speeds thanks to their digital shutter. The top mirrorless cameras are pushing the boundaries of digital camera capabilities.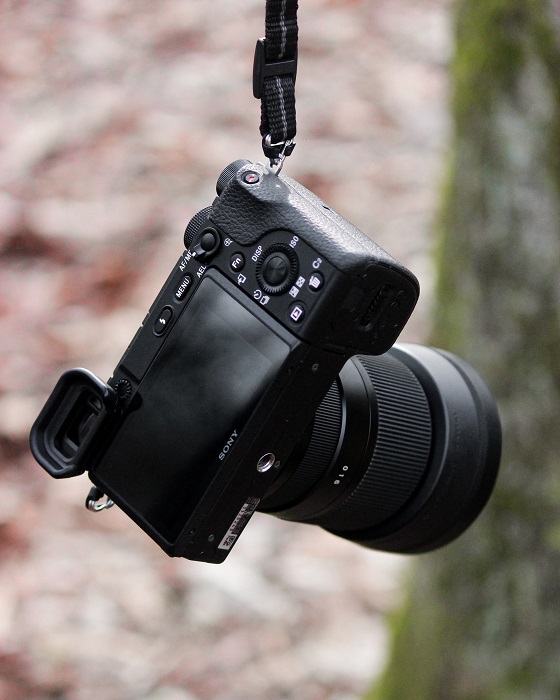 Compact Cameras
Compact cameras are also called point-and-shoot cameras, indicating their easy-to-use nature. All you need to do is point the camera, shoot your shot, and you have your photograph.
Compacts mainly use automated features and functions with minimal input from the photographer. Some have different modes for specific types of photography, but you don't need to adjust each setting individually.
Focusing is automatic, as are the exposure settings. Unlike interchangeable lens cameras, the lens is fixed and often has zoom capabilities. And some have a built-in flash for darker occasions.
They're an all-in-one camera. They're great for beginners, but there are some sophisticated options for professionals.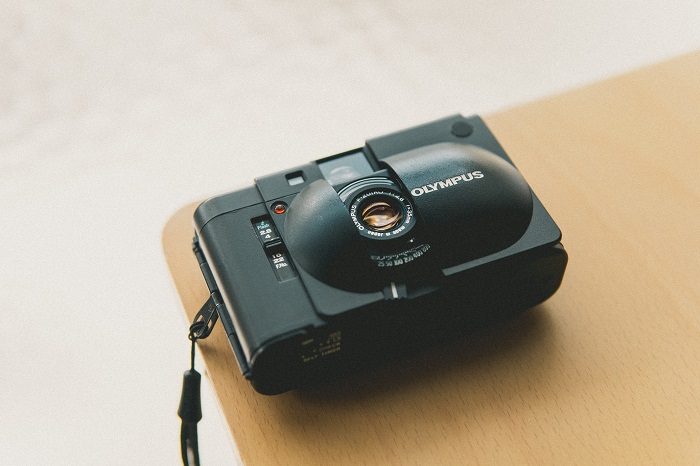 Bridge Cameras
A bridge camera is a cross between a compact and a DSLR. They have a similar build and body to a DSLR camera but all the convenience of a point-and-shoot.
At a glance, a bridge camera looks much like a DSLR as they have the same ergonomic body design. But the lens is fixed and often has electronic zoom capabilities. And the controls will be mode-based, rather than having individual controls for each setting.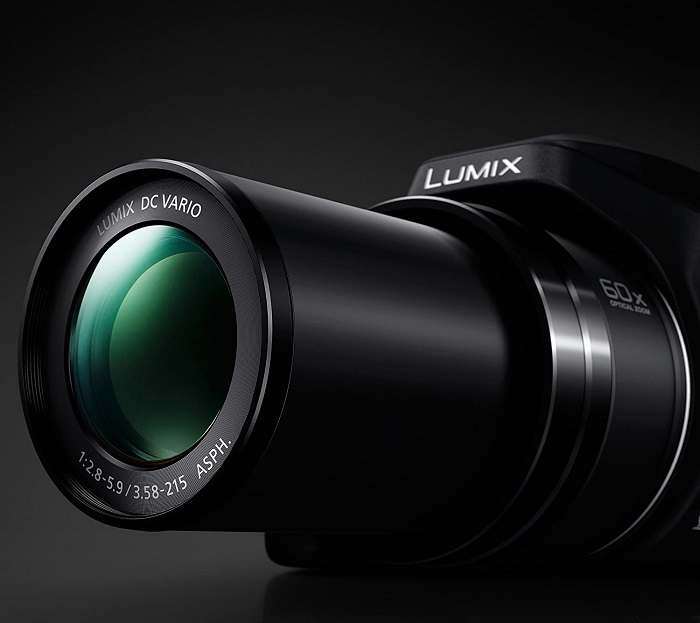 Hybrid Cameras
A hybrid camera is a machine that can shoot both stills and video. More and more camera users are looking to capture fantastic video as well as wonderful still images. Hybrid cameras are popular across many creative genres, and camera manufacturers are answering the demand.
Nearly all the top DSLR and mirrorless cameras offer video capture as standard. But of course, some cameras are built with video as a specialist feature. 4K has become the standard for video quality, but we're now seeing 8K too.
The Most Popular Camera Brands
Even if you're new to photography, there are some camera brand names you'll be familiar with. Many have been at the forefront of camera technology for decades, and they're still producing some of the best digital machines in photography.
Nikon
Nikon is one of the most respected and revered names in the camera world. They've been one of the biggest brands since the '70s, and they still make some of the best cameras today.
They are perhaps most well-known these days for their DSLR cameras. The D3500 is the best DSLR a beginner can buy. And the Nikon D850 set the standard for professional DSLR cameras.
They have moved into the mirrorless market with some impressive machines. And they also have a couple of bridge cameras worthy of your consideration. Nikon users are loyal due to the quality and range of gear available to them.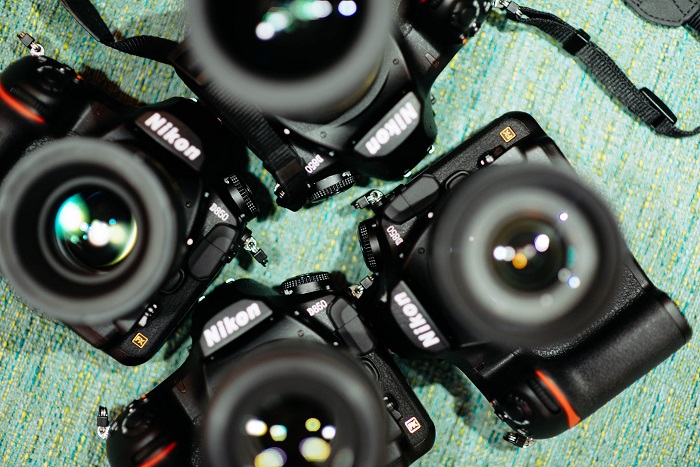 Canon
Canon and Nikon have had a long-running rivalry. They've been neck and neck for nearly 50 years, and there still isn't much to separate them. Canon produces some excellent DSLR cameras, like their EOS 5D Mark IV.
They also produce excellent mirrorless cameras, with the Canon EOS R5 being one of the best machines they've ever made. Their catalogue also boasts bridge cameras and some of the finest hybrid options you can find.
Sony
Sony has become a world leader in mirrorless digital cameras. Their catalogue boasts some fantastic crop-frame cameras. But their full-frame mirrorless machines are the ones stealing the headlines.
Sony has redefined the limitations of full-frame camera sensors. The A7R Mark IV is one of the most powerful cameras for image resolution. And now Sony is also putting effort into the video side of their cameras , meaning their newer models are great hybrids.
We have a great new article on the best Sony cameras you can check out for more info!
Fujifilm
Fujifilm is another brand still going strong from the analogue days. But now, Fujifilm focuses all its energy on its digital mirrorless cameras.
They have superb models for beginners and enthusiasts. Their lack of high-end, professional-level models means they're a mid-range player. But their cameras are still excellent. And they combine terrific functionality with a sharp retro style, as you can see with the X-T4.
Visit our article on the best Fujifilm cameras to see the current top models!
Olympus
Olympus is another long-running brand that now produces mirrorless cameras. Despite this change of direction in recent times, they still have a philosophy centred around accessibility.
They have an excellent range of crop sensor cameras, and their speciality is the Micro Four Thirds camera. The Olympus OM-D E-M5 Mark III is the pick of the bunch. They have a justifiably strong reputation for beginner and enthusiast-level cameras.
Panasonic
Panasonic produces a wide array of great cameras, from compacts to full-frame cameras. Their Lumix G series cameras, which use a Micro Four Thirds sensor, are some of the best consumer video cameras on the market.
They don't have the high-end, professional-grade cameras like Sony, Nikon, and Canon. But all their products are equipped with the latest technology and features. For mid-range hybrid cameras, they're one of the best.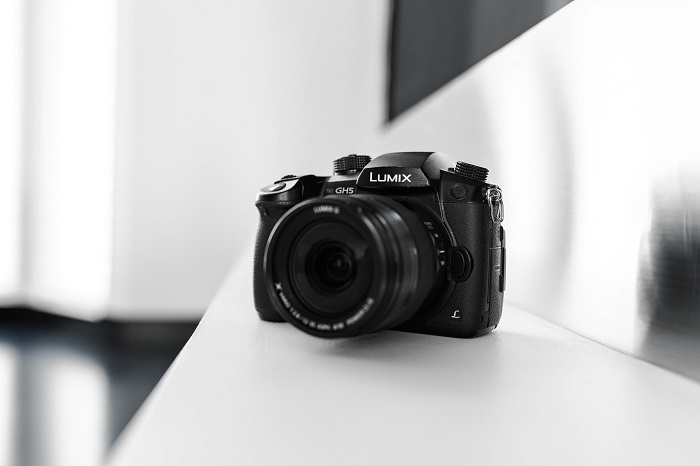 Pentax
Pentax is a name that flies under many people's radar these days. They don't have the same output level as the previously named brands. But what they do, they do well.
Their main focus is their line of professional standard DSLR cameras. The Pentax K-70 leads their crop-sensor line, while the K-1 II is one of the best full-frame DSLRs a professional can buy.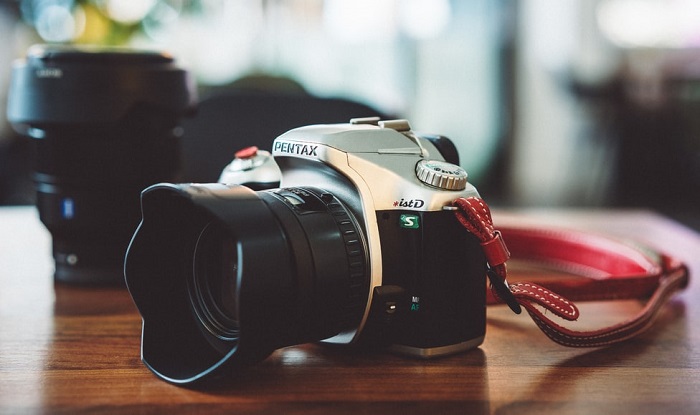 Determining Skill Level and Price Range
As a general rule, the higher the price, the higher the skill level of the target market. This is certainly the case when buying a brand new camera. But there are far more variables when buying a second-hand camera.
For beginners, a good camera will start from somewhere at around $600 and go up to about $1000. If you're looking to make the jump from beginner to enthusiast, you're looking at anything between $1000 and $2000. Professional cameras are $2000 and beyond.
These are not strict rules, and there are many variables to consider. Not only should you consider your skill level, but you also need to think about the type of camera you want. Compact cameras tend to be cheaper than DSLRs and mirrorless cameras, even in the same skill group.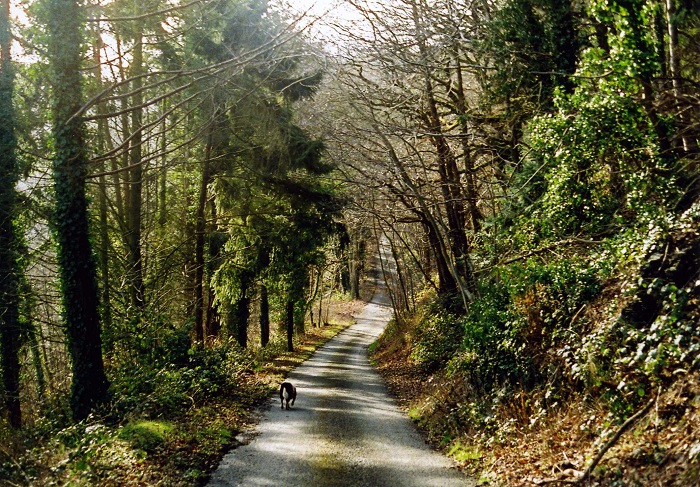 Your Budget Should Meet Your Needs
When setting your budget to buy a new camera, think about what you're setting out to do. Start with something in the beginner price bracket if you're new to photography. You don't want to waste money on the most expensive model if you lose interest after a week or two.
For those making the jump from beginner to enthusiast, you can afford to splash a bit more cash. You already know you love photography, and a good camera not only feeds your enthusiasm, but you might also find you're heading for a new career.
If you are a professional or are going professional, you need to think of your camera as an investment. Spending a bit more on a professional-level piece of equipment makes more sense in the long run. The camera puts bread on your table. And it'll earn the money back, paying for itself in the end.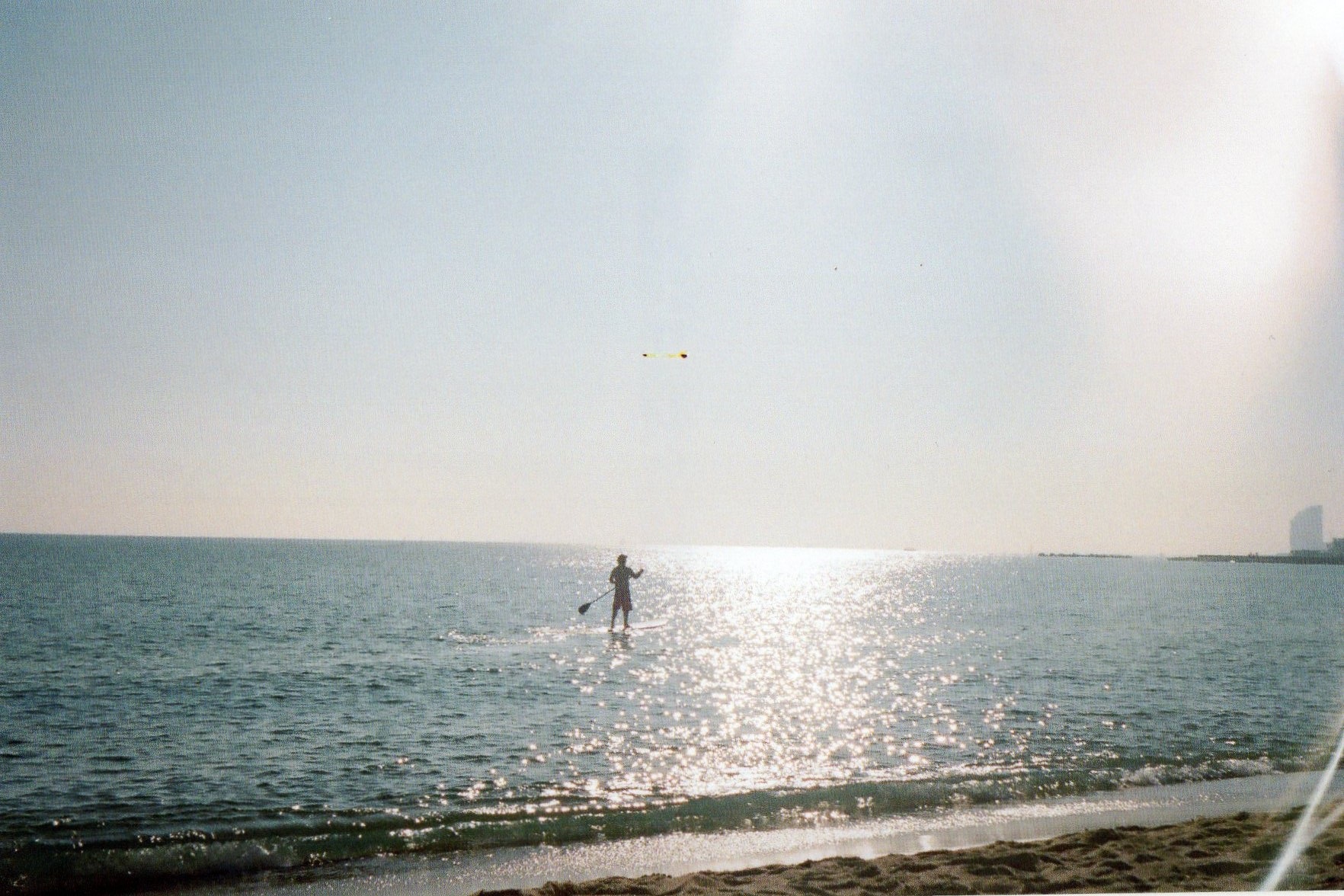 Consider the Release Date
Digital camera technology can seem like it's moving at lightning speed. The big brands bring out new models every year, each with new specifications. But that doesn't mean you always have to buy the latest model.
If you need the latest camera for an updated specification, such as video quality or a quicker burst, that's no problem. But many older models still hold their own in the photography arena. The Nikon D850 was released in 2017, but a 45.5MP sensor isn't going out of style any time soon.
The release of newer models can drive down the price of older ones. A camera that's two or three years old is far from obsolete, and you may find their prices more appealing.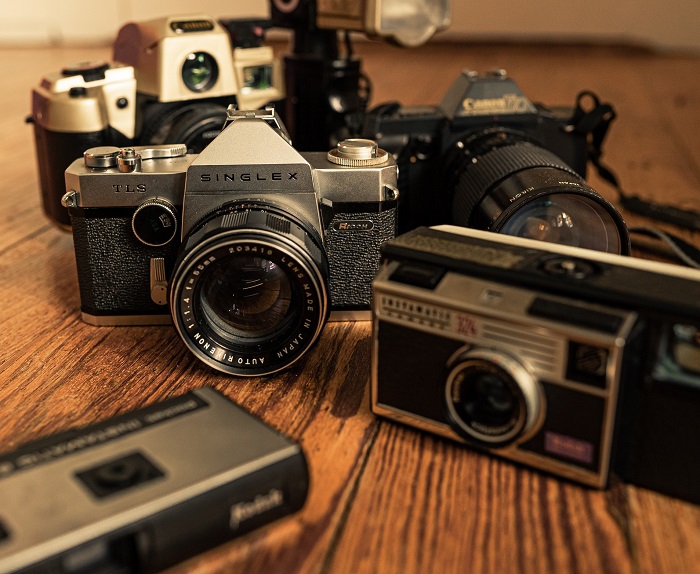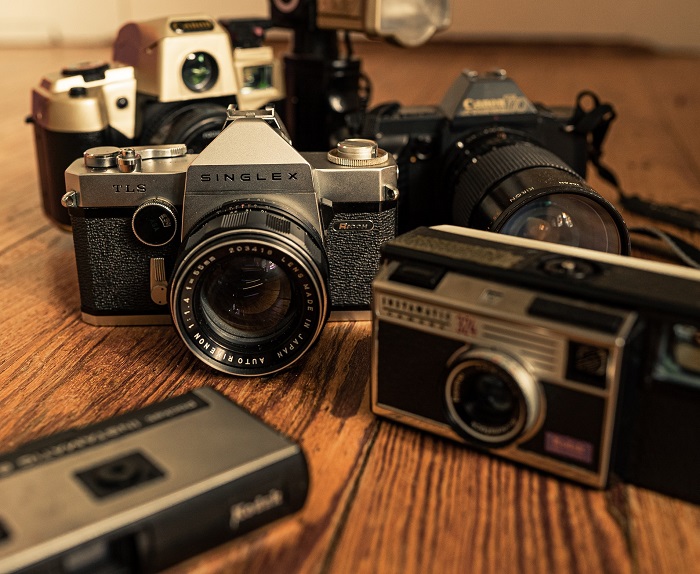 Should I buy In-Store or Online?
Both have their advantages and disadvantages. If you buy a camera in-store, you can see the thing in real life before you buy it. You can hold it and feel the weight in your hand and around your neck. The store might even let you shoot a few shots with the display model.
The downsides to in-store shopping are the limitations in stock and geography. There may not be many photography shops near you, and you'll be limited to the camera selection they have.
Online shopping has no such limitations. You can buy something from the other side of the world. And you can nearly always find what you want. The problem is that you can't see or touch the exact item you're buying. And there are always risks with shipments, especially international ones.
When you go to a store, you can speak to the shopkeeper. Usually, they'll be honest because they don't want you coming back to return the camera. Achieving this level of trust online is difficult, so you must always look for a reputable seller.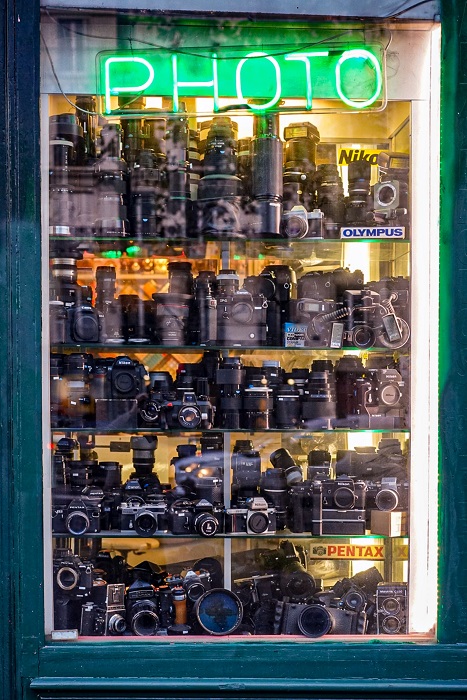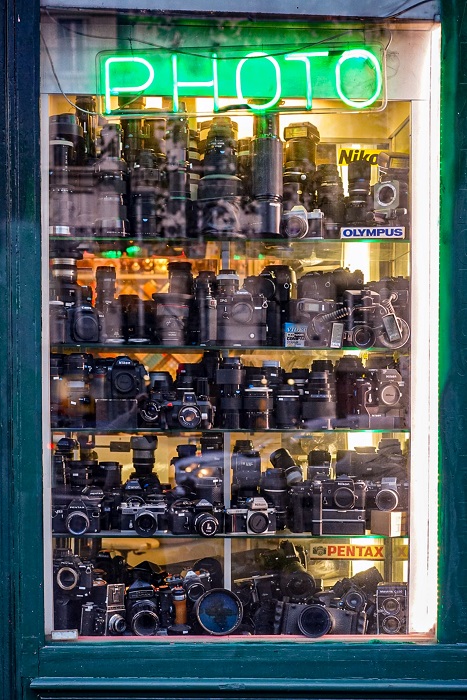 Consider Your Primary Niche
Most of the top cameras are good all-rounders. But if you've found your photography niche, you might want to look for a camera designed with your speciality in mind.
Sports photographers, for example, will look for a camera with a fast burst and a wide ISO range. The Sony A1 has a burst of 50fps, and it uses a digital shutter that is near-silent. And the Nikon D500 has functions and features sports and wildlife photographers will appreciate.
If you want to pursue street photography, you might want a camera that's discrete but still packs a punch. Something like the Olympus PEN-F is perfect for street shooting. Travel photographers will be looking for something similar, so the Canon EOS RP would work for them.
Cameras in the beginner category tend to be good all-around machines. But if you're an enthusiast or professional, you'll have a better understanding of what you need from your camera. When you're looking to buy a new camera, think about the specific demands of your niche.
Some excellent online guides list the best cameras for portrait, landscape, or architecture photography. Definitely browse these lists if you know your niche.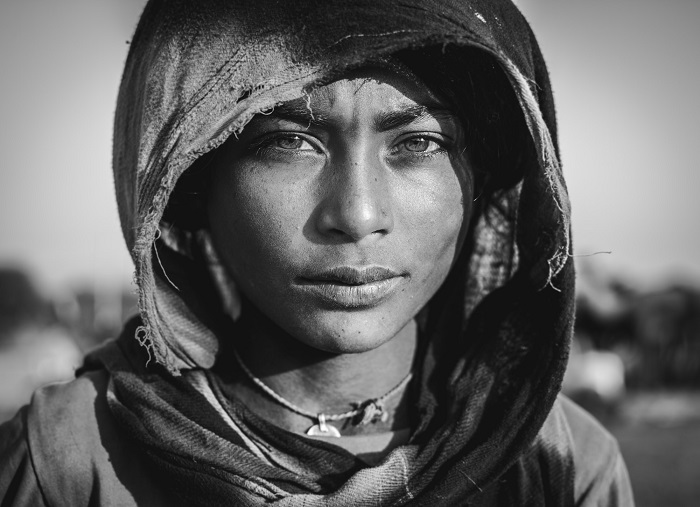 Sensors—Size Matters!
The sensor is one of the most essential elements in a digital camera. Camera sensors come in different sizes, which can influence the skill category it's in and the size and weight of the camera body.
Crop/APS-C Sensors
The APS-C is the most common sensor size found in digital cameras. All the big camera brands have a wide range of cameras on the market. And you'll find crop sensor cameras for beginners, enthusiasts, and professionals.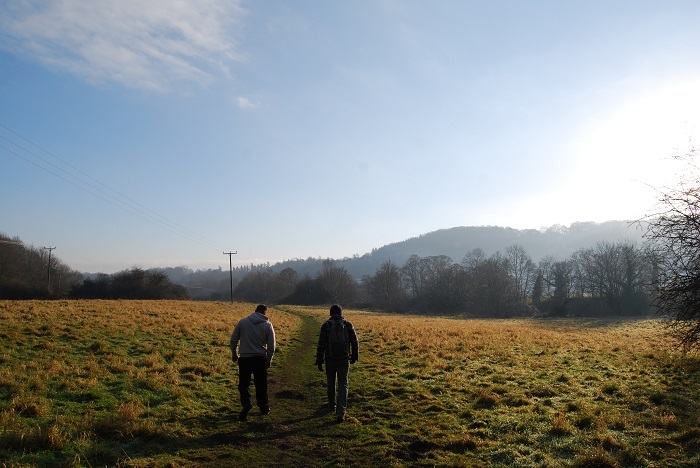 Full-Frame Sensors
Full-frame sensors measure 35mm—the same as a 35mm analogue SLR camera. They are uncropped and larger than the APS-C sensor, which is why they are called full-frame.
Full-frame cameras are becoming more and more popular. And manufacturers like Sony, Nikon, and Canon use them as their flagship machines. The larger sensor gives a bigger field of view, allows for a better image resolution and dynamic range, and helps with ISO range and noise reduction.
Naturally, full-frame camera bodies are larger than those with a crop sensor. You'll find both DSLR and mirrorless full-frame cameras. And due to their general high performance, they sit in the upper-enthusiast or professional category.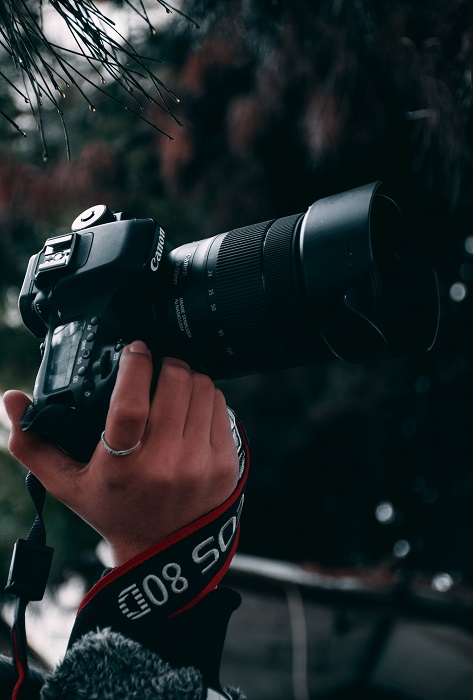 Micro Four Thirds
A Micro Four Thirds sensor is smaller than both a full-frame and APS-C sensor. These sensors can't match full-frame cameras for image resolution, but they appeal to certain photographers.
The small sensor allows for a more compact body. And even though they don't have the megapixel power of a full-frame, they make excellent cameras for beginners and enthusiasts. The smaller sensor also gives the camera an increased focal length.
This sensor type is not commonly used. Olympus and Panasonic are the two main manufacturers using Micro Four Thirds sensors for their cameras.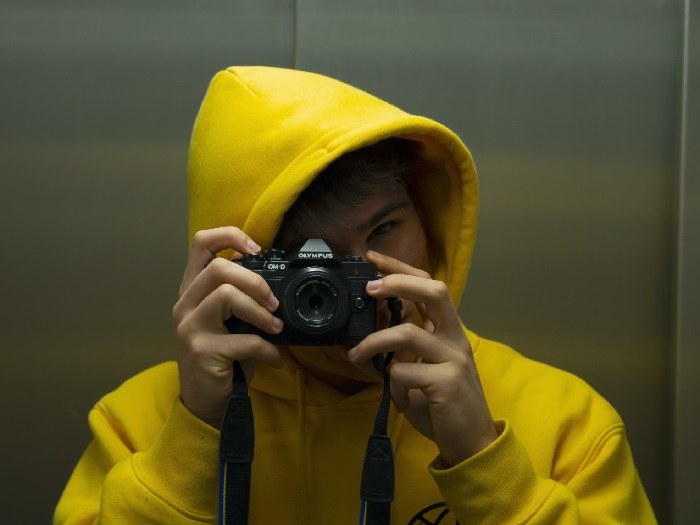 Medium Format
Medium format is the largest digital sensor you'll find in cameras today. They are equal in size to the 120mm film used in analogue medium format cameras. The large sensor gives you excellent image quality and resolution. And the photos have a superb dynamic range.
Medium format cameras are prised by landscape and portrait photographers for their stunning detail. But they are professional-level machines, and they usually have a professional-level price tag.
Pentax and Hasselblad have good medium format options, but Fujifilm is the leader in this department. Their GFX 100s sets the standard.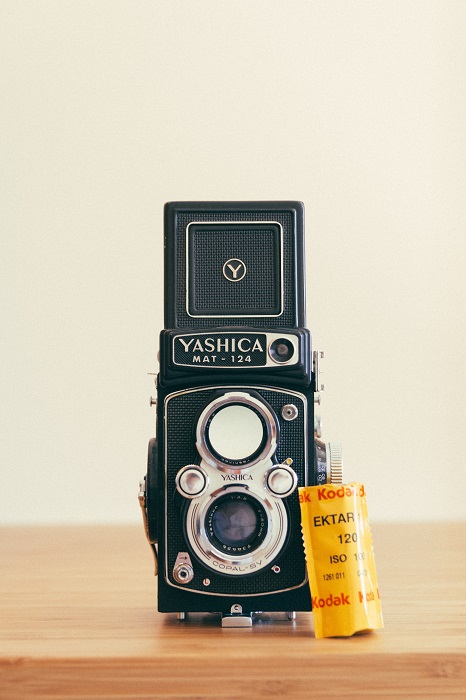 Smaller Sensors
Many compact cameras use small camera sensors, usually about 1/2.3 inches in size. A sensor like this is ideal for a pocket-sized point-and-shoot camera, like the Panasonic Lumix ZS70 or the Canon Powershot SX740.
Of course, sensors of this size limit the image resolution and overall quality. But the two cameras mentioned above both have a resolution over 20MP, which should not be taken lightly.
Because these small sensors are found in point-and-shoot models, the cameras are usually for beginners or enthusiasts.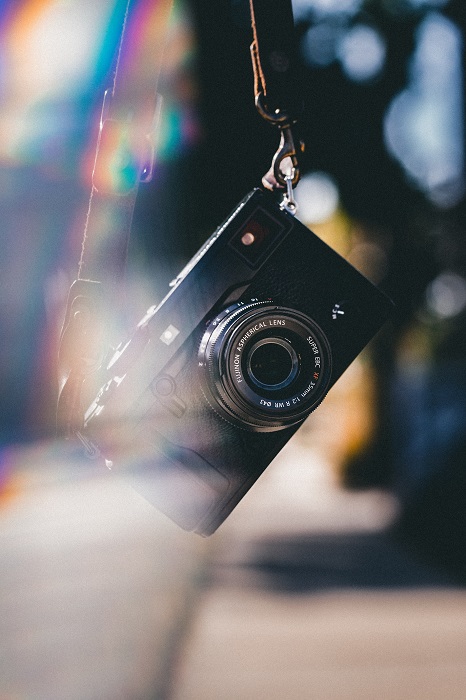 Get a Feel for the Camera Body
Size
When looking for a new camera, the internal specifications are not the only thing you need to consider. The camera body also needs to suit your needs as a photographer.
Camera manufacturers are good at keeping things compact. But some cameras are bigger than others. DSLRs have terrific hardware, but they can be on the bulky side, especially if they have a full-frame sensor. Mirrorless full-frame cameras tend to be more compact.
Smaller cameras are suited to photographers that need to keep a low profile, like street photographers and photojournalists. But they also need good image quality and special features, so you'll need to find a compromise.
The APS-C and bridge cameras only need a small bag for storage or transportation. And many of the point-and-shoot options can fit in your shirt pocket.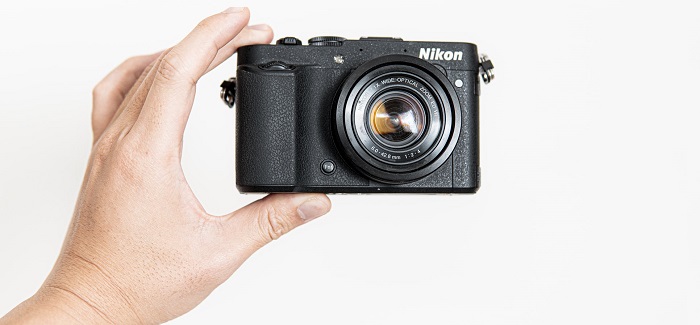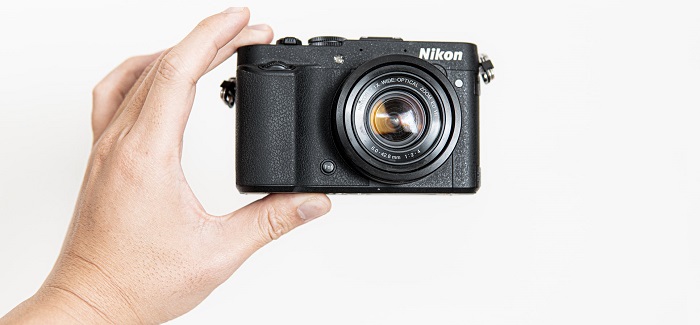 Weight
If you're shooting for long periods, weight is an important factor to consider. When using a heavy camera, it won't take long until you feel fatigued in your arms and neck. But if you work with a tripod, the weight will be less of an issue.
Full-frame DSLRs can be heavy units, especially when using a power pack or shutter motor. Mirrorless cameras tend to be lighter, but the difference isn't always noticeable as they're packed with technology.
For cameras with smaller sensors, weight is less of a concern. The Micro Four Thirds models aren't exactly featherweights, but photographers of all ages can use them to shoot for hours at a time.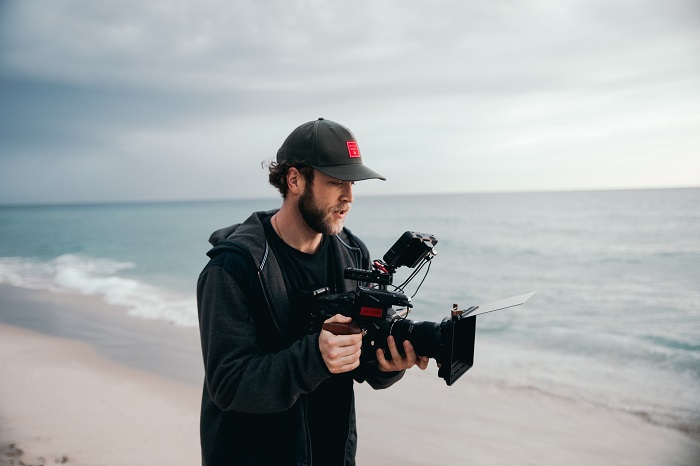 Important Camera Specifications
Image Resolution
Image resolution is often the first thing people look at when buying a new camera. While it isn't always the defining feature of a camera, it is important.
The image resolution gives you an indication of the image quality you will get from the camera. A higher MP number will indicate a better resolution, but it's not just a case of 'bigger is better'.
You need to consider the number of megapixels in relation to the size of the sensor. A full-frame sensor will have more megapixels than an APS-C because it is physically bigger. But that's not to say a full-frame will always produce better quality images than a crop sensor camera.
Likewise, a Micro Four Thirds sensor can have a better MP to surface area ratio than an APS-C camera. It's not just the number of megapixels that determines a good resolution, but rather the number of megapixels in relation to the size of the sensor.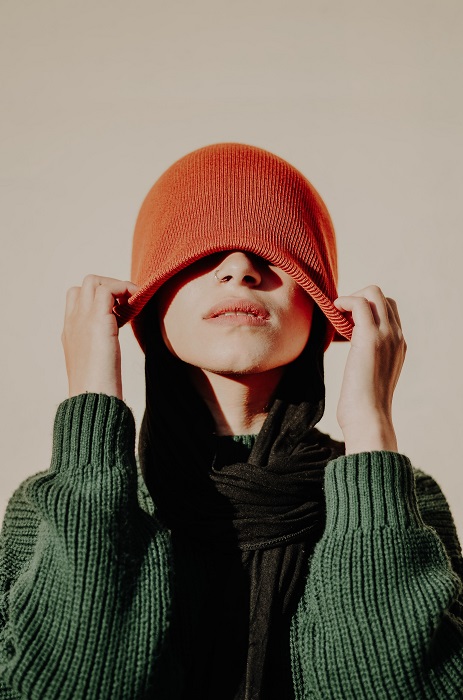 ISO Range
The ISO is a setting that determines how sensitive the sensor is to light. The higher the ISO number, the more sensitive it is to light. The ISO gives you an idea of the camera's low-light performance.
A standard ISO range would be from 100 to 64,000, which will serve you well if you're working in daylight or a studio. But some photographers will be looking for a wider range so they can operate in darker conditions. The Nikon D7500 has an excellent extended ISO range of 100-1,640,000.
Concert photographers often work at higher ISO because stage lighting is usually dim or localised. And many wildlife photographers like to work at dusk or dawn to capture animals during those times.
Working at a higher ISO does have its problems. The higher you go, the more digital noise you'll find in your images. Lower ISO levels give you a better image quality, with more detail and a superior dynamic range.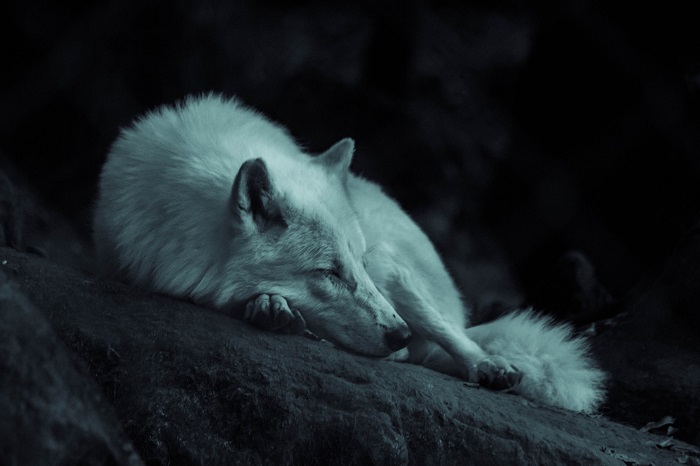 Shutter Speed
The shutter speed determines how long the sensor is exposed to light. The faster the speed, the shorter the time light is allowed to pass through. It's one element of the exposure triangle.
If you use a slower shutter speed, you're at risk of motion blur and camera shake. Unless you're using these effects intentionally, they're best avoided. But using a fast shutter speed means you have to compensate by using a larger aperture and a higher ISO. Although, if you have a tripod, you can keep the shutter open for longer periods.
When it comes to slow shutter speeds, there isn't much innovation. For years, cameras have had manual shutters that allow you to keep it open as long as you like.
But when it comes to extra fast shutter speeds, favoured by action photographers of all kinds, things are moving forward. The Sony A9 has a top shutter speed of 1/32,000 of a second, which is extremely fast.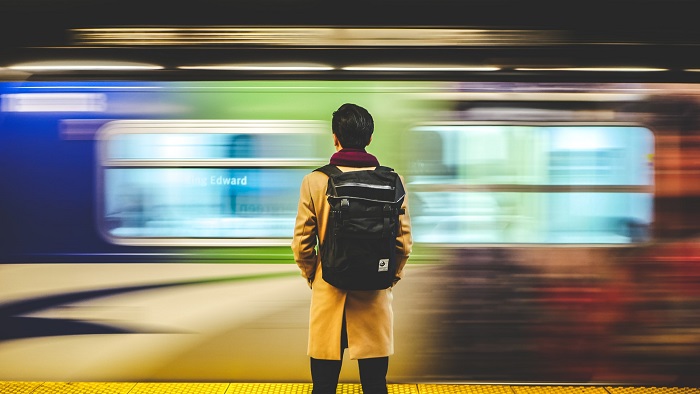 Burst Mode
Most DSLR and mirrorless cameras are equipped with a burst or continuous shooting mode. Burst mode has become essential for action photography—like sports, reportage, or wildlife. The camera captures multiple images in quick succession, perfect for action-packed shoots.
Capturing five frames per second may seem quick, but a burst of 5fps is slow by modern standards. A high-grade DSLR will have a burst from about 6fps to 12fps. Thanks to their digital shutters, mirrorless cameras can have much quicker continuous shooting modes.
The Canon EOS R5, a full-frame mirrorless, can capture 20fps using its digital shutter. And the Olympus OM-D E-M1X, a Micro Four Thirds camera, can shoot up to 60fps.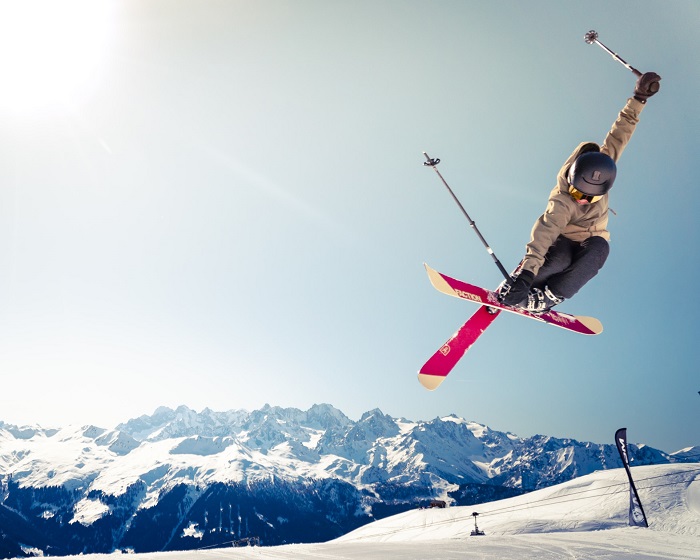 Autofocus
Autofocus systems have become incredibly sophisticated. Beginner DSLR and mirrorless cameras have autofocus systems that will find your subject without too much fuss. But top-end cameras use AI technology that finds and locks onto subjects with precision.
Many cameras now have a phase-detection system that uses a grid across the frame. These can lock onto your subject and track it across the frame, even when it's moving at high-speed. And many work well in low-light conditions.
Some AF systems have face and eye detection, so they can lock onto people and animals quickly.
A good AF system is sought after by photographers who shoot moving subjects or work in low light. The Canon EOS R6 has one of the most advanced AF systems, with 6,072 phase-detection points and 100% frame coverage.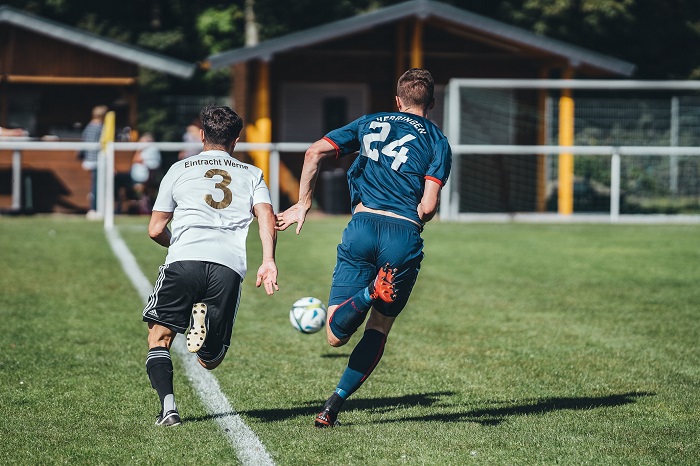 Image Stabilisation
Not every modern camera is blessed with an image stabilisation system. They are only found in cameras at the higher end of the skill and price brackets.
An image stabilisation system compensates for camera shake or a moving subject, keeping your photos sharp and clear. They're especially useful to photographers that shoot action, like sport or journalism. And they're a godsend when using a telephoto lens, as the camera becomes sensitive to the slightest movement.
The 5-axis stabilisation system is the most common in modern cameras, like the Nikon Z7. This system can compensate for three stops, so that you can use a slower shutter speed without shake or blur.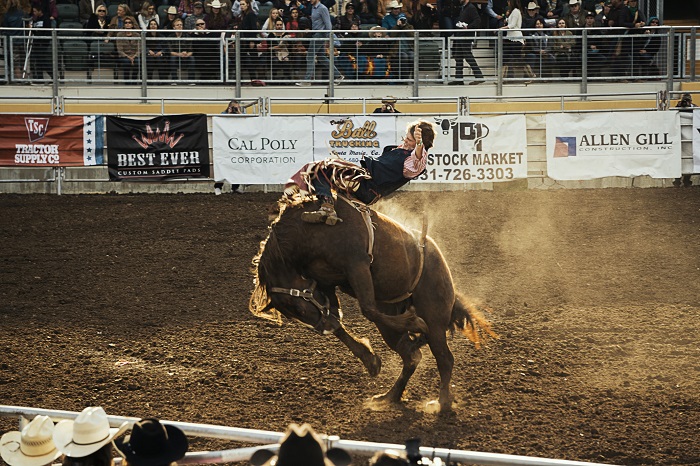 Video Capabilities
Video capture has become a standard feature in digital cameras. Even some compacts and beginner DSLRs have a basic video mode. But for enthusiast and professional machines, 4k video resolution has become the norm.
With the rise of social media, people create different forms of content. And the camera manufacturers are meeting their requests and putting a focus on video as well as stills.
4K video is the least you should expect from a good hybrid camera. But the Canon EOS R5 steals the show with 8K video. That's cinema-quality footage for serious video makers.
Flash
Many compact cameras and entry-level DSLRs have built-in flash units. It's a great feature for shooting at night or in low-light situations like concerts.
As you move into enthusiast and professional-level DSLR and mirrorless cameras, you won't find any built-in flashes. You have to attach a separate flash unit using the hotshoe connection on these cameras. And now, some can connect remotely using Bluetooth.
Viewfinder
The viewfinder of a modern DSLR camera works in much the same way as their analogue ancestors. They use a pentaprism system to project the view from the lens in the viewfinder at the back of the camera.
It's a physical system of mirrors, which means you have to look through the viewfinder to see your shot. You can only use the screen on the back to view photos after taking them.
Mirrorless cameras use a digital system, so the back screen also doubles as a viewfinder. You have the option of the old viewfinder at the top, or you can frame your shot using the screen. This is a significant advancement, but many photographers still prefer the old viewfinders.
Screen
The screen has become an important part of a digital camera. And now, some have excellent image resolutions. The image resolution of the screen doesn't affect the photos taken by the camera, but it does mean you can see them in all their glory. It saves time as you can properly evaluate your images without moving them to another device.
DSLRs tend to have fixed screens that can't be moved, although there are some exceptions. Mirrorless cameras now have tilting or fully rotating screens, which are excellent for shooting at difficult angles or filming yourself.
Many of the latest cameras now have touch screens, which are faster to navigate than the button-operated screens of DSLRs.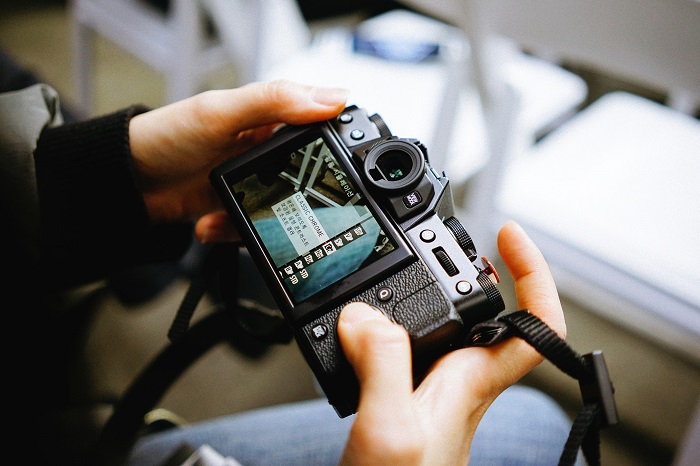 Memory and Storage
Very few cameras have internal storage. Some point-and-shoot models have memory for storing images, but it's often limited. DSLR and mirrorless cameras of all levels require SD cards for memory.
The capacity of SD cards is constantly increasing. But for professional photographers, one SD card isn't enough. If you're shooting in burst mode or with RAW files, they can fill up fast. Now, most of the top models have dual SD card slots, so you don't have to keep changing during a shoot.
How it Looks
To some photographers, the look of the camera isn't important. Their concern is the inner workings and the results. But as shallow as it may seem to some, style is still a factor when buying a new camera.
Thankfully, most modern cameras are black, and black goes with everything. Nikon, Canon, and Sony all have entirely black designs. And Olympus and Fujifilm both incorporate metallic tones as well.
Fujifilm cameras have a retro look, with a design strongly reminiscent of the analogue SLRs of old. They have metal top and bottom sections with a sharp and angular shape. They're a good match for photographers with a retro sense of style.
You should never buy a camera purely based on the way it looks. But style can still be an influencing factor. And if you're sticking to the leading camera brands, you won't be buying a lousy camera.
What to Look For When Buying a Camera?
Don't rush into buying a new camera. It's a big decision that deserves thoughtful consideration. You need to know what to look for when buying a camera to make sure it's right for you.
The type of camera is the first thing you should think about. Then consider your skill level and where you want your skills to go. Then there are all the technical specifications. They can be confusing, but take the time to understand sensor sizes and resolution.
Take your time, and you'll be able to find a camera that's the perfect match.
If you still haven't decided, why not filter through all the cameras in our database to find the one that suits your needs!