Last Update: June 2, 2023
The best cameras for skateboarding need to capture incredible photos and videos. There's no point performing high-risk maneuvers on your board if no one's going to see it. That's why skate video has been an integral part of the skateboarding scene since the early 1990s.
My friends and I were hooked on classic skate videos during our school years. We tried to emulate our heroes captured on video. We filmed our skateboarding videos on cheap equipment… Thankfully, our terrible skate films are lost forever! But these days, you can create amazing videos and photos of your skate crew in action.
All the cameras on our list are excellent options for filming skating. They all take stunning photos and videos. You'll be able to create pro-level skate footage and media. And you can even get incredible POV video with an action camera. We're in a new age for creating skateboarding videos!
11 Best Cameras for Skateboarding
Here is a quick roundup of our top picks. You can jump to our buying guide at the end if you want to know what camera features you need for skateboarding photography.
Panasonic Lumix DC-GH6

5.8K max video resolution
Unlimited recording time as built-in fan prevents overheating
Dual memory-card slots

GoPro Hero10 Black

23 MP resolution for photos
HyperSmooth image stabilization for photos and videos
Incredible 5.2K video resolution

Sony a6600

Astonishing autofocus
5-axis in-body image stabilization reduces camera shake
Small, lightweight camera

Fujifilm X-S10

Stunning image quality
4K Ultra HD with good dynamic range
5-axis in-body stabilization

Olympus OM-D E-M10 Mark IV

Affordable
Excellent image quality
Built-in image stabilization for video and low light

Canon EOS Rebel T8i / 850D

Great ISO range and low-light performance
Eye detection AF
4K video at 25 fps, Full HD at 120 fps

Nikon Z6 II

Excellent low-light focusing
Lightweight and portable
Superb low-light dynamic range
Dual memory card slots

Akaso Brave 8

48 MP image resolution and stunning image quality
4K video at 60 fps
SuperSmooth Image stabilization for slick video footage

Panasonic Lumix DMC ZS100

5-axis optical image stabilization
A nifty Post Focus mode helps increase depth of field
Incredibly lightweight

Insta360 ONE X2

Shoot stunning 5.7K video
Uses Advanced FlowState image stabilization for smooth footage
Invisible selfie-stick mode is handy for filming yourself
11 Best Cameras for Skateboarding in Detail
Here are our 10 best cameras for skateboarding videos and media. They're all hybrid cameras, meaning they shoot photos and videos. Plus, we have cameras for all budgets and skill levels. We even have compacts and action cameras.
Whether you shoot street videos or film at your local skate park… these are the best cameras for skateboarding. They have all the functions and features you need. And they'll take your skateboarding videos and media to another level!
Best GoPro Alternative
Our Verdict
The best camera for skateboarding on our list is a hybrid camera. And no one makes hybrid cameras quite like Panasonic. That's why the Panasonic Lumix GH6 tops our list as the best skateboarding camera. It gives you everything you need for photography and videography.
We know the GoPro Hero10 is already popular with skateboarders. It's becoming a must-have for any extreme sports enthusiast. We've also included the Fujifilm X-S10. It's a stylish model and Fuji's best video camera. And there's the Nikon Z6 II if you need a professional camera for skateboarding. There's a skateboard camera for everyone.
The skate video is an essential part of skateboarding culture. But gone are the days of scratchy footage shot on a VHS camcorder. Now you have incredible cameras that produce stunning photos and videos. And each model on our list is an excellent camera for skateboarding!
Buying Guide for the Best Camera for Skateboarding
Filming skateboarding has a unique set of demands. You never want to miss a trick, so you need the best camera for skateboarding. We'll take you through some key features you need to look out for in a skateboarding camera.
Image Quality
The resolution of the sensor is the main indicator of image quality. The higher the megapixel (MP) count, the better the image quality. Other factors contribute to the quality of your still photos. But MP count gives you a good idea of what to expect.
The megapixel count often comes down to the type of camera you choose. Professional models have a higher MP count. And cameras at the beginner end of the scale have more modest resolutions. But even beginners want something above 20 MP. That's a huge improvement on smartphone cameras.
Video Quality and Frame Rate
Skate videos are an essential part of skate culture. I'll always have a soft spot for the raw, rough-looking videos from the '90s. But you can now shoot professional-level videos with an entry-level camera.
You can shoot sharp-looking videos with 4K video quality. And even Full HD gives you excellent footage. But all the cameras on our list have 4K video capabilities.
Anything between 25 and 30 fps (frames per second) is a good frame rate for skateboarding. That's smooth enough for all social media and video platforms. 60 fps in 4K is fantastic. But only higher-end cameras offer this kind of quality.
Many cameras also offer faster frame rates for slow-motion videos. A frame rate of 120 fps gives you excellent slow-motion videos. And anything quicker allows you even slower footage.
You usually have to drop down to a lower video resolution. But Full HD slow-motion still looks fantastic. That's why faster frame rates are essential in cameras for filming skateboarding.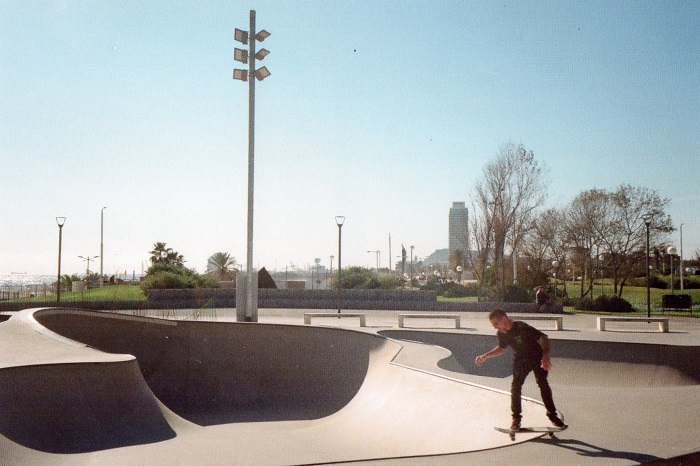 Image Stabilization
Image stabilization is essential in a skateboard camera. Tripods are too big and cumbersome for high-octane skate media. And built-in image stabilization reduces camera shake without the need for extra equipment.
Many video makers use gimbals like the DJI RSC 2 these days. But using expensive extras goes against the DIY ethics that live on in skate videos.
Burst Mode
Skate tricks happen in the blink of an eye. It's hard to click the shutter at the right moment. A fraction off, and you've missed it. A fast burst speed helps you get the perfect shot when things are moving quickly.
When it comes to continuous shooting—the faster, the better. But you don't always need 20 or 30 fps. Anything over tenten fps gives you a decent burst for capturing skate tricks.
If you're also a fan of winter sports, check out our best camera for skiing and snowboarding photos next!