Last Update: June 2, 2023
We've compiled a list of the best Nikon cameras for beginners. Nikon is one of the most well-respected camera brands. They've been making cameras for generations. And they still make fantastic digital cameras. This includes some of the best cameras for beginners.
The Nikon D3500 tops our list. That won't be a surprise to many. And we're sure it is at the top of many other beginner camera lists. It's a modern classic and one of the best Nikon cameras in any division. But if the D3500 isn't for you, we have plenty of other Nikon cameras to choose from.
What is the Best Nikon Camera for Beginners?
The Nikon D3500 is the best Nikon DSLR camera for beginners. And that's not the only DSLR camera on our list. We also included Nikon's best beginner mirrorless cameras.
Nikon also makes excellent compact cameras for beginners. And we list bridge cameras for beginners, too. With the latter, you get the best of compact and interchangeable-lens cameras.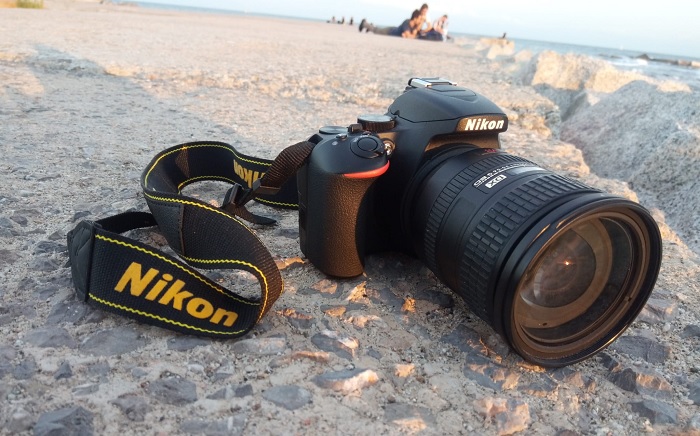 You can't go wrong with a Nikon camera. Maybe you're into sports or fashion photography. Or maybe landscapes or portraits are your favorite style of photography. It doesn't matter where your interests lie. Nikon has you covered.
If you need more information on what to look for in a beginner camera, skip to the FAQ section at the bottom. It'll help you find the exact Nikon camera you need. If you still feel lost, check out our article on buying a camera.
Here is a quick overview of Nikon's best cameras for beginners.
Nikon D3500

Guide modes for absolute beginners
Fantastic image quality for an entry-level camera
Terrific low light performance

Nikon Z50

Outstanding low light performance
Compact and lightweight camera body
4K video features

Nikon Coolpix P1000

Great 125x optical zoom lens
Vibration reduction image stabilization
4K video at 30 fps

Nikon Coolpix S9900

Pocket-sized camera with plenty of features
30x optical fixed lens zoom
Remote camera control with Wi-Fi connectivity

Nikon D5600

Fantastic image quality
Advanced 39-point AF with specialist modes
Compatible with any Nikon F-mount lens

Nikon Z fc

Face and eye detection AF
4K video with stereo mics for sound recording
Tactile manual exposure controls

Best Full Frame Mirrorless

Nikon Z5

Excellent image quality
Advanced autofocus system with subject tracking
Fantastic in low light

Nikon Z30

4K video and Full HD streaming
Vari-angle screen and selfie modes
Face and eye recognition AF system for stills and videos

Nikon Coolpix B500

40x optical zoom lens
Image quality beats most smartphones
Built-in Wi-Fi connectivity

Nikon D7500

Weather-sealed body for all conditions
Fast and reactive 59-point AF system
Incredible battery life

Nikon Coolpix A1000

16 MP resolution from a 1-inch sensor
4K video recording
Frames from video footage can be used as still photos
11 Best Nikon Cameras for Beginners
Now we go into more detail about the best Nikon cameras for beginners. We include cameras of all types, from compact to mirrorless cameras. You'll find the best Nikon camera for any beginner.
You'll find a Nikon camera on a tight budget. And there are Nikon cameras for beginners with a bit more to spend. Some of our main links include a kit lens. Or you can just buy the camera body and lens separately where possible.

Our Verdict
Those are our picks for the best Nikon cameras for beginners. The winner won't be a surprise to many. The Nikon D3500 is the best Nikon camera for beginners. Correction… it's the best camera for beginners of any brand! It has everything a new photographer needs to get started.
But the Nikon Z50 is our top choice if you want a mirrorless camera. Then we have the Nikon CoolPix P1000 and CoolPix S9900 if you want something simple. We've also included more advanced models, like the D7500 and Z5. Then there's the CoolPix B500 if you have a tight budget.
Nikon is one of the top camera brands. They have cameras for any skill level. And that includes the beginner category. Their entry-level DSLRs are second to none. And they're the best way to get started with photography.
FAQs for Best Nikon Cameras for Beginners
Now we'll answer the most-asked question about Nikon cameras for beginners. This info will help you find the beginner camera you're looking for.
What is the Best Nikon Camera for Beginners?
The Nikon D3500 is the best beginner DSLR camera. The guide mode makes it easy to get started. You also have the Nikon Z50 if you want a camera with a mirrorless sensor. The camera settings are ideal for beginners. It's also a good hybrid camera for beginners.
You can compare D3500 and Nikon Z50 camera specs here.
Is Nikon Good for Beginners?
Nikon is one of the best brands for beginners. The Nikon D3500 sets the standard for beginner cameras. And they have plenty of other options for new photographers. The Nikon Z50 is good for photos and videos. And the Z30 is ideal for vlogging and streaming. You can also check out the Nikon Z5 if you want to jump straight to a full frame sensor.
Is Nikon or Canon Better for Beginners?
Both brands produce excellent cameras for beginners. Nothing quite touches the D3500 for absolute beginners. But the Canon EOS Rebel T8i is one of the best entry-level DSLRs. The image quality is about the same. But it beats its Nikon rival for max video resolution. It has more hybrid features. But Canon EOS Rebel T8i does cost more. Compare them in detail.
Is Nikon Sharper than Canon?
There's very little between Nikon and Canon in this department. Sharpness often comes down to the lenses. And both have excellent lenses for their beginner cameras. Nikon DSLRs use F-mounts—their widest range of lenses. Canon uses EF lenses for their entry-level DSLRs. And this is another extensive collection of lenses. It's hard to pick a winner.
What is the Best Nikon Camera for Professional Photography?
The Nikon D850 is a popular camera with professional photographers. It has advanced features like image stabilization and Ultra HD video capture. The Z6 II is Nikon's best mirrorless camera for professionals. It's packed with features. Both have outstanding performance for photos and videos. You can compare them in detail.